The Philadelphia Flyers visited the Colorado Avalanche Wednesday night looking to extend their winning streak to 10 games. Some may have thought it would be easy, given the Avalanche had a league low 23 points heading into the contest, but at 11-15-1, they were hardly a team that would roll over for Philly.
And they showed that on Wednesday night.
The Flyers took a 1-0 lead early in the second period after Michael Del Zotto netted his own rebound off a fantastic pass from Claude Giroux.


The Avalanche battled back to take a 2-1 lead after goals by Rene Bourque and Matt Duchene.
Seconds after Duchene's goal, however, Wayne Simmons knotted the game at 2 with his 16th goal of the season.


Pierre-Édouard Bellemare thought he scored the Flyers' third goal to take the lead, but upon video review, it was overturned due to a high stick.


After the no goal, Avalanche left winger and captain Gabriel Landeskog nailed Michael Raffl with a clean open ice hit, but Jake Voracek didn't think so and he jumped in to defend Raffl. While it's frustrating that Voracek took himself off the ice for the next seven minutes (he was also served a roughing penalty), he took Landeskog off the ice for five because he decided to engage with Voracek.




Full video below.


After some terrific forechecking by Roman Lyubimov and Bellemare, Lyubimov was rewarded for his hard work by netting an Avalanche turnover, snapshotting the puck past goaltender Calvin Pickard to give the Flyers a 3-2 lead early in the third period.


A couple minutes later, the Flyers took a two-goal lead after Brayden Schenn extended his goal streak to three games after navigating past the defense using the same move with which he netted the game-winner in Detroit on Sunday.


The Flyers hung on for a 4-3 win, though the Avalanche made a heavy push late in the game to tie it after Duchene's second goal late in the period.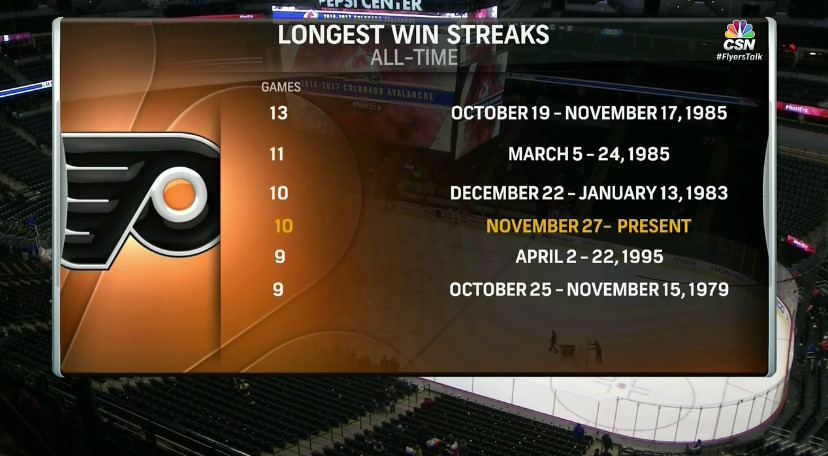 Post-game stuff: