The saga between All-Stars Joel Embiid and Russell Westbrook has been gloriously center stage over their past few matchups. It's always a popcorn-ready and eyeball emoji marquee battle when these two take the court. Last night, the rivalry between the two intensified when Westbrook took offense to Embiid's hard foul with 1:46 remaining in the fourth quarter.
This isn't the first brush up between these two. Last season the Sixers home loss to OKC resulted in Westbrook waving goodbye to the 7-foot center.
Russell Westbrook makes sure to wave goodbye to Joel Embiid after the game. pic.twitter.com/yAb97UQLW6

— Up The Thunder (@UpTheThunder) December 16, 2017
After that late 2017 matchup, Embiid said:
"He told me to go home, man. I mean, this is my home, so I guess it's on him to go home," Embiid remarked. "They won the game. I give them a lot of credit, they did a lot of things. But I mean, the dude shot like 10-of-33. I wish I would've shot 33 times. I guess we would've had a better chance of actually winning the game. But he told me to go home, man. This is my home. I ain't going nowhere."
Westbrook was quick to jab back as well, saying, "I told him to go home. He was talking mess to Steve-O – fouled out – waving to the crowd, which is unnecessary. Waving to Steve-O bye. You know, now it's time for him to go home."
When the two teams squared off again in Oklahoma City a month later, we got the infamous Embiid stare down after his thunderous dunk on Westbrook.
The celebration didn't last too long as it was Westbrook who dribbled the ball out to put the cap on another Thunder victory over the Sixers.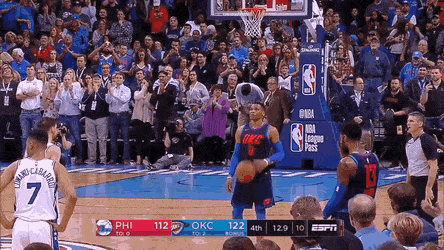 Last night,  things were not any more cordial between these two. After the Embiid foul, things got intensified, tensions were raised, and NBA fans got their next installment of the battle between the pair.
Russ and Embiid get into it every time they play ? pic.twitter.com/klqbiDR9Ug

— Bleacher Report (@BleacherReport) January 19, 2019
In the fourth quarter, after Westbrook fouled out, it was Embiid who pulled out the wave gesture.
Russ fouls out late in the 4th and Embiid waved bye to him ? pic.twitter.com/qCgpUGBwFI

— SportsCenter (@SportsCenter) January 19, 2019
After the game, Embiid and Westbrook spoke about the play that sparked the game to even more levels of mania.
Westbrook stated, "I don't think he just landed on me. He had a little extra to it. But it's OK." A reporter later asked  if he and Embiid were "cool," Westbrook responded, "F-ck no!" When asked to explain, Westbrook only said, "Go home, bro."
Embiid sees events differently. The Sixers big man explained, "I think I was going for the ball, and I think he lost the ball, but I was already in the air. I don't know why he was mad. I have no idea, but he's always in his feelings."
When told Westbrook thought he pushed him, Embiid replied, "I don't have to explain myself. But I was in the air, and I went for the block. I almost fell on him, and even went to the other side. So I have no idea what he's talking about."
From Embiid's vantage point it was a clean play. He also cared more about the result in the contest than the actual scuffle.
"Pissed we lost that game," Embiid said. "We had it. The Sixers haven't won against them in what — 10, 11 years? That's just ridiculous. I wanted to get that win. That's one more reason that pisses me off that we gave that away … we had it."
The two teams play again on Thursday, February 28th in Oklahoma City. Don't forget to mark your calendars.
---
You can follow Candis McLean on Twitter (@CandisRMcLean) and e-mail her at[email protected].
Follow Philly Influencer on Twitter (@PHL_Influencer),Facebook and Instagram.