Jet Wine Bar Hosts Virtual Wine Tasting with Kivelstadt Cellars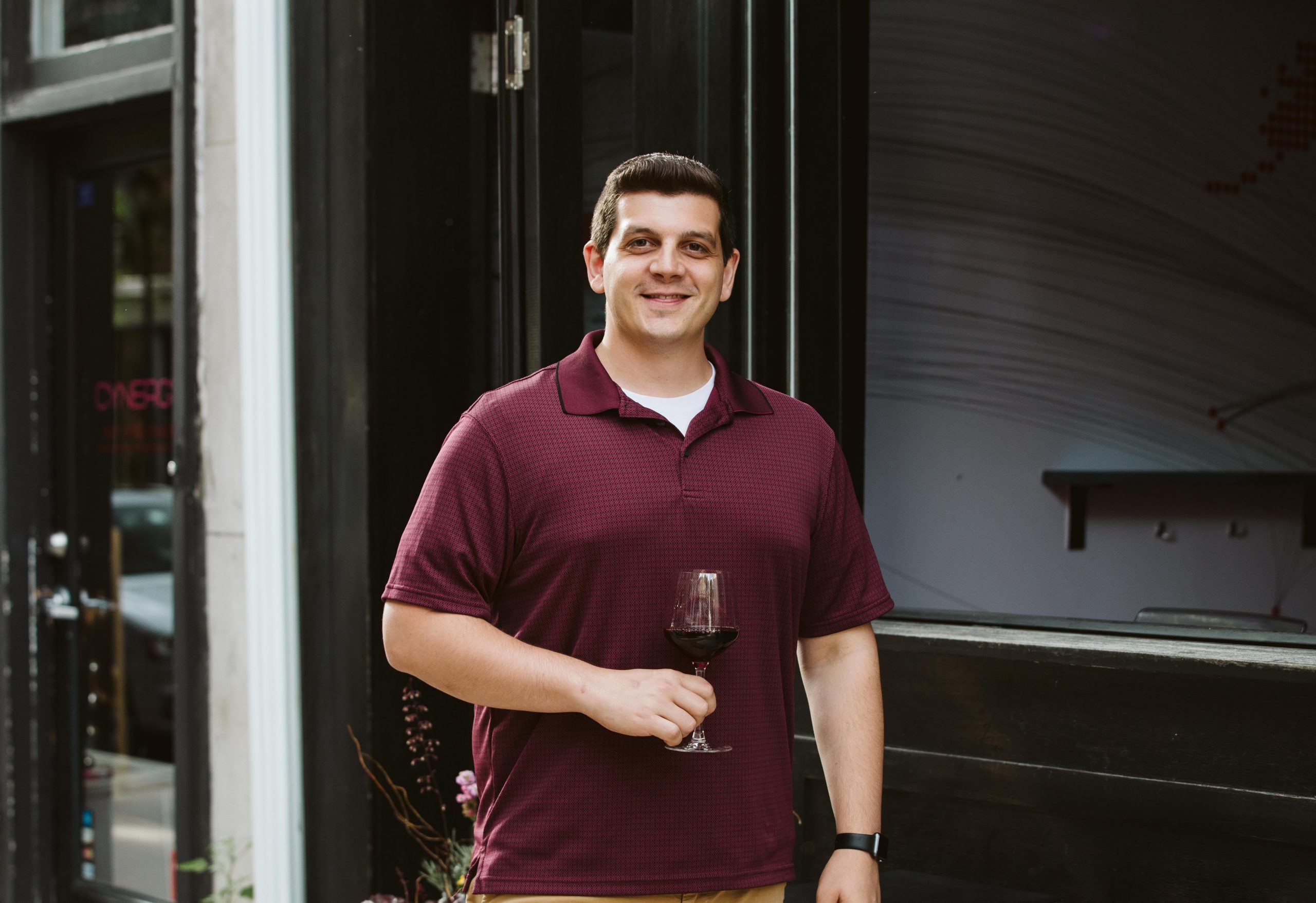 Jet Wine Bar, Philadelphia's woman-owned 'global vineyard', is hosting a virtual wine tasting joined by the Kivelstadt Cellar's family in Sonoma, California, featuring an array of their crisp, delightful West Coast wines, on Wednesday, March 31, at 6:30 p.m.
A selection of five Kivelstadt Cellars wines handpicked by General Manager Nick Baitzel will be featured for sipping during the virtual tasting, with included commentary by members of the Kivelstadt family on the tasting notes and background for each wine. The list of wines includes the following:
Family Secret – Sauvignon Blanc
Mother of Invention – White Blend
Twice Removed – Rosé
Father's Watch – Red Blend
KC Labs Zinfandel
The wines will be packaged into individual 5oz tasting-sized bottles for transportation and can be picked up on Tuesday, March 30, or Wednesday, March 31, at Jet Wine Bar. Additionally, virtual wine tastings are part of Jet Wine Bar's Wine Club, where free and premium memberships provide members with priority access to purchasing tickets as well as 10% off monthly tastings.
Tickets for the virtual tasting event are priced at $45 and are available for purchase here.
…
National Burrito Day 
Get ready to bite into some tortilla-packed goodness this week! National Burrito Day is Friday, April 2. Here a few great places in the city to have your fill of beans, rice, cheese, and all the toppings in between.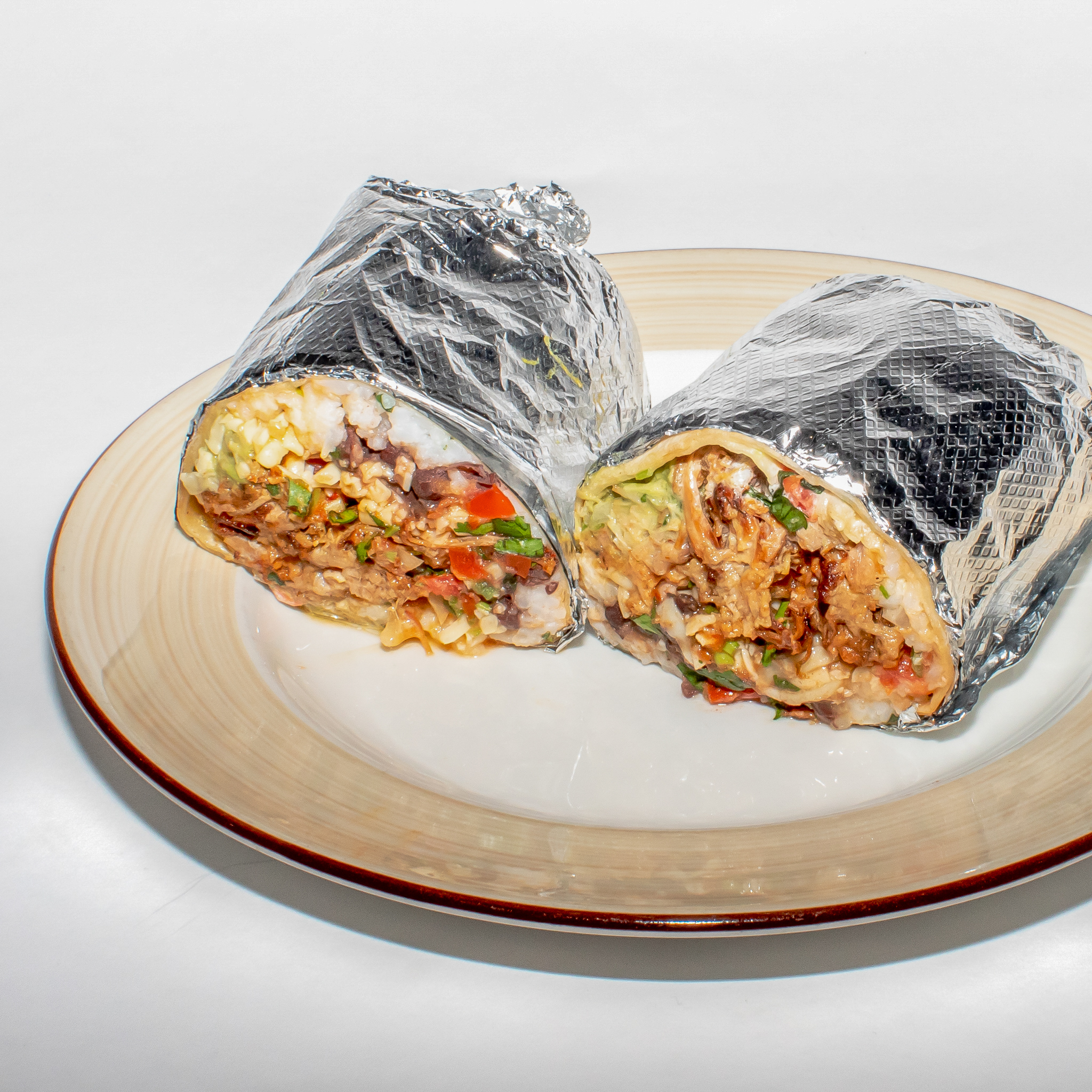 • La Calaca Feliz: La Calaca Feliz brings a modern take on traditional Mexican food by combining classic American dishes with the flavorful tastes of Mexico.  Try the "Baja Fish" burrito stuffed with plantain-crusted tilapia, cabbage slaw, black beans, queso, chipotle aioli, and avocado crema for a mouthwatering slice of Mexico. You can grab one for pickup, delivery, indoor and outdoor dining.
• Jackass Burrito: The latest virtual, takeout & delivery only concept from Starr Restaurants, Jackass Burrito delivers on over the top, stuffed to the brim, indulgent burritos. When you're there, try the "Frito Pie" burrito stuffed with ground beef, cilantro-lime rice, black beans, Fritos, jalapeño queso, salsa roja, and pickled jalapeños for a burrito experience unlike any other.
• Nora's Kitchen: Nora's Kitchen gives Philadelphia a savory taste of Mexican dishes and some of the best margaritas around. One of their signature greats is the 'California Steak' burrito for an American twist on the classic steak burrito filled with marinated steak, french fries, cheese, pico de gallo, and sour cream.
• Pole Burri: Poke Burri is a new takeout friendly restaurant that goes way beyond the typical poke bowl offerings – a variety of sushi burritos, sushi donuts, and more separate Poke Burri from the rest. Their Black Pepper Chicken Roll is one of the best options in town. It's packed with crispy chicken, lettuce, carrots, cucumber, black pepper teriyaki sauce, and fried onion, all wrapped in sushi rice!
• El Purepecha: Arguably the most Instagrammed burrito in Philadelphia, El Purepacha's overstuffed burritos never disappoint. When you're there, you can't miss The Chicken Mole Burrito – why is the classic mole sauce not an option at every burrito joint already? They're open fo indoor dining, takeout, and delivery.
…
New Liberty Distillery's Monthly Spirits Club
If there's anything we learned from 2020, it's to never undervalue the convenience of direct-to-doorstep delivery, which is why New Liberty Distillery, the South Kensington craft distillery and home to award-winning spirit lines such as the revived heritage Kinsey brand, is formally announcing open enrollment into its Spirits Club. New Liberty Distillery's newly revamped Spirits Club boasts monthly deliveries of curated premium and specialty spirits as well as first dibs on new releases, events, and special offers from industry vet and master distiller, Robert Cassell.
Perfect for craft spirit lovers of any caliber, from libation learner to bourbon nerd, recipients enjoy a once-monthly shipment containing a bevy of items, including limited edition craft spirits, comprehensive tasting notes, merch, and more.
Monthly subscriptions start at $59.99 and boast a retail value of about $95. Members will also enjoy an exclusive first taste of new releases, members-only events such as tastings, tours, and cocktail classes, special offers on the online shop, and more.
Whether it's for Mother's Day, Father's Day, or just a day that calls for craft spirits, gift this boozy gift-box subscription and cement your title as the favorite child or stellar spouse.
"Spirits Club members have the unique opportunity to grow with us and really be a part of the process as we explore the production of exclusive small-batch spirits," said Jacob Looney, Online Sales and Spirits Club Manager at New Liberty Distillery. "We've taken the hard work out of gift-giving! Perfect for the at-home bartender or craft spirit snob, there are no rules saying you can't gift yourself a membership, too."
The New Liberty Spirits Club membership is available for a one-month fee of $59.99 or for a three-month trial for $169.99. The annual subscription is undoubtedly the best value, however, at $699.99. After placing an order online, Members will be notified via email when their shipment is sent out for delivery.
…
Easter Dining around the City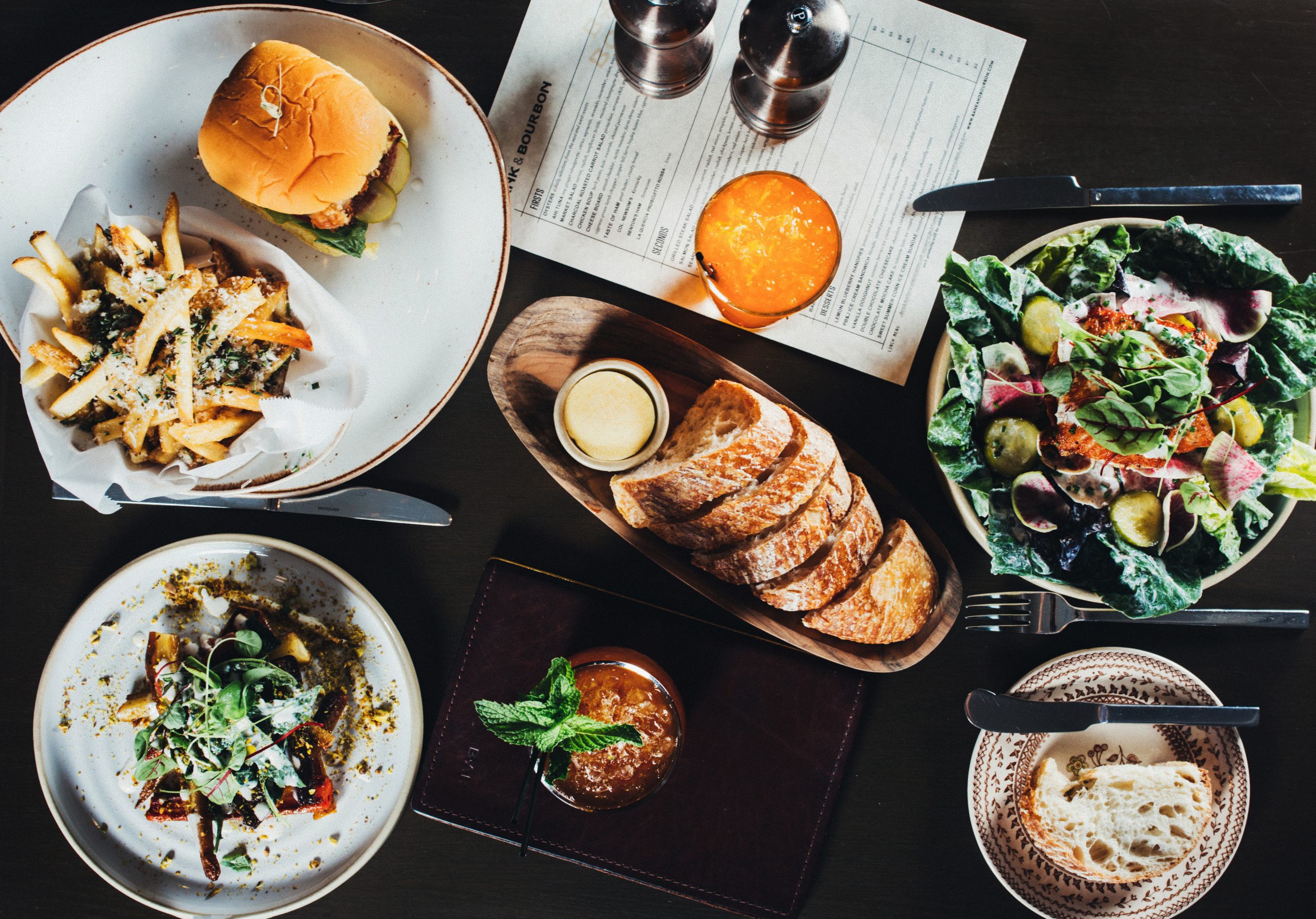 • Bank and Bourbon: This Easter, Bank & Bourbon is offering a special brunch menu and a delicious menu just for the kids all weekend long. Pricing is a la carte and reservations are recommended via Resy.com. Easter menus will be available Friday, April 2 (8 a.m. – 1 p.m.), Saturday, April 3 (8 a.m. – 1 p.m.), and Sunday, April 4 (8 a.m. – 2:30 p.m.). Check out the menu here, and click here to reserve your spot at this amazing Center City restaurant.
• East Passyunk  Avenue:  Several businesses in South Philadelphia's East Passyunk Ave, has a plethora of Easter celebrations planned. Favors and Flavors is inviting folks to visit the shop on Saturday, March 27 and Saturday, April 3 from 1 – 4 p.m., bring their own camera, and take free photos with the Easter Bunny. Down the road, Occasionette is stocked with Easter-themed gifts, candles, colorful tin eggs, and mélange trays, while Tildie's Toy Box offers an array of crafts and Easter baskets with candy ready for purchase
Additionally, Barcelona Wine Bar, Flannel, Cantina Los Caballitos, and Pistolas Del Sur will be open for Easter brunch service on Sunday, April 4 with delicious breakfast and lunch offerings and cocktails, wine, and craft beer.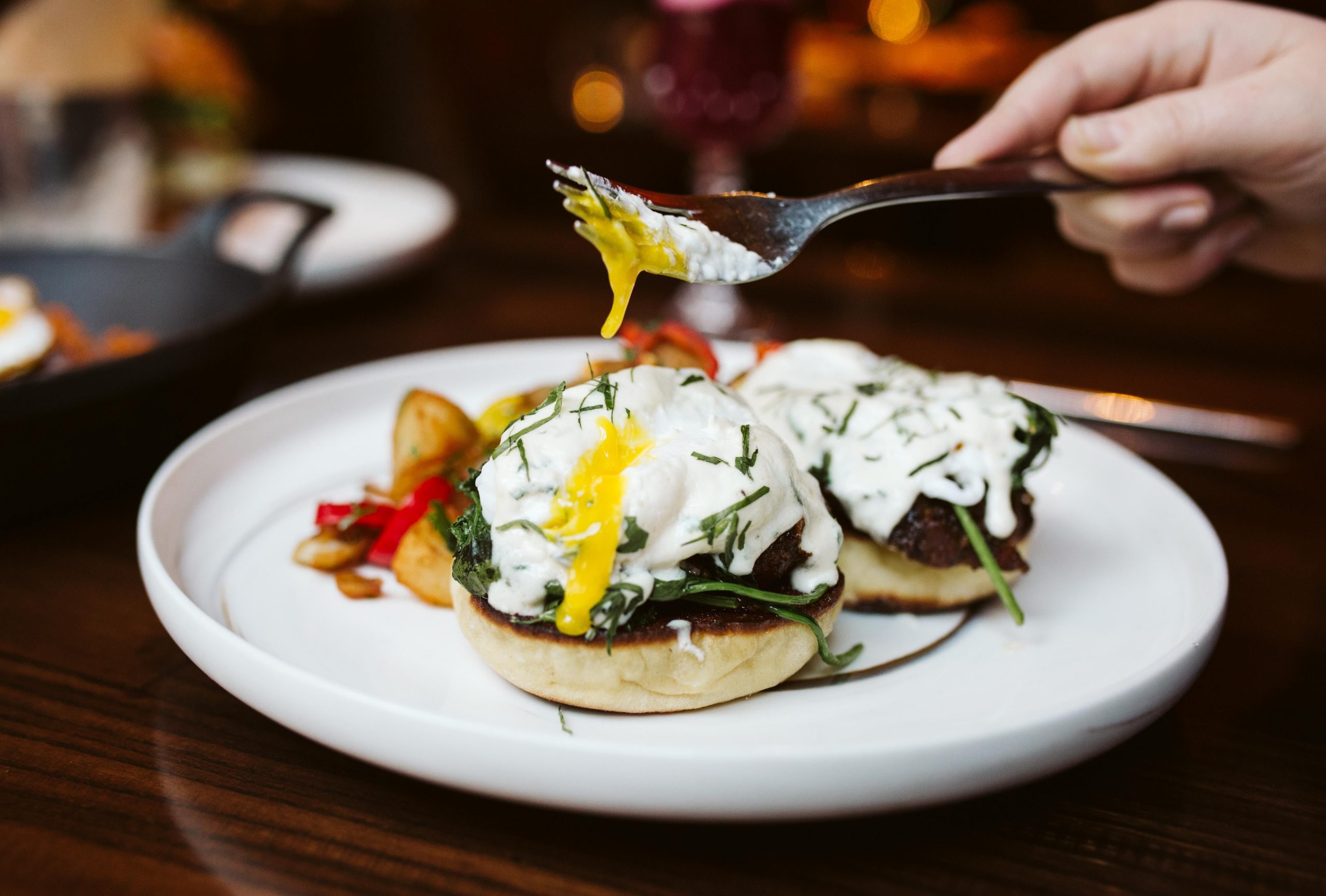 • Forsythia: Forsythia, Old City's French bar and restaurant helmed by Chef Christopher Kearse, boasts an all-day Easter brunch prix fixe menu for $50 on Sunday, April 4 from 10:30 a.m. – 7 p.m., with the addition of Adult Easter Baskets for sale. The elegant three-course menu includes Pea Soup, Salad du jour, Avocado Toast, White Fish Terrine, Quiche, Yeasted Waffles and berries, Pork Belly and Egg, Smoked Salmon and Potato Rosti, and Forsythia's famous Burger Royale (two smash patties oozing in raclette), plus one Eggs Benedict per table, available for limited indoor and outdoor dining as well as takeaway. The Adult Easter Baskets feature Porcini Gnocchi, Mushroom Ragu, Smoked Gouda, Saucisson sec, Fresh-baked scones, Orange Vanilla Marmalade Jam, and Lemon Curd.
• Jet Wine Bar: Jet Wine Bar is celebrating Easter with eggs! Creole Deviled Eggs will be available as a set of six eggs to share, priced at $5. Additionally, each guest will receive an egg filled with goodies such as candy, toys, and a few lucky winners will have bottle shop discounts included. All the goodies are available for sit down at Jet Wine Garden, their adjacent outdoor oasis.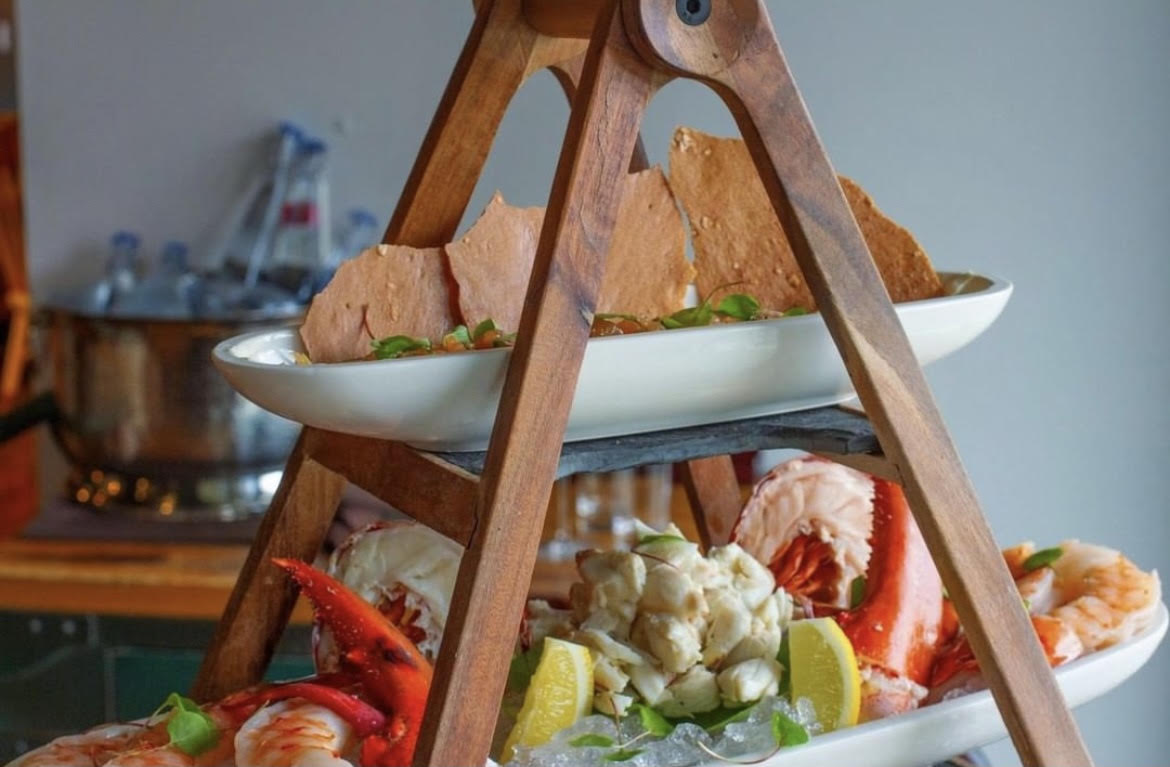 • Square 1682: Square 1682, the modern American kitchen located at the intersection of 17th and Sansom streets, is offering a special Easter dish consisting of Leg of Lamb hash, Yukon potatoes, onions, radishes, rosemary, poached eggs, and hollandaise sauce for $18. The items are available for takeaway and indoor dining at a limited capacity.
• Urban Farmer: Urban Farmer is pulling out all the stops for a memorable Easter celebration with specialty items available for brunch and dinner service. Specials for the day include the Seafood Tower with chilled oysters, lobster, shrimp, lump crab, salmon tartare, and mussels ($70 / $138), Deviled Eggs with caviar and dill ($14), Braised Lamb Shank with mushroom and pea ragout, and castle valley corn polenta ($38), Oscar Style Asparagus with jumbo lump crab meat and béarnaise sauce ($18), and Roasted Bone Marrow with maple Dijon glaze ($12). The menu is available for limited indoor dining and outdoor seating on Sunday, April 4 with from 9 a.m. – 2 p.m. for brunch service, and 4 p.m. – 9 p.m. for dinner service.
For more Easter and Passover options, click here.
…
 The PHS Pop Up Gardens Return This Spring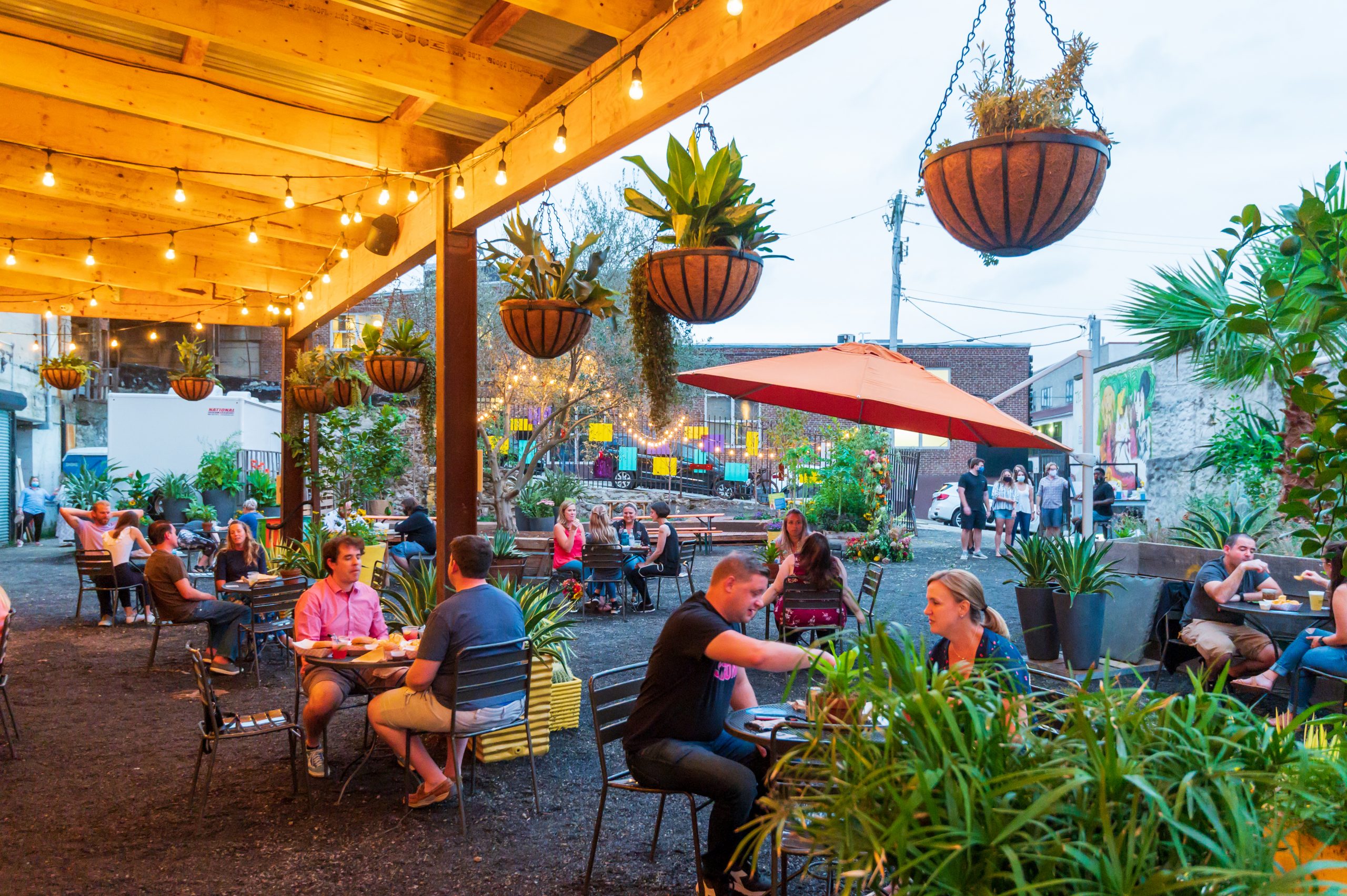 PHS invites visitors to experience the Pop Up Gardens' unique blend of horticulture and culinary arts, and to explore the newly designed sites with an abundance of blooming, beautiful plants. Guests of all ages as well as pets are encouraged to visit and enjoy an oasis of horticulture in a tranquil garden atmosphere featuring delicious food and drink offerings.
The PHS Pop Up Garden at South Street will open on April 1 while Manayunk will open mid-May (Date TBD). Both venues offer visitors a safe and relaxing garden space, designed to incorporate colorful and architectural foliage with a peaceful atmosphere located in an urban setting. At both locations, the new array of seasonal flowers and foliage provides an abundance of annuals and perennials that will welcome pollinators throughout the summer and early fall.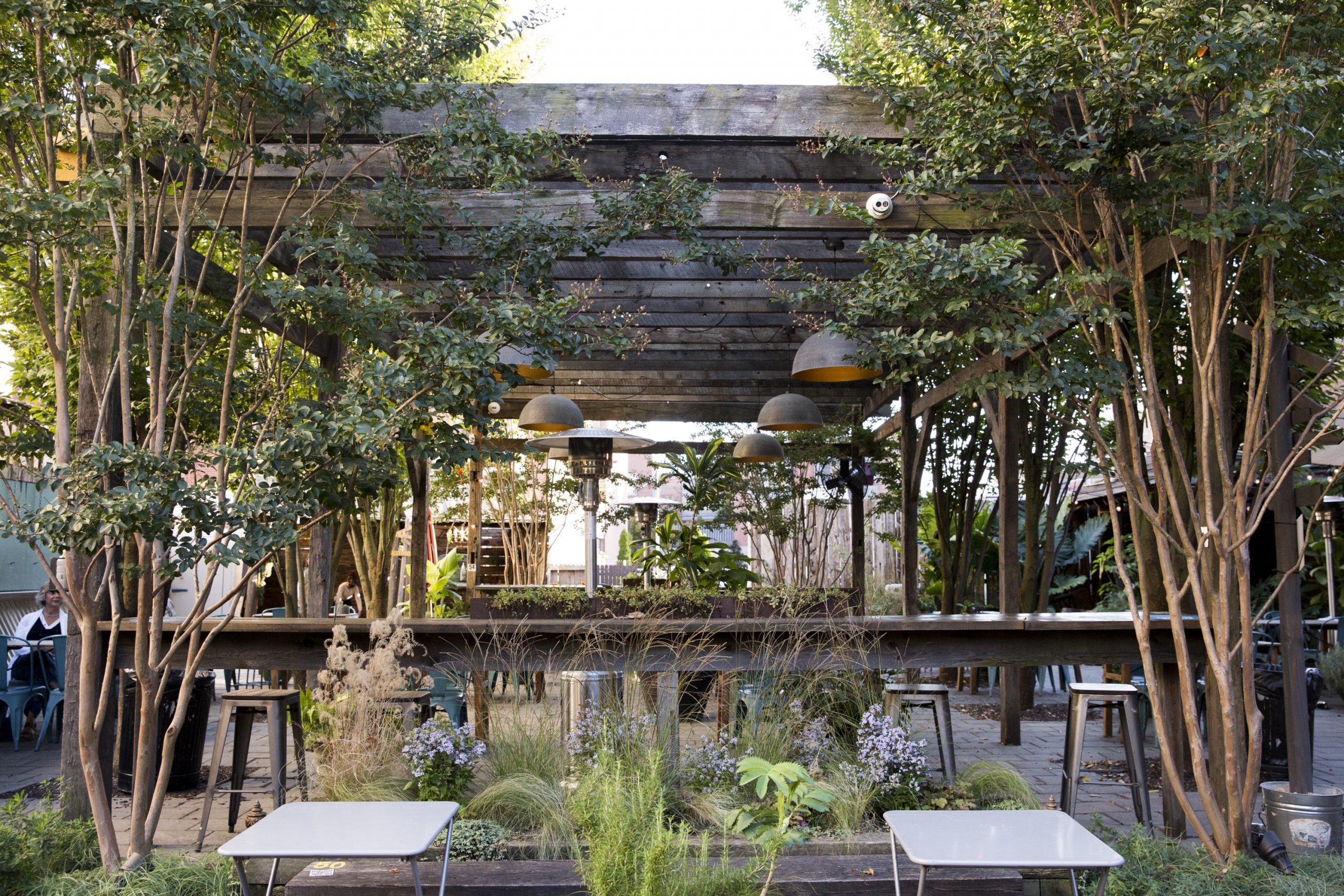 New this year, visitors will have the opportunity to book private spaces in the garden for groups, allowing birthdays, anniversaries, and other events to be held safely, beautifully surrounded by nature. Menu items from local Philadelphia restaurants Cantina Los Caballitos and Khyber Pass Pub make up a full food and drink menu this season, with delicious fare like the Garden Burger, plenty of vegan options, and new offerings such as Mexican Shrimp Cocktail, Lemony Artichoke and Herb Hummus, and the Nashville Hot Chicken Wrap alongside of kid-friendly options like chicken fingers, burgers, and fries.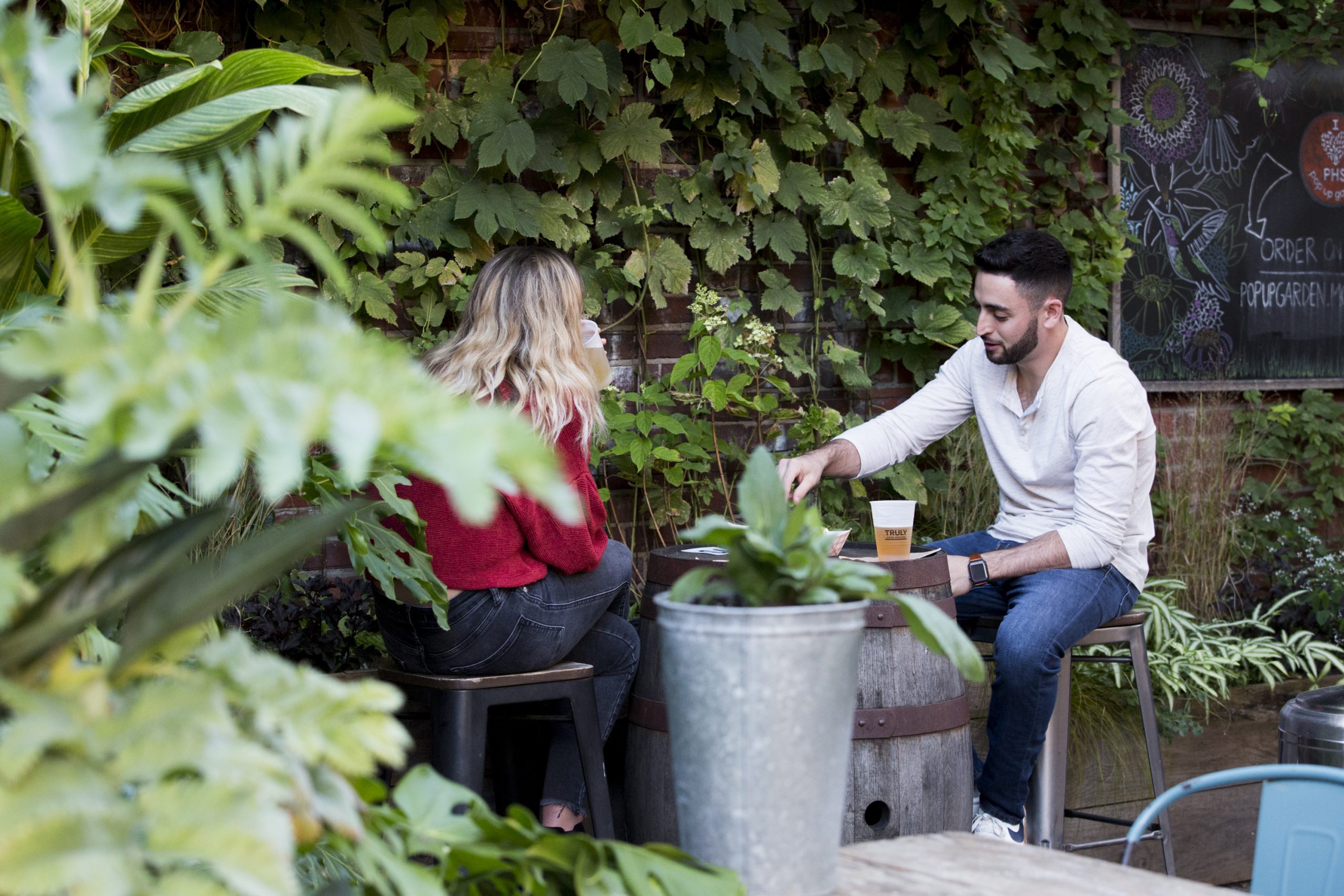 Seasonal food and drink specials begin in May with Mexican specialties celebrating Cinco de Mayo. Guests can also look forward to the delicious tastes of summer such as seafood specials and BBQ. Dog bowls are conveniently located throughout the gardens for furry friends to join the fun.
The drink menu will include the famed Frozen Mojito with Faber rum, mint simple syrup, lime juice, butterfly pea powder and mint sprig while new additions like the Frozen Gritty Marg! with Lundazi silver tequila, Tang, lime slice, black salt rim and Old Fashioned with Larceny whiskey, sugar, lilac bitters, and orange twist will offer cool refreshment.
For beer lovers, the Pop Up Gardens will feature 16 options with a variety of IPAs, ciders, wheat beers, sour beers, and more. Craft beer selections include Half Acre Daisy Cutter Pale Ale, Cigar City Jai Alai IPA, and Log Yard Blueberry Shandy. A full selection of wines and non-alcoholic options will also be available.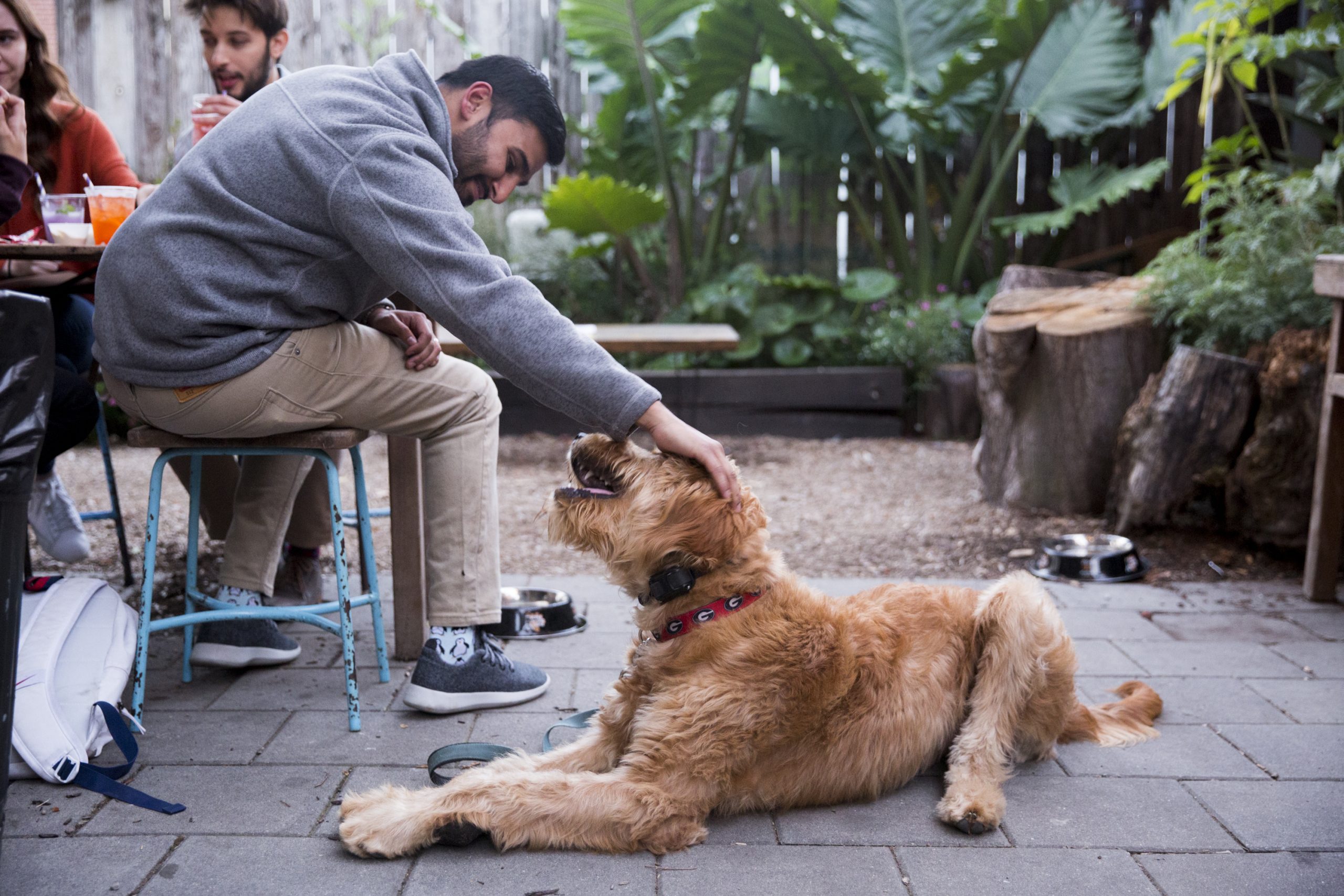 "We're so excited to be giving visitors the opportunity to be immersed in these unique horticultural settings again in the safest way possible. With new additions this year like private booking, it's an experience that ties together horticulture with top notch food and beverages that can't be found anywhere else," says Cristina Tessaro, Associate Director of Urban Activation at PHS.
The Pop Up Garden at South Street
1438 South Street
Philadelphia, PA 19146
Monday through Thursday from 5 p.m. – 10 p.m.
Friday through Sunday from 12 noon – 10 p.m.
The Pop Up Garden at Manayunk
106 Jamestown Avenue
Philadelphia, PA 19127
Monday through Thursday from 5 p.m. – 10 p.m.
Friday 12 p.m. – 10 p.m.
Saturday and Sunday from 11 a.m. – 10 p.m.
Information on these private spaces and reservations is available at PHSOnline.org.
…
Silk City is Back!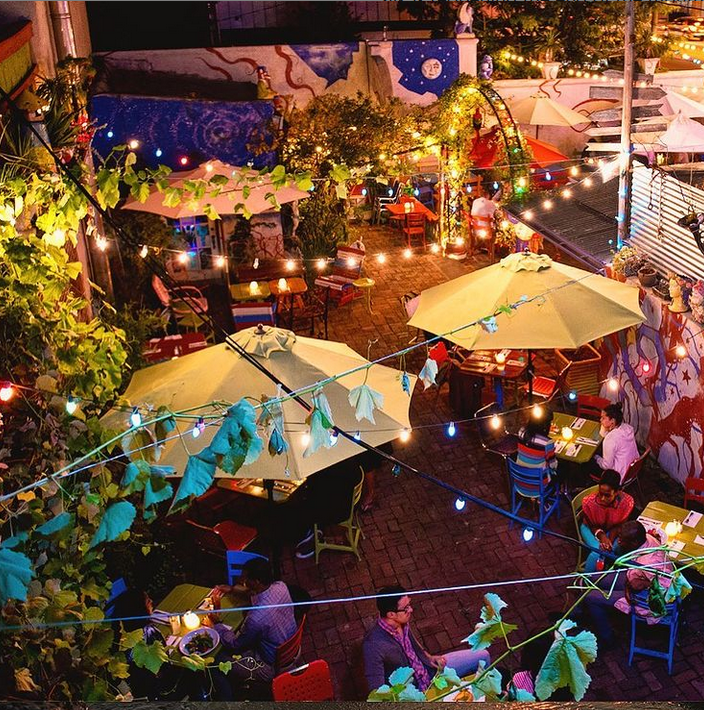 The team at Silk City, the eclectic retro diner and lounge with adjacent art and artifact filled garden, is thrilled to announce its full-service re-launch on Wednesday, March 31! Beginning at 4 p.m., guests can stop by Silk City to enjoy a frozen beverage or serving of  Thai Chili Wings in the socially distanced seating indoor in the classic diner and lounge, plus expanded outdoor seating in the garden, the returning streetery on Lawrence Street, and café style picnic tables along Spring Garden. Silk City will also continue to offer the entire food and cocktail menu to-go.
Regulars to Silk City will be pleased to know that the frozen drink machine will be returning along with fan favorites such as the Thai Chili Wings ($12), Kabayaki Glazed Salmon ( $22), Spicy Chicken Sammy ($11), and Buttermilk Fried Chicken ($18). Additionally, Silk will be launching a new selection of vegan appetizers, sandwiches and large plates created to complement the classic diner fare that Silk City is known for.
The entire team at Silk City is excited to welcome guests back into the expansive garden, as well as newly expanded outdoor seating, and the diner booth seating with custom-made, stylized space dividers.
"We're hoping that we will be able to restart our lounge this spring with some creative and socially distanced performances," said Joe "Joppy" Ferrone, Director of Operations at Silk City. "As well some live music and DJs, both in the lounge and outside in the garden."
For the time being, Silk City will maintain the following hours of operation: Open 4 p.m. Wednesday through Sunday, with Monday and Tuesday service beginning at the end of April. Brunch service will begin on Saturday, April 10, and be available Saturdays and Sundays from 11 a.m. to 4 p.m.
…
WING WING WING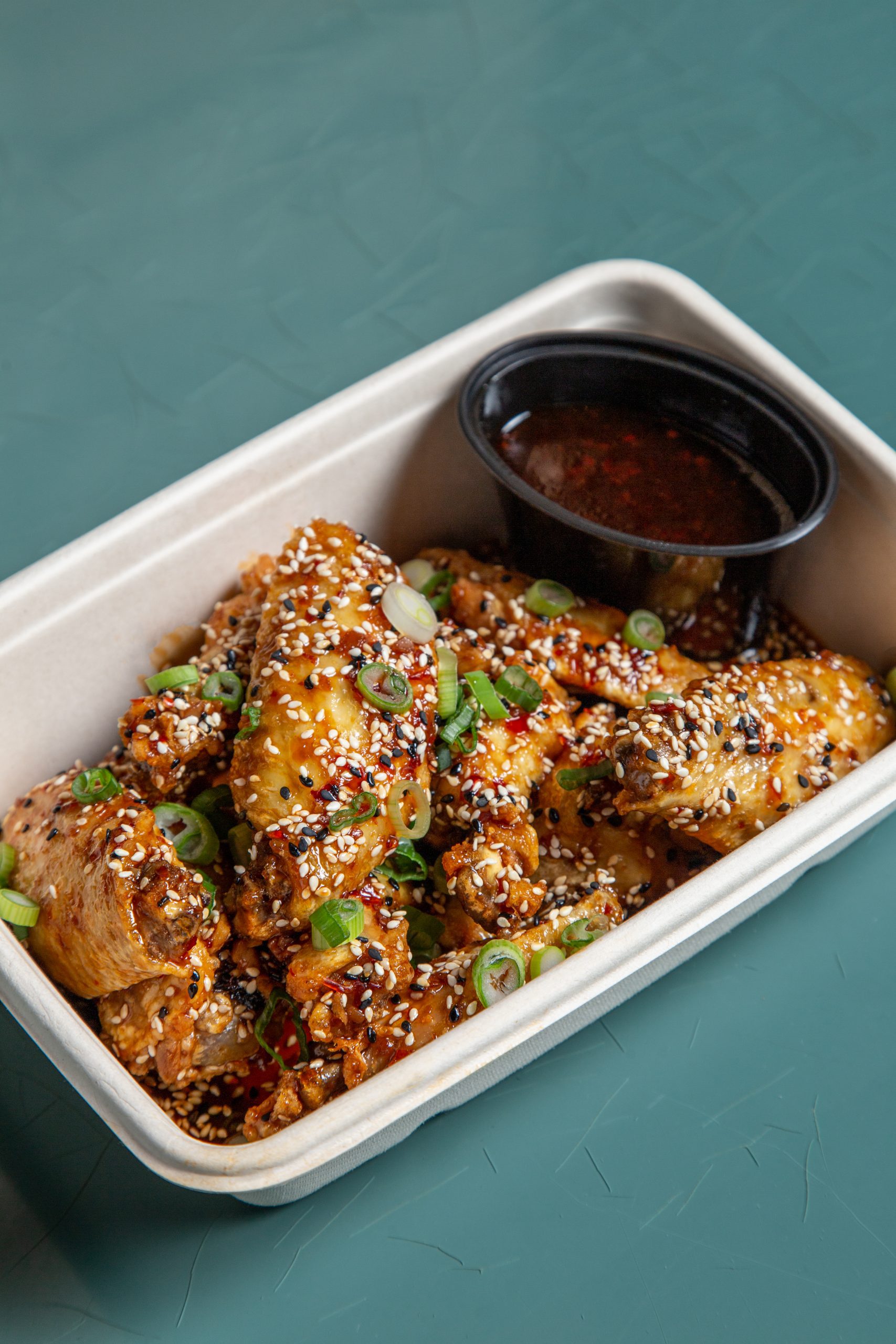 You can pick up the savory wings from Frankford Hall or get them by delivery via Doordash, Caviar, Grubhub and Uber Eats. The hours are Monday-Thursday 4 – 10 p.m., Friday – Saturday 4 – 11 p.m., and Sunday 4 – 9 p.m.
…
Friday Night Movies at The Bourse are Back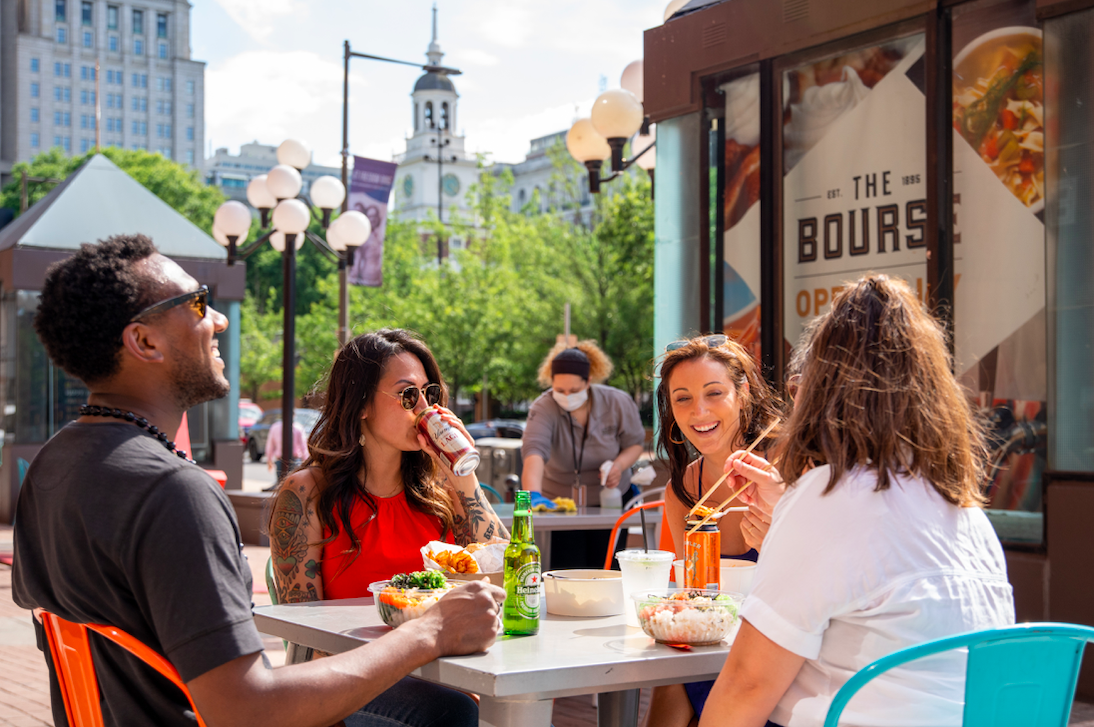 Only a limited number of fans are allowed in Citizens Bank Park for Phillies games this spring, so The Bourse, Philadelphia's modern artisanal food hall on Independence Mall, is bringing the ballpark to Old City with "There's No Crying in Baseball!" — a four-week outdoor Friday night movie series featuring 90's baseball classics, kicking off Friday, April 2.
The Bourse invites movie buffs, 80s and 90s babies, and baseball fanatics to its fifth street patio Fridays in April from 7 – 10 p.m. for a safe and socially-distanced outdoor movie screening.
Each table seats up to four guests and costs a flat fee of $40, so groups of one, two, three, or four only need to purchase one ticket. Tickets for all dates are available now.
Movie Schedule:
Friday, April 2 — The Sandlot
Friday, April 9 — Angels in the Outfield
Friday, April 16 — Rookie of the Year
Friday, April 23 — A League of Their Own
Moviegoers are invited to the patio starting at 6 p.m. to enjoy snacks and refreshments from select food hall vendors prior to the movie. Masks must be worn at all times unless seated at a table.
---
You can follow Candis McLean on Twitter (@CandisRMcLean) and e-mail her at [email protected].
Subscribe, rate, and review all Philly Influencer podcasts here. Follow Philly Influencer on Twitter, Facebook, and Instagram.