Many Philadelphia Phillies fans are excited for the revamped batting lineup in Joe Girardi's squad this season, but the excitement should also be around two promising young talents who will be available for Opening Day this Friday.
Bryson Stott and Alec Bohm were both named to the Phillies 40-man roster, Phillies president of baseball operations Dave Dombrowski told reporters Tuesday following a 5-1 Spring Training win over the Pittsburgh Pirates. Bohm entered camp as the clear favorite at third base, but Stott will also be pushing for appearances after impressing during the Spring.
"The only thing I've asked Joe [Girardi] is, if we're going to keep Stott and Bohm, is that he can get them enough playing time," Dombrowski said, transcribed by MLB.com. "And he said yes. Especially at the beginning of the season — we play 23 out of 24 days. And really at a time in which … guys can't play every day. Our middle infielders can't play every day. They're just not ready to do that. [Jean] Segura, Didi [Gregorius]. I don't even know about [Rhys] Hoskins."
Stott, the 14th overall pick in the 2019 MLB Draft as a shortstop out of UNLV, moved up from High-A Jersey Shore to Double-A Reading to Triple-A Lehigh Valley in 2021. Out of his 112 total games played in 2021, Stott played majority of his games with the Reading Phillies in Double-A, hitting .301, totaling 22 doubles, 10 homeruns, and 36 rbi's.
He is expected to see time around the infield, whether that be at third base, shortstop, or second base.
Bohm, 25, played in 115 games for the Phillies last season, registering a .247 batting average to go along with seven homeruns and 47 rbi's. Johan Camargo was also acquired by the Phillies this offseason as infield coverage, as Bohm enters his second full season with the Phillies.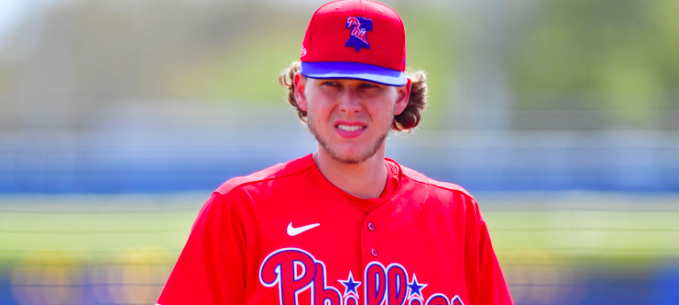 Both Stott and Bohm are two of the former first round picks on the Phillies roster that will be pushing to make a name for themselves in a stacked lineup. Nick Castellanos and Kyle Schwarber joined the team as offseason signings, pairing up with Bryce Harper, J.T. Realmuto, and Rhys Hoskins in the batting order.
The Phillies will be pushing for a playoff berth in 2022, but should face stiff competition from the defending World Series champions Atlanta Braves and revamped New York Mets.
---
You can follow Larry Henry on Twitter (@lhenry019) and e-mail him at [email protected].
Subscribe, rate, and review all Philly Influencer podcasts here. Follow Philly Influencer on Twitter, Facebook, and Instagram.