Honestly, there's no reason to think the Sixers won't trade anybody. Sam Hinkie has made his reputation as Sixers general manager as being the most unpredictable GM in the league, so would rumors circulating about trading Jahlil Okafor really surprise you?
Oh, they would? OK. Gotcha. Yeah, I have to admit, the kind of crazy talk that's coming from Chad Ford and Kevin Pelton is making me feel a little bit uneasy, too. It's one thing to get rid of players that you sell high on. That was the story on Michael Carter-Williams. Hell, that was the story on Jrue Holiday (remember him?) Now, Ford and Pelton are just blindly speculating that since both the Sixers playing Nerlens Noel and Okafor together has been a borderline disaster, and D'Angelo Russell in Los Angeles is pretty much in the same boat, that a trade between the two teams would make the most logical sense for everyone involved.
I mean, the numbers are staggering. Both Okafor and Noel play better [read: have better stats] when they're playing without each other.
So, based off these numbers, why the hell shouldn't the Sixers just trade Okafor?
In the long term, I wonder whether Okafor is more valuable to another team than Philadelphia. We've already seen that Philadelphia GM Sam Hinkie isn't afraid to deal a talented young player if the return is right. Is an Okafor trade possible?

Ford: Well, you know the answer that Philly will give publicly — that they love him and he isn't going anywhere. But if there were any team in the league that would be willing to move a player like Okafor a month or two into the season, I think it's the Sixers.

There are few people in the league who scout the draft more thoroughly than Hinkie does, which means I believe he saw Kristaps Porzingis, Emmanuel Mudiay, Justise Winslow and Okafor as much as anyone did. And he chose Okafor despite the fact that Porzingis, Mudiay or Winslow all would have been much better complements to the current roster (and all three might be better players in the long run because of Okafor's weaknesses).

The only justification I can really give for selecting Okafor is that Hinkie thought Okafor was the superior asset, that given his size and long history as a potential No. 1 guy, Hinkie believed he could fetch the highest price the fastest if he needed to move him.

The Sixers' rebuilding plan has been predicated on collecting the best assets — not necessarily the best fits. The hope is that all those draft picks ultimately land them a couple of superstars, via trade or the draft. So far, the 76ers still aren't there. They have a couple of nice young players, but no obvious cornerstones on the roster yet unless Joel Embiid can return to health.
So, the only way the Sixers can get good again is by getting rid of Okafor, apparently. They're completely inept and unable to build around him, especially with Noel and Embiid possibly coming back next year. So, let's just put Okafor on another team where he would look even better!
On a roster that includes Noel and Embiid, and would seem to want to play fast, it's not clear how Okafor fits for the long term. So if Hinkie felt that he could get a player or asset more valuable than Okafor, as he did when he shipped away Michael Carter-Williams one year removed from winning Rookie of the Year, I don't think he'd hesitate.

And there might be a team or two out there where Okafor fits better. I especially wonder about the Lakers. D'Angelo Russell has been a tough fit in L.A. The Lakers flipped from Okafor to Russell the night of the draft. Would the two teams consider swapping the two players? That would effectively be a draft-night trade, a few months later.
GAH! Kick us more. It's not even December and people want to see Okafor on another team because he's a good player. Son of a bitch.
We don't have the Eagles anymore. The Flyers and Phillies don't exist. The Sixers are trying to reinvent the NBA. So why the hell not just throw shit to the wall to see if it sticks? Because this will probably be a hot button topic locally today. And if it's not, it's even worse than we thought.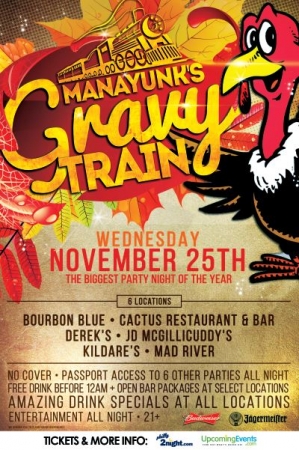 Hello Manayunk! Are you ready for the biggest party night of the year? Well, we have a huge event coming to Manayunk and we're giving you access to 6 amazing parties with one ticket – The Gravy Train Manayunk Passport. Thanksgiving is a time for you to be thankful for all the good things in your life – like great drink specials, craft beer, open bars, and free drinks!
Here's what's INCLUDED with the Passport:
1st Drink Free Before Midnight & Open Bar Packages Available at Select locations
No Cover & Passport Access to 6 amazing parties ALL Night.
Amazing Drink Specials from 8pm-12am
Entertainment All Night long
Grab your friends – we will see you there!