March madness is back and it's back in a big way. There's been buzzer beaters like the one from Northern Iowa that stunned the Texas Longhorns. There's been major upsets like number 15 seed Middle Tennessee State shocking Tom Izzo and his number two seeded Michigan State Spartans, as well as number 14 seed Stephen F. Austin taking out the number 3 seed West Virginia Mountaineers.
More importantly though, the Philly area had three local teams representing us in the tournament this year. Philly supports Philly, so we all should be rooting for one of these teams to win this tournament. After yesterday's action, we now only have two teams to support.
Let's take a look at a recap from Friday's local action.
Temple Suffers a Heartbreaking Defeat:
This game was a typical "Philly Sports" type of game. If you've paid attention over the last thirty plus years of Philly Sports, you know what I mean by that statement. It showed the fight of the City, only to see heartbreak at the end. Iowa led 61-53 with 5 minutes left in regulation. With 30 seconds left, the Owls were trailing by three. Temple tied the game when guard Quenton DeCosey was fouled on a three-point attempt and he nailed all three free throws with two seconds left.
With the score tied at 70, Mike Gesell of Iowa worked his way to the baseline and shot about a 10-foot jumper that missed the rim and Adam Woodbury put it in as time expired. Just like that, the Owls season was over. Here's the final play and tell me if you notice something.
https://vine.co/v/idMtTDKYzT3
Was there a push off by Woodbury before the winning tip-in? It certainly appears the refs missed that. CBS Sports provides the below screen grab.
Here's one more look from a different angle.
At the end of the day, what's done is done. It sucks, but what can you do about it? It's such a Philly way to lose that I'm numb to it at this point. Quenton DeCosey led the way for the Owls with 26 points. It's a tough way to go out, but Temple has nothing to be ashamed of. As for Iowa's next opponent, I'll get to them next.
Villanova Cruises to Victory:
Iowa isn't out of the Philly woods yet as they are next set to play Villanova, who destroyed UNC-Asheville 86-56 on Friday. Ryan Arcidiacono scored 14 points which included a buzzer-beating 3 at the end of the first half, and the Cats also rode the back of Daniel Ochefu, who had 17 points and 10 rebounds.
Jay Wright gave his thoughts on how his team has handled everything to this point after the game. Here's what Wright had to say courtesy of USA Today Sports.
"I'm happy for them, how they've handled everything to get to this point. And now everyone's going to ask the question. We've got to go do it. That's the bottom line. If we don't do it, it's failure. But there's nothing wrong with failure in sports if you give your best effort."
Nova-Iowa will tip-off on Sunday at 12:10 pm at the Barclays Center in Brooklyn.
St. Joes Survives a Scare:
Unlike Temple, St. Joes was able to survive a scare on Friday against Cincinnati. For a minute it looked like Octavius Ellis had forced overtime with a buzzer beater. But the replay showed that Ellis still had the ball in his hands when the light went on and the buzzer went off. Here's a look at the final sequence of the game.
St Joe's hangs on to beat Cincinnati in a crazy finish after Ellis' dunk was ruled to have been too late pic.twitter.com/j1yDiXH0yQ

— The Cauldron (ICYMI) (@CauldronICYMI) March 19, 2016
Here's how close it was courtesy of @Durkshawks.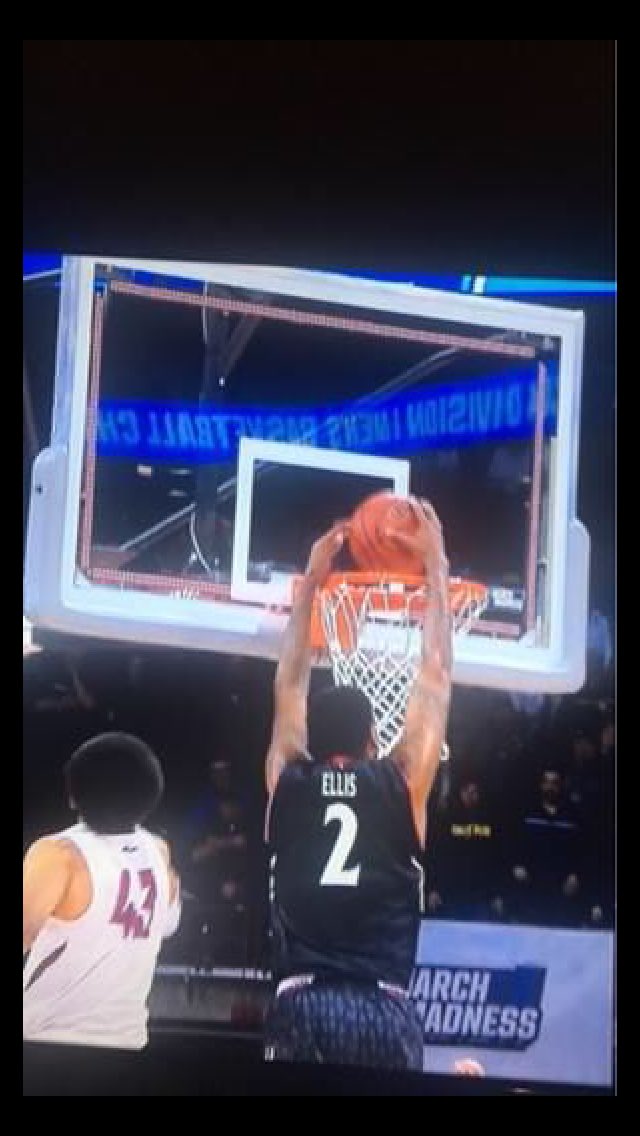 Here's the reaction from the Bearcats' bench:
#UC players react after Octavius Ellis' final dunk was waved off pic.twitter.com/RwjeAwvqzu

— Tom Groeschen (@TomGroeschen) March 19, 2016
That has to be a tough one to swallow for Ellis and the Bearcats. But this, much like how Temple lost is what makes March Madness so amazing. It's unpredictable.
St. Joes head coach Phil Martelli gave his thoughts on that final play courtesy of ESPN.com.
"In a small way I wish it hadn't ended like that. I wish it would have ended with Isaiah making the 3 and us getting a stop. From what I could see it was the right call."
The Hawks were led by DeAndre Bembry, who had 23 points, 5 assists and 6 rebounds. Next up for the Hawks is a date with the number one seed Oregon Ducks on Sunday at 9:40 pm in Spokane, Washington.