In an interview with CSN Philly, Shaquille O'Neal reaffirmed his confidence in our rookie Ben Simmons, who he's been in the corner of since Simmons' days at his alma matter, LSU.
"He's a LeBron-type player. What I mean by that, LeBron does a nice job of making everybody else around him better — passing the ball, doing the small things — and Ben is that type of player."
And if Shaq thinks so, who's to say he's wrong? The 6-foot-10 point forward's got a skill set seldom scene in the NBA, one that at the very least gives him the potential to become a marquee player in the league.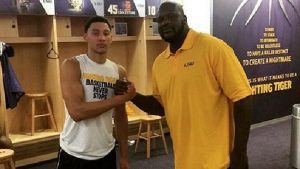 O'Neal was dominant at LSU; 21.6 points per game, 13.5 rebounds, multiple awards and trips to the NCAA tournament. Simmons was also dominant in his sole year at Louisiana State, posting 19.2 points, 11.8 rebounds and 4.8 assists. But one key difference has hung over Simmons head; he failed to make the NCAA tournament, leading most to question his leadership ability and his hunger to take over games. Shaq thinks we shouldn't worry much about that, though.
"He took a lot of flack, especially at LSU with not really taking over games. But he's young. He'll get to that. When it comes to other aspects of the game, he's very, very intelligent. He plays the game very well."
What's the key takeaway? Patience in necessary to let this young man develop. No, Shaq isn't saying Simmons is going to be the next LeBron James. What he's saying is that Simmons has the skill set – the I.Q., the court vision, the passing and rebounding ability, the athleticism to play in a similar style. Like him or not, think him to be the second coming of the king or the second coming of Lamar Odom, one thing is certain: he's the pillar of our young, exciting nucleus, and he'll need time to develop. Stay tuned.