Heading into championship weekend, Penn State football has done nearly all that it can to make the best case for one of the four coveted spots in the College Football Playoff. However, with just one more weekend of games remaining before the field is set, the Nittany Lions are on the outside looking in.
Fifth Rankings: The #CFBPlayoff Selection Committee Top 25 for games played through November 26. pic.twitter.com/tSlBNBS48K

— CFBPlayoff (@CFBPlayoff) November 30, 2016
With PSU sitting at seventh for the second straight week, head coach James Franklin and company are going to not only take care of their own business, but will need some help as well to have a chance at a playoff spot. Heading in to conference championship weekend, what is the ideal scenario for Penn State's playoff chances?
#8 Colorado vs. #4 Washington
This game, the PAC-12 championship, was Friday night. As of now, the Huskies have a playoff spot in hand, however, it is not the firmest of grasps. I believe with a win, Washington is in the playoff, but a loss would leave them on the outside looking in as there are too many teams better than Washington. Therefore if Penn State wants any chance of a playoff spot, they need Colorado to upset Washington in this one.
#6 Wisconsin vs. #7 Penn State
Penn State is set to do battle for the Big Ten Championship on Saturday night at 8pm. This game is obviously a must-win for the Nittany Lions. The two-fold advantages of a win would be to add conference champion to PSU's resume, but it also deals a loss to Wisconsin, a team that is currently ranked ahead of PSU. A win would do wonders for the Nittany Lions, but I believe that if Penn State is able to run up the score and potentially win by three or more touchdowns, it would bode even better for the team's playoff chances.
#3 Clemson vs. #23 Virginia Tech
Go Hokies! Penn State needs another upset here, in the ACC Championship, which kicks off at 8pm on Saturday night. Clemson does not have a lot of 'quality' wins as it faced a lackluster ACC schedule for most of the season. I believe that if this game is close, but Clemson comes out on top, I still feel that the Tigers could fall to fifth in the rankings and push Michigan to the fourth spot (assuming Washington would win as well). For PSU, they need VT to pull off a big upset here to enhance its chances of getting into the top four.
…
The odds certainly are not in Penn State's favor heading into championship weekend. According to FiveThiryEight, the Nittany Lions only have a 21 percent chance of being in the Final Four, however, that number did jump from the week prior.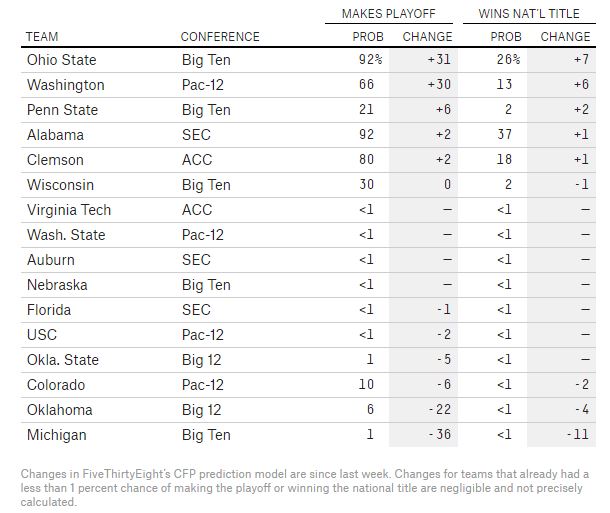 Simply put, Penn State needs chaos to happen. It seems, regardless of the outcomes of these games, this year's College Football Playoff is going to set a precedence for the future. Could conference champions be left out? Could two teams from the same conference, who didn't even qualify for a conference title game, make the playoff? We'll find out Sunday.