Who's going to slip? Who's going to get traded? As I sit here on the eve of the NFL Draft and try to sift through the piles of tweets that have consumed all of social media, I can't help but ponder what has happened in the past. The draft is a planned out production of one of pro football's finest days.  There is a ton of work and research that goes into these picks with the hopes of gaining a satisfied element of your team's success.
I think we can all agree that the redundant storylines and overemphasized mock drafts are becoming a glorified sideshow. This is why I decided to take a break from the obvious news stories and bring you something that will give you a chance to gain a unique look at years past. When you think of the NFL Draft, what are your fondest memories? What is the first thing that comes to mind?
This is a question that can generate a ton of different answers. While I am very interested to hear yours, I took the time to document the ones I feel were most memorable for me.
1999 NFL Draft: Donovan McNabb booed unmercifully.
To think that Donovan McNabb was the best quarterback selected out of his class, but booed louder than any other player in history, is a headscratcher. This was a moment that was all premeditated by the Philadelphia man crush on the ganja man himself, Ricky Williams. If you look at some of the names, like Tim Couch, Akili Smith, and Cade McNown, it makes you wonder what could have been. Instead, "5" was brought here to give the Eagles a foundation to build around and be the next best quarterback in Eagles history. If you take into account that New Orleans gave up their entire draft for a guy who couldn't drop his infatuation for the chronic, this pick didn't turn out half bad.
…
2003 NFL Draft: Vikings miss their pick again.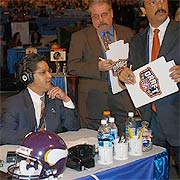 When gearing up for your place in the draft, the main focus is to find the guy you want and make sure he is the right selection. Well, someone forgot to explain this logic to the Vikings as their clock expired in two consecutive years. There is always going to be a team that snags the guy you want, but you always should have a Plan B. Unfortunately, getting passed over in the draft became second nature for them and helped a few other teams jump ahead in the process. Minnesota has always been a questionable franchise on draft day and this memory supports why.
…
2005 NFL Draft: Aaron Rodgers plays the waiting game.
I personally remember this like it was yesterday. The talk all week was Alex Smith or Aaron Rodgers, as all their intangibles were analyzed to the tenth degree. The 49ers were needy at that time and were determined to find the next best arm to build on. Unfortunately for them, they picked the wrong arm to tie their franchise to.
To really appreciate this story, you must realize this was before the birth of social media as an update monster and took place at a time where the announcers knew the pick before we did. The first round of the draft turned into a constant panoramic view of the green room with visions of Rodgers looking at his watch and drinking water waiting to hear his name called. He went from 15 minutes to 4.5 hours just to find out where his career would soon blossom. Even he didn't realize it would be Green Bay.
At the time, it seemed like an odd move, which helped lighten his pockets by a few million. However, after being a very effective understudy, he discount-double-checked his way to the top.
Food for thought: the Washington Redskins were up next and selected Jason Campbell with the 25th overall selection. AR was almost a Redskin!
…
2004 NFL Draft: Eli Manning's awkward acceptance.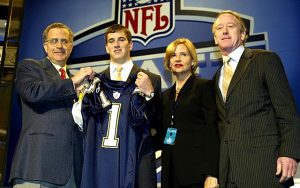 Chris Trotman/Getty Images
Whenever a spoiled and money consumed athlete opens up his mouth at a young age and basically picks where he wants to play, the situation never has a good conclusion. This held true for Eli Manning as he was selected first overall in the 2004 draft, but refused to play for the San Diego Chargers. Unfortunately for him, the fanbase was very animate in their feelings and weren't afraid to show the Manning family what it's like to be a minority for once in their life. MSG went from cheers to jeers and Peyton's brother tried to play off his awkward expression and uncanny mode of communication. However, the sound was deafening and the Manning family will be known for the most irregular draft pose in the history of the NFL.
These are just samples of what I think are the most memorable moments on draft day and I am sure there are many more. Be on the lookout for any this weekend and share any other that come to mind with us in the comments or on social media.
---
As always, you can stop by my Facebook page (FantasySportsAddiction) or tweet me (@TCutillo23) for questions or some nice fantasy debates. I can also be heard weekly via the internet stream live at WengRadio every Monday at 4:00pm EST for a weekend sports wrap. But most importantly, you can catch me here at Pi!
Follow Philly Influencer on Twitter (@PHL_Influencer), Facebook and Instagram.
For fantasy purposes, all my articles are predicated upon a PPR-based system.