Featured Bars and Lounges
…
This Week in Cocktails: Last Parks on Tap
View this post on Instagram
This is the last week for the roaming beer garden, Parks on Tap, to provide brews, fun, and relaxation. The closeout week will be at Strawberry Mansion Bride. There's free yoga on Thursday, food trucks each day, plenty of beers and cocktails, and so much more.
…
Center City Restaurant Week Features
Ocean Prime: At Ocean Prime, you find fantastic and tasty deals for Center City Restaurant Week. Diners can get three-course meals valued at over $85 for just $35. Try the upscale seafood and steak hotspot's Point Judith Calamari, filet mignon, and finish off your meal with a delectable 10-layer carrot cake.
The Twisted Tail: The Twisted Tail has over 24 savory options to choose from during Center City Restaurant Week. There's Heirloom Beets, Whipped Ricotta, Lamb Sausage, Braised Short Rib, Beignets and so more. Stop by this Headhouse Square, Bi-level, and Southern fare for some of these tremendous dishes.
Square 1682: Inside Hotel Palomar lies Square 1682, another bi-level trendy restaurant serving up great deals during this culinary celebratory week. Executive Chef Mackenson Horebe will be serving up plenty of mouthwatering options including tender Duck Wings, vibrant Jerk Chicken, and plenty other American staples with a Caribbean twist.
…
Featured Restaurants and Bars
Philadelphia is a major spanning city. It's always brimming with exciting new activities and things to do each week. Sometimes answering the simple question of where to eat or get a quick drink can be overwhelming. Each week Philly Influencer will highlight some new places and local favorites to add to your list.
L'Anima: The duo of Rosemarie Tran and Chef Gianluca Demontis have brought a tremendous Italian BYOB to the area. L'Anima is serving some amazingly wonderful dishes. From light options such as Panzella (poached calamari over a salad of cucumber, tomato, fresh basil, red onion & country bread red wine vinaigrette) or Spigola (Roasted mediterranean sea bass rosemary potatoes pear tomatoes seasonal mushroom white wine & garum), this Roman menu has it all.
Harper's Garden: Harper's Garden offers indoor and outdoor seating "in the heart of Philadelphia." This new American eatery is the creation from the owners of Morgan's Pier. With the ability to serve over 100 guests at a time, the aesthetically pleasing restaurant has a great atmosphere and an even better menu. One of the standouts of the place is the fact that you can have a great cocktail up until closing at 2 a.m.
Pineville Fishtown: Father and son restaurateurs Andrew and Drew Abruzzese have brought a branch of their long-standing Pineville Tavern from Bucks County to Fishtown. The restaurant has several comfort food items and innovated pub grub selections on it. The bi-level eatery also features a piano bar on the upper floor.
…
Weekly Events
Each week, Philly Influencer picks the best parties, events, and social gatherings the area has to offer.
Supper Sessions on the Avenue: This Wednesday from 5 p.m. to 10 p.m., Mt. Airy's Supper Sessions on the Avenue will take place. There will be live music, cocktails, food from plenty of local restaurants, and plenty of games.
FEASTIVAL: Philadelphia's top chefs are coming out this Thursday for this blowout gathering. The Audi FEASTIVAL 2018 is an amazing fundraiser that links cooks all through the city. The event will have lots of entertainment, samples, drinks, and more.
Lock and Key At Fox and Hound: This Friday Fox and Hound will be hosting a singles networking mixer. Lock and Key is a trendy speed dating series. Come out to the downtown bar for a good time.
Haddon Oktoberfest: For those across the bridge and not wanting to cross it, South Jersey's Haddon Township will be hosting an Oktoberfest event. This Saturday there will be a pop-up beer garden, live music, entertainment, and more.
South Philly Sausage Fest: The fourth annual South Philly Sausage Fest is this Saturday from noon to 7 p.m. There will be seasonal craft beers, food vendors, crafts, live music, and more at this yearly sausage-themed party.
Cultural Crawl: The Culture Crawl's mission is to "to create a safe and inclusive space for individuals/groups to drink, eat and explore." Come out this Saturday for great conversations, drinks, and an afternoon to remember.
Boozin' Through the World of Wizardry: Raven Lounge will be hosting this genius merger between cocktails and Harry Potter this Saturday. Drinkers get to dress up as their favorite  Harry Potter characters and commence on a bar crawl through Rittenhouse.
Manayunk Restaurant Week Continues: Manayunk Restaurant Week will continue its run of specialty menus and prix fixe meals through this Friday. Come out to any of the participating eateries to have three-course meals ranging from $15, $25, and $35.
---
Featured Event
Red Owl Tavern's Murder Mystery Dinner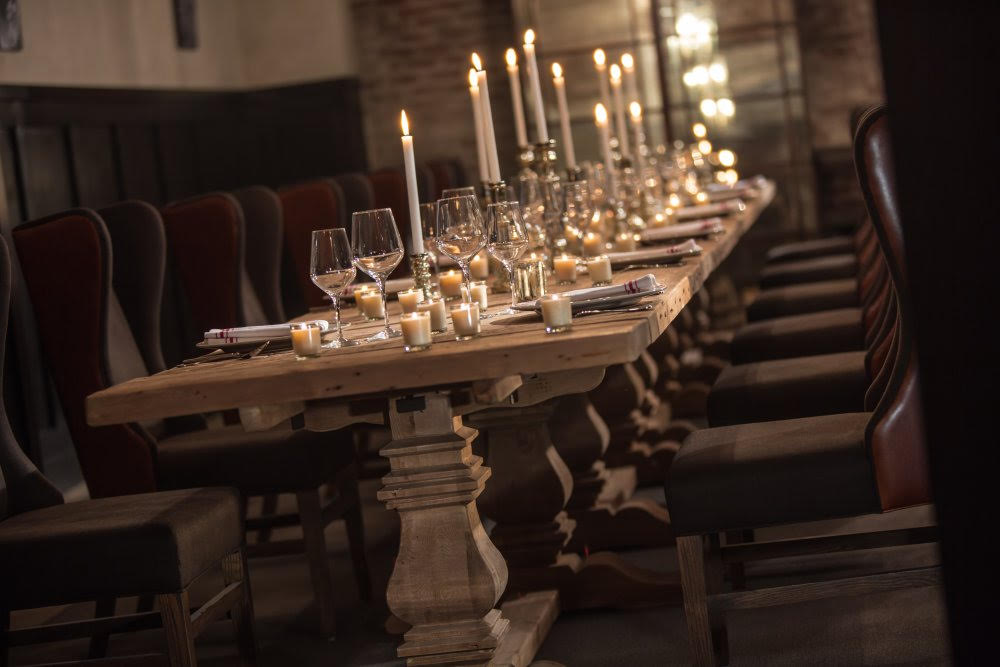 Where: Red Owl Tavern, 433 Chestnut St.
When: Saturday, September 29th, 7 p.m. – 10 p.m.
For the second time this year, the Red Owl Tavern's Shanghai Room will be transformed into a scene right out of murder mystery fiction. Crazy characters and perceived suspects will abound as you and your team investigate to find the truth. Executive Chef Robert Surdam will be preparing a delicious three-course meal including Calamari, Corn, and Crab Fritters, Autumn Salad as well as Chicken, Salmon, Red Owl Tavern Burger and a medley of seasonal desserts. There will also be a selection of beer and wine.
For more information, click here.
---
You can follow Candis McLean on Twitter (@CandisRMcLean) and e-mail her at [email protected].
Follow Philly Influencer on Twitter (@PHL_Influencer),Facebook and Instagram.