Featured Bars and Lounges
…
The Spotlight of the Week: Merry Grinchmas at The Bourse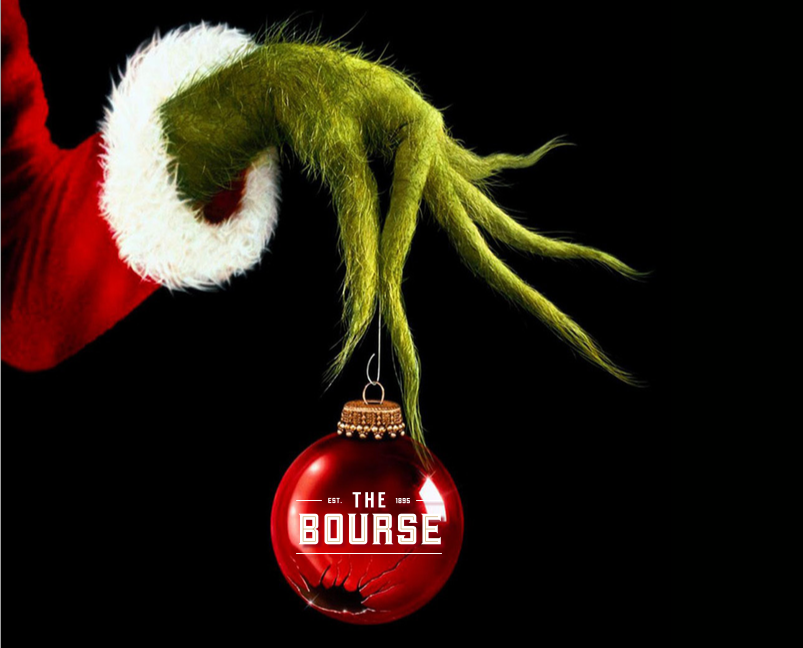 On the heels of a recent 40 million dollar transformation, The Bourse is excited to host the first-ever Merry Grinchmas on Saturday, December 15 from 10 am – 4 pm. Guests can come out to eat, drink, and shop to their heart's content while spending time with the infamous Grinch for a good cause. This event supports the Morris Animal Refuge.  Select food hall vendors will be offering specials all afternoon for Merry Grinchmas attendees, including hot chocolate from Chocodiem and a Grinch-themed sundae from Scoop DeVille. Bluebird Distilling, The Bourse's craft cocktail bar, will be serving up a Frozen Grinch Negroni for $11. The cocktail perfectly blends Bluebird Distilling Juniperus Gin, aperol, mulled vermouth, and orange wheel garnish for those of age looking to get in the holiday spirit. There will be prizes, giveaways, and more.
…
This Week in Cocktails: Assembly Rooftop Lounge Seasonal Cocktails 
Assembly Rooftop Lounge is a trendy rooftop bar and lounge offering you great views of the city's parkway.  Come get cozy by the fire pit and sip on one of three new hot cocktails, including Cool Runnings (plantation dark pineapple rum, clement coconut rum, hot chocolate, orange and vanilla whipped cream),  Evergreen Tea'Jito (Appleton Reserve Rum, brown sugar, green tea, mint and lime), and the Hot Dotty (Jameson Whiskey, Laphroaig, ginger, sage, honey, lemon) all for $14 each.
For those who prefer iced beverages, Assembly Rooftop Lounge has also updated its cocktail menu with new seasonal and festive tipples, including Beets By Reed (Hennessy Vs Cognac, cardamaro, floodwall apple brandy, cardamaro, beets and lemon) and the Esspressway  (Bulleit Rye, espresso bean-infused averna, cioccolato meletti, campari and cointreau, among the mix). Each iced libation is $16.
Assembly Rooftop Lounge is open Tuesday through Saturday, 4 P.M. to close, during the colder months; closed on Sunday and Monday.
…
Weekly Events
Sittin' In at the Kimmel Center: Sittin' In highlights some of the fresh faces in jazz and some established faces in the genre. The rotating series will be back this Wednesday night at the Kimmel Center. Pianist Julius Rodriguez and bassist Eric Revis will be doing a free show at the lounge in the venue.
Daybreaker PHL // DUSK: Winter Wonderland: Usually DaybreakerPHL is known for their early morning bashes. However this Thursday, the party will ditch the daylight hours for twilight. DUSK: Winter Wonderland will start at 6 P.M. and will feature a yoga sesh, a DJ, treats, live performers, and more.
Black City Holiday at B-Side Complex: B-Side ComplexCome out to this Thursday night for a Black City Holiday Party from 9 P.M. – 2 A.M. Guests get in free with RSVP before 11 P.M. and all menu items will be half-priced. There will be a DJ blasting the latest hits and the dance floor will be packed.
Exclusive Thursdays at Mirage: Each Thursday night Mirage Lounge features Exclusive Thursdays events from 8 P.M. – 2 A.M. The parties are free all night with RSVP, has a Remy Martin & Kiki Vodka open bar from 10 P.M. – 11 P.M., drink specials, DJs, and more.
Godshall's Food Truck Challenge: This Saturday from 12 P.M. to 5 P.M., come out to Headhouse Square for the Godshall's Food Truck Challenge. Some of Philly's best food truck will assemble to create the best dishes using wood smoked ingredients. There will be celebrity judges, free samples, live music, Santa Claus, and more. The event is free with RSVP.
Running of the Santas MegaFest: Running of the SantasThis Saturday is the annual at XFINITY Live! The festivities kick off at 10 A.M. and will include 15 of the best live bands in the city, drink specials, a massive after party, and several VIP options.
National Lager Day Brewery Crawl: In celebration of National Lager Day this week, Hidden City Philadelphia offers up this unique experience. This National Lager Day event will feature a  1.5-mile walking tour through the best Northern Liberties breweries and bars.
---
You can follow Candis McLean on Twitter (@CandisRMcLean) and e-mail her at [email protected].
Follow Philly Influencer on Twitter (@PHL_Influencer),Facebook and Instagram.