Featured Bars and Lounges 
…
This Week Cocktails: Yoga and Free Beer at Philadelphia Brewing Co. 
Philadelphia Brewing Co., one of the oldest and largest breweries in the city, is offering a FREE draft beer every Tuesday to anyone who comes in for a yoga class! For just $15, yoga enthusiasts can stretch out and detox (then retox) every Tuesday night during an hour-long class in the upstairs Stable Bar from 6-7pm. After doing some downward facing dog, patrons can relax with a complimentary Philadelphia Brewing Co. beer or Commonwealth Cider. Post-yoga options include the classic Kenzinger – a German Style Pilsner, Newbold IPA – an American IPA, and the Walt Wit – Philadelphia Brewing Co.'s take on the Belgium Witbier. Commonwealth Ciders come in a variety of flavors, including Traditional Dry, Gregarious Ginger, and Black Cherry; are naturally gluten-free and contain only one gram of sugar!
…
The Spotlight of the Week: St. Paddy's Day Eats 
To celebrate St. Patrick's Day, Baker Street Bread Company is going full-on Irish with a line-up of delicious bakes from the Emerald Isle. This week, bread lovers and Irish alike can grab a hearty Irish Soda Loaf ($7), snag a few tasty Irish Soda Scones (mini: $1, large: $2.75), or enjoy an Irish-American inspired sandwich.
For lunch, patrons can dig into The Tri-Colored Corned Beef Sandwich for $9.50. The double-decker creation with corned beef, chopped veggies, and a wedge of Irish Soda Bread on the side. This piled-high sandwich is inspired by the Irish flag, with the green and orange vegetables coming together on a marbled white bread amidst juicy layers of corned beef. These Irish creations are available all week at Baker Street Bread Company's Chestnut Hill Bakery and Café.
On St. Patrick's Day, Urban Farmer, located off the historic Logan Square, will be offering two delicious Irish specialties. For brunch, patrons can enjoy the Irish-American favorite, Corned Beef Hash ($18), with beets, kale, fingerling potatoes, sunny egg, chive, and béarnaise. To round out the day, the classic Irish Shepherd's Pie ($17) will be available for dinner with peas, carrots, ground lamb, and Yukon potatoes.
…
Weekly Events: St. Patrick's Day Edition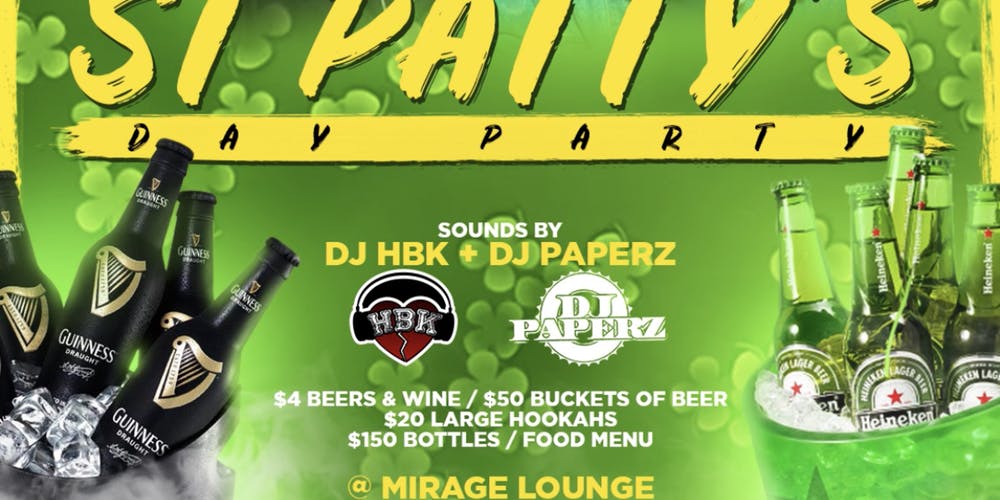 Each week, Philly Influencer picks the best parties, events, and social gatherings the area has to offer.
St. Patrick's Day Tour: In one of the more interesting events in the city this weekend, this taste and toasts tour may have grave consequences. Learn about the lives and of Laurel Hill Cemetery's famous Irish residents. There will be food and cocktails served up later.
St. Paddy's Day at XFINTIY Live!:  XFINITY Live! is known for throwing amazing parties and celebrations. Be sure to stop by the entertainment hub this Saturday for a blowout St. Paddy's Day celebration. There will be drink specials, live music, green beer, beads, and free parking after 8:30 P.M.
St. Patty's Megafest:  The Field House will be having a massive indoor and outdoor Irish festival this Saturday. There will be live bands, Stateside Vodka drink specials, $2 Miller Lites, and more. Tickets are $10 and $20 for VIP.
The Shamrock Crawl: This Saturday and Sunday, the 2019 Shamrock Crawl will be in full effect. There will be no cover at over 50 locations in the city. Attendees will get drink specials, party beads, complimentary bar snacks, a map, and access to photography.
St. Paddy's Day Bar Crawl Center City: One of the biggest crawls this weekend will be brimming from The Gaslight. The St. Patrick's Day Philly Bar Crawl features more than 10 bars, has thousands of participants, free shirts and cover charges, food specials, green swag, and more. There will be $3 domestic beer, $4 well drinks, and $5 Irish whiskey drinks all night.
St. Paddy's Day Bar Crawl Manayunk: Start your crawl at Sona Pub & Kitchen this Saturday. From 12 P.M. – 8 P.M., you'll have access to several bars and pubs in Manayunk. This St. Paddy's celebration will be a blowout event that you don't want to miss.
Howl at the Moon Bar Crawl: Howl at the Moon will be having a Luck of the Irish Crawl this Saturday starting at 12 P.M. There will be St. Patrick's Day swag on hand, raffles,  drink specials, live music, and more.
St. Patty's Day Party at Mirage Lounge: Come to Mirage Lounge this Sunday for a blowout day party. From 12 P.M. – 4 P.M., the trendy spot will be serving up brunch with tremendous drink specials. The day party kicks off at 4 P.M. and will be lighting up the bar until 9 P.M. There will be DJs blasting the latest hits in hip-hop and R&B, beer bucket specials, and bottle service.
---
You can follow Candis McLean on Twitter (@CandisRMcLean) and e-mail her at [email protected].
Follow Philly Influencer on Twitter (@PHL_Influencer), Facebook and Instagram.