The Spotlight of the Week: Night Market
The third installment of the 2019 Night Market is this Thursday night. The roaming food truck fiesta will be taking over Fairmount Avenue. There will be food trucks, live entertainment, music, street vendors, and more. Stop by between 15th and 19th streets to get some samples from Bake'n Bacon, Deke's BBQ, and several other savory options.
…
This Week in Cocktails: Art in the Age Summer Cocktails
Art in the Age has a sensational rotating cocktail menu running through the end of the summer. Highlights of the cocktail menu courtesy of Bartender Jackie Nevin, include the Skinny Dipper ($12) – Powderhorn Rye Vodka, Lo-Fi Dry Vermouth, cucumber sea salt brine and black pepper bitters; Summer Smash ($12) – Kinsey bourbon, simple syrup, lemon juice, bitters and seasonal fruit and herbs; Garden Gimlet ($13) – White Mountain Gin, basil vermouth, fresh lime juice, Jacky Rudy Elderflower tonic syrup; and the Marrakesh Negroni ($14) – Tamworth Apiary Gin, Marrakesh infused vermouth, Suze, house-made saffron citrus cordial, garnished with a lemon crisp.
…
Center City Sips Picks: Fine Palate, Giovanni's Bar and Grill, and Harp and Crown 
Each Wednesday between the hours of 5 p.m. and 7 p.m., the areas of Avenue of the Arts, Center City East, Center City West, and Rittenhouse Square participate in Center City Sips. Over 80 participating locations have $6 cocktails, $5 wines, $4 beers, and appetizer discounts. Here are this week's best deals.
Fine Palate: Fine Palate has plenty of options for you during Center City Sips. The vibrant restaurant created a wonderful EFFEN Vodka cocktail consisting of EFFEN vodka, honey kiss melon, ginger simple syrup, and citrus. You can also get Pinot Noir and Grigio and  Coors Light during these hours. The appetizer specials are $1 oysters and clams, $4 fried dumplings, $7 flatbread, and $6 chicken Parmesan sliders.
Giovanni's Bar and Grill: Come to Giovanni's Bar and Grill this Wednesday for Center City Sips. Try a Blood Orange cocktail featuring EFFEN vodka with pineapple juice, orange juice, grenadine, and Angostura bitters. You can also sip on a Pink Lady (EFFEN vodka, Chambord, pineapple, sour mix, and a splash of Sprite). Pinot Grigio and Merlot are both discounted and Yards Pale Ale serves as the beer of choice. You can get chicken fingers, truffle fries, or hummus & pita half-off.
Harp and Crown: Harp and Crown has prepared great cocktails for you during Sips. Don't be shy top sip on am R & R (EFFEN rosé vodka, strawberry, Curaçao, lemon) or a Honey, Bee-Hive (melon infused EFFEN vodka, lime, burnt honey). ​New Belgium Dayblazer can be paired phenomenally with prime rib croquette, short rib empanadas, lamb Meatballs, beef tenderloin carpaccio, and more.
…
Old City Eats Picks: Kyber Pub Pass, Lucha Cartel, and Marmont Steakhouse
Each Thursday between the hours of 5 p.m. and 8 p.m., Philadelphia participates in Old City Eats. Over 25 participating locations have half-priced appetizers, $4 beers, $5 cocktails, and other drink specials.
Kyber Pub Pass: Old City Eats has several tempting options for you each week. Stop by Kyber Pub Pass every Thursday for a $5 Fried okra small plate.  $4 Neshaminy Creek Trauger Pils and $3 Miller High Life will also be served at a wallet-friendly.
Lucha Cartel: Mexican hotspot Lucha Cartel always has great deals and service each day. Known for its great blend of tequila and mezcals, the Chestnut Street restaurant will surely captivate your senses. You can get empanadas and house margaritas (Tequila, fresh lime juice, simple syrup) at a cheaper price during Eats.
Marmont Steakhouse: Marmont Steakhouse has chicken skewers for $7 and veggie skewers $6. The Market Street steakhouse and bar also has a rotating $6 cocktail, $4 beer, and half-priced select wines each week.
…
Weekly Events 
Each week, Philly Influencer picks the best parties, events, and social gatherings the area has to offer.
• Parks on Tap: Parks On Tap is at Burholme Park in Northeast Philadelphia this week. There will be free yoga this Thursday, happy hours with brews and food, hammocks, sitting areas, and more. Festivities at this soiree include a charitable happy hour to benefit the park.
• Chestnut Hill Restaurant Week: Chestnut Hill Restaurant Week continues to serve up amazing dishes this week. Head to El Poquito, Paris Bistro & Jazz Cafe, and several other restaurants in the area for price-fixed meals and more.
•  Garden Party at Philadelphia Magic Gardens: Philadelphia Magic Gardens will be hosting a  Garden Party this Wednesday night. Guests can make a personal mini-mosaic, a suncatcher, play games, and more. There will be cocktails and live music.
• Sittin' In: This Wednesday the Kimmel Center continues its Sittin' In jazz music series. R&B, hip-hop, salsa, and jazz artist Ernest Stuart will be taking over the stage. Stuart has played with  The Roots and several other legendary acts.
• Drop it like it's Hot: Come to The Foundry for a throwback 2000's party. The Drop it like it's Hot party will have your flashback to your younger years. Come hear the best cuts from the early millennia all night long.
• Jazz on the Ave:  The Beech Jazz on the Ave Festival is this Saturday. The annual event always has tremendous live music, healthcare workshops, vendors, food, drinks, and several community activities. The Soul Rebels, from New Orleans, will headline the festival this year
• Nipsey Hussle Tribute Exhibit: Late rapper Nipsey Hussle's legacy will be celebrated this Saturday at the Philly Art Collective. This pop-up show will have free wine and live music. The event is pay-what-you-with along with registration.
• No Place Like Home: The Foundry will be hosting a No Place Like Home Philly-based musical showcase this Saturday night. If you're looking for great vocalist and lyricist come to this Northern Liberties entertainment hub for some phenomenal ones.
…
Featured Event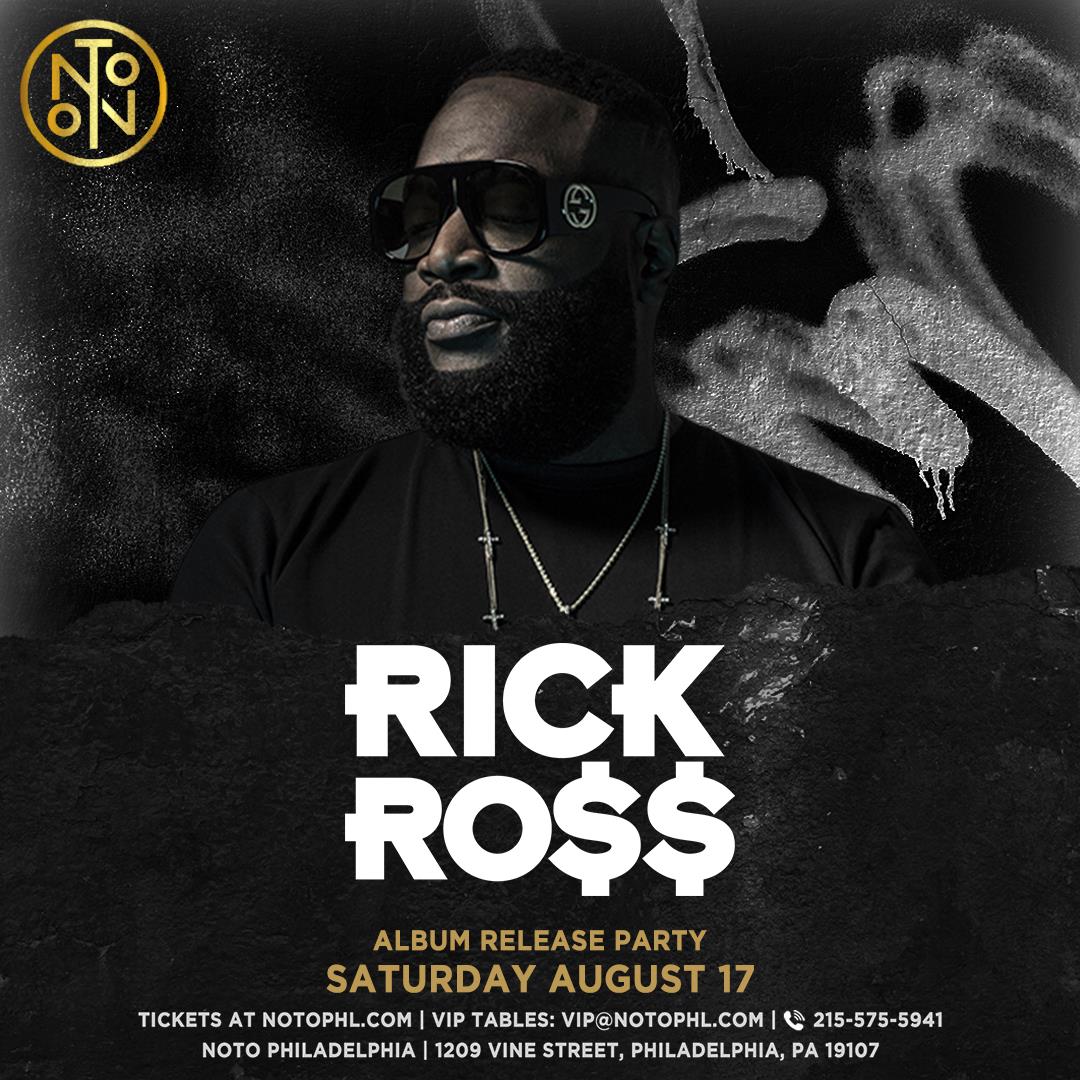 Where: NOTO Philadelphia | 1209 Vine St
When: Saturday, August 17 | 10 p.m.
The event of the month is days away! Miami rapper Rick Ross will be in town on Saturday tearing up the city with his music. Port of Miami 2 has been out for a week and NOTO Philadelphia is ready to celebrate. Come hear tracks like "BIG TYME", "Bogus Charms", "Gold Roses" and more from the blazing release.
For more information, click here.
---
You can follow Candis McLean on Twitter (@CandisRMcLean) and e-mail her at [email protected].
Subscribe, rate, and review all Philly Influencer podcasts here. Follow Philly Influencer onTwitter, Facebook, and Instagram.