The Spotlight of the Week: Let Them Eat Cake 
Let Them Eat Cake, a foodie event that invites the most creative confectionary talent from across the region to compete in one of the nation's biggest cake-off fundraisers to benefit Variety — the Children's Charity of the Delaware Valley, will take place at the Loews Philadelphia Hotel's Millennium Ballroom on Sunday, March 15, from 6-8 pm. More than two dozen of the area's best pastry chefs will bring this year's theme — Mythical, Magical Beasts & Creatures — to life with over-the-top cake creations.
Now in its 17th year, Let Them Eat Cake has earned a reputation as one of the premier culinary events on the Philadelphia calendar. At the event, guests can enjoy sampling delicious cake creations while sipping on cocktails, wine, and other beverages. All proceeds of the affordable $40 ticket cost (in advance; $50 at door) supports children with disabilities in the Philadelphia area.
…
This Week in Cocktails: Forsythia Launches Tasting Series
Forsythia, Chef Christopher Kearse's French bar and restaurant in Old City, is launching a monthly tasting series on Wednesday, March 11th. First up is a #frenchaf five-course Foie Gras Food and Wine Pairing expertly created and selected by Chef Kearse and General Manager Jennifer Camela.
For $100 per person, guests can look forward to the following food and wine pairings:
Foie Gras + Coffee Torchon: Quince, Muscatel vinegar
Muscadet Sevre et Main from Château l'Oiseliniere de la Ramee | Loire Valley
Toasted Garganelli: Caramelized onions, goat cheese, foie-madeira ragout
Riesling Kabinett from Nik Weis St. Urbans-Hof | Goldtröpfchen
Foie Gras Stuffed Morels: Escargot, foie gras boudin, Anson mill grits
Cabernet Franc from Allegro Winery | York County
Foie gras cassoulet
Cabernet-Merlot from Château Haut-Valeyrac | Médoc, Bordeaux
Spiced Molasses Cake: Foie gras dulce de leche, hazelnut, ricotta gelato
Sémillon from Château Les Mingets | Sauternes
…
 a.kitchen Sunday Supper Series
First, their Sunday Supper series, which takes place every Sunday evening in a.kitchen — the 8th, 15th, 22nd, and 29th this month — is taking on an interesting theme this month. Chef Eli Collins will be "beefing up" a vegetarian menu for dinner in the name of promoting a more sustainable diet that's still entirely delicious and satisfying.
Dishes will include: King trumpet mushrooms with walnut gribiche, broccolini and sumac yogurt, cauliflower cacio e pepe and other veg-forward dishes serving as an early taste of spring. Each dinner will feature four courses for $35, plus an optional wine pairing for $20. Reservations can be made here.
…
a.bar LLS Fundraiser
Separately, a.bar will be running a week-long fundraiser to benefit a cause near and dear to the team. A few years back, a team member was diagnosed with Lymphoma — every year since, they've hosted a fundraiser for the Leukemia and Lymphoma Society. This year, from Monday, March 23 through Sunday, March 29, the proceeds from every Damn Good Cup of Tea cocktail ($13) and every steak tartare tartine ($12) sold in a.bar will be donated to the Leukemia and Lymphoma Society. You can make additional donations to the LLS, here.
…
Philadelphia Brewing Co. and Tin Can Bar Look For Best Home-Brewed Beer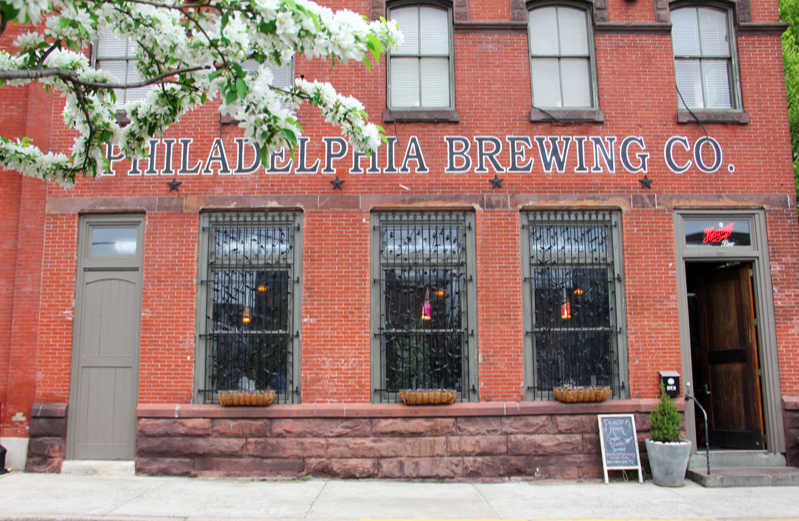 Philadelphia Brewing Company, one of Philadelphia's oldest and largest breweries and Port Richmond's Tin Can Barare excited to host the Homebrew Bracket, an amateur brewing competition with 16 home brewers battling for the best beer in the City of Brotherly Love. The contest will run in conjunction with the 2020 NCAA Men's Basketball Tournament from Thursday, March 19 through Monday, April 6.
The ultimate champion will get a chance to brew their winning beer with Philadelphia Brewing Company. Tin Can Bar will then put the beer on tap with its own custom-branded handle and feature the brew until the 15bbl batch is tapped out.
Interested home-brewers can find more information and sign up here.
…
Red Owl Tavern Launches Exclusive Passport to the World Series
Red Owl Tavern is launching an all-new series of exclusive globe-trotting events called Passport to the World: A Global Culinary Adventure, kicking off on March 19 with a Viking dinner in the atmospheric Shanghai Room.
The series will launch with Eat Like a Viking, featuring dishes and drinks from the Viking era. Guests can sip mead-based libations out of a Viking Drinking Horn while digging into dishes such as Whole Animal Charcuterie, Roasted Bone Marrow, House-Made Sausage, Bone-In Prime Rib Roast, and Charred Turnips and Cabbage.
The evenings will begin with a reception from 6:30-7 pm followed by dinner in the Shanghai Room from 7-9 pm. Space is extremely limited with only 28 tickets available for each dinner. Guests can purchase tickets here for $81 (includes beverage pairings, taxes, fees, and gratuity).
The series will allow guests to experience dishes and drinks from around the world without leaving Philadelphia. Additional upcoming Passport to the World events can be found below.
Additional upcoming Passport to the World events include:
Coastal Italian – May 20
Exploring the Iberian Peninsula – July 23
Exploring Northern Africa – September 23
Old American Recipes: Exploring American Cuisine – November 6
…
James Beard Fundraiser Highlighting Philly's Most Talented Female Chefs + Purveyors
Famed restaurateur Ellen Yin and Lost Bread Co.'s Ana Caballero will be hosting an exciting fundraiser in a few weeks. Featuring some of the best and brightest in Philadelphia's epicurean talent, this open to the public fundraiser is a "Ladies Night," of sorts, featuring exclusively Philadelphia-based women chefs, restaurateurs, and producers at Triple Bottom Brewing (another female-led business) on March 23 from 6 to 9 pm Highlights include bites from three newly minted JBFA Best Chef nominees including Chutatip "Nok" Suntaranon (of Kalaya), Tova du Plessis (of Essen Bakery) and Cristina Martinez (of South Philly Barbacoa), in addition to an insane cheese spread from Madame Fromage, a gorgeous dessert table from some of Philly's finest pastry chefs and beverages (alcoholic and not) from women-owned local businesses.
The proceeds from the fundraiser will directly benefit the James Beard Foundation's women's training programs which support female food industry entrepreneurs and restaurant owners in order to grow their careers and scale their businesses. Tickets can be purchased here.
Les Dames d'Escoffier Philadelphia Chapter is also hosting a screening of "James Beard: America's First Foodie" with the filmmakers on Thursday, March 19.
…
Weekly Events
Each week, Philly Influencer picks the best parties, events, and social gatherings the area has to offer.
•  Sittin' In at the Kimmel Center: This Wednesday, March 11, the Kimmel Center's free monthly concert series returns. Sittin' In runs begins at 9 pm. Thee Phantom & the Illharmonic Orchestra will be performing. The group perfectly blends hip-hop music and classical musicianship, offering a unique musical experience. There will be small bites and drinks for sale as well.
• King of Prussia Restaurant Week: King of Prussia Restaurant Week runs through Sunday, March 15. Revolution Chophouse, J. Alexander's, Season 52, Fogo de Chao, The Capital Grille, and several other restaurants are serving up lunches at $10, $15 or $20 and dinners at $20, $30 or $40. Proceeds for the week benefit the Children's Hospital of Philadelphia's King of Prussia Specialty Care Center.
• St Patrick's Day Events: St. Patrick's Day is under a week away. Over the weekend and next week, there will be several restaurants, bars, and establishments that will feature specialty menus and host celebratory events. For a rundown of these amazing gatherings and sizzling drink and meal options, click here.
Featured Event 
---
Bank & Bourbon Celebrates 6th Annual Bourbon Bash To Support Donors Choose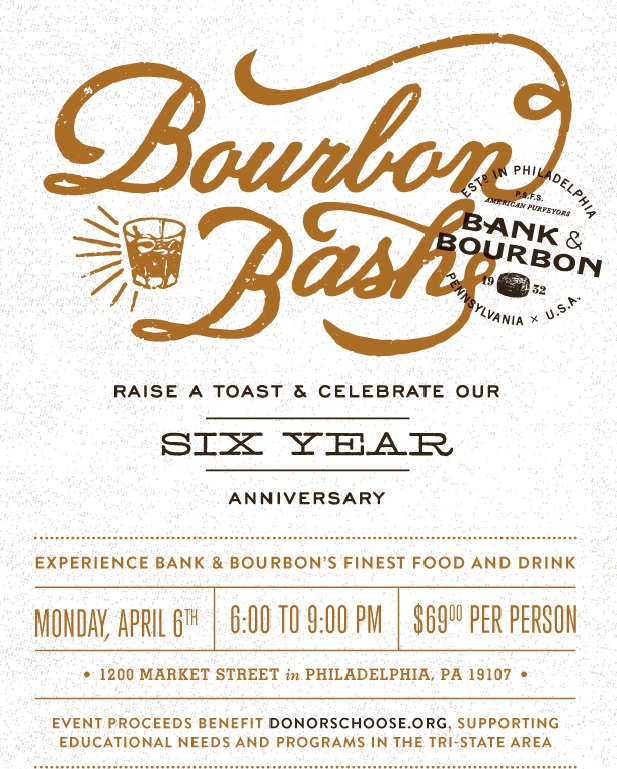 Bank and Bourbon's Bourbon Bash is back for its 6th year on Monday, April 6. Executive Chef Thomas Harkins and Chef Joe Thomas Jr. will be preparing some of their signature dishes including charcuterie with local cheeses and country hams; a crudo station with tuna tartare, hamachi, charred octopus and east and west coast oysters; dry aged steak; blackened Sixty South Salmon, crispy duck confit, honey brined Duroc pork and a selection of mouthwatering seasonal desserts from in-house Pastry Chef Amanda Kaewvichien. Bank & Bourbon's new Bourbon Master will also be featuring signature Bourbon cocktails for guests to enjoy.
To support Donors Choose and to purchase tickets for the 6th Annual Bourbon Bash, visit here. Tickets start at $69 per person. Sponsorship opportunities are available here.
---
You can follow Candis McLean on Twitter (@CandisRMcLean) and e-mail her at [email protected].
Subscribe, rate, and review all Philly Influencer podcasts here. Follow Philly Influencer onTwitter, Facebook, and Instagram.