Two Sixers players are among the three people with the team that tested positive for coronavirus, according to Sean Brace.
On today's edition of the Daily Ticket with Sean Brace on Fox Sports The Gambler, the host reported the two players, who have not been named, along with another member of the organization tested positive for the virus that has effectively shut down everyday life in the United States.
You can listen to the audio below.
"I heard it was two players. Two players tested positive, which should not come as a surprise to anyone. After the days go by here, Sean Payton, Kevin Durant, you know, it doesn't matter who you are, you can be the biggest superstar or you could be the 12th man off the bench. Or you could be the towel boy or you could be, you know, assistant coach, it doesn't matter. This virus is out there and will continue to be infecting people until we're able to curb, what's the word I'm looking for?

Jon: Flatten the curve.

SB: Flatten the curve! Thank you … It's exactly what we do need to do. Stay home, relax and try not to panic, I think that's the most important thing. But that's what I learned yesterday. I did not learn any of the players' names, nor would I put that out there. But it brings up an interesting conversation, so I know I'm throwing this to you off the jump, Jon, but we as the public, don't we have a right to know who these players are? I know the 76ers as an organization are not the only one to not put this out there. But there are other players that will remain nameless across the league, and the most important thing we can do is to just stay away from anybody that's got a possibility of being infected at this point in time. And, if you did come across player A or player X, or whatever we want to say here, shouldn't you go get tested? I just feel like, granted it's unknown territory for all of us at this point in time, but I think since the 76ers and the NBA played that game last time they took the floor against the Detroit Pistons, which they should not have-

Jon: Should not have played that game. I am still dumbfounded after Rudy Gobert tested positive they didn't think that maybe we should cancel the rest of these games. Even if games were tipping off, they should have taken players off the court. Absolutely. It's a chain effect, Rudy Gobert played with coronavirus probably a couple days, and he played a few different teams, so those teams got it and they may have given it to other teams. They just should have never played the rest of those games that day."
The Sixers announced on Thursday that three members of the organization tested positive.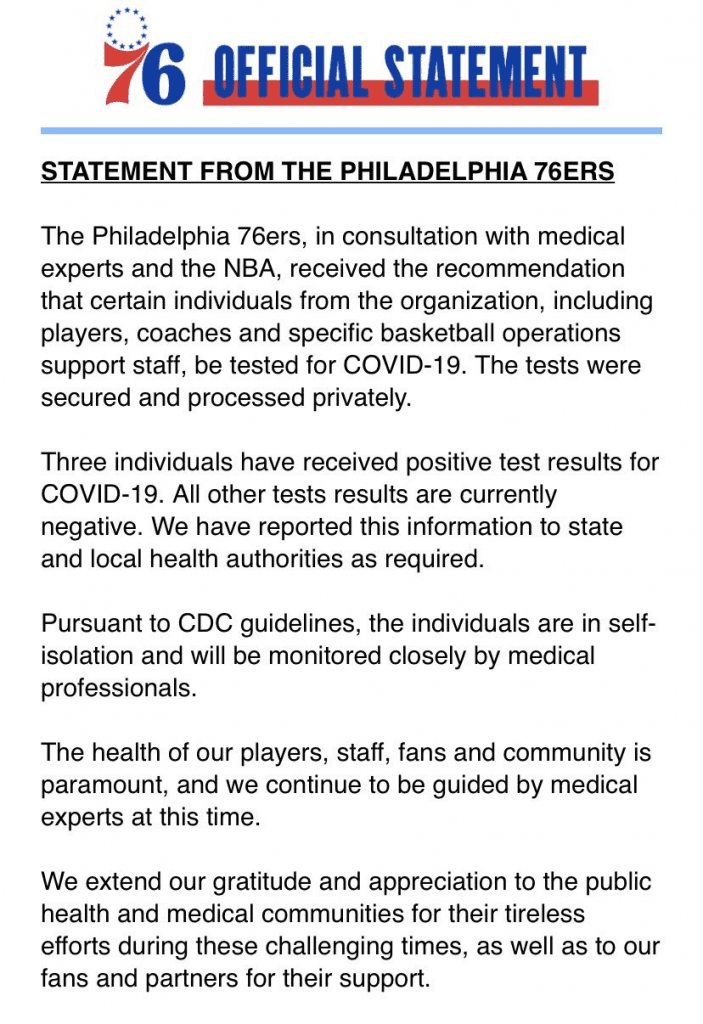 The NBA has suspended its season, and many other major sports leagues followed suit.
---
You can follow Nick Piccone on Twitter (@nickpiccone) and e-mail him at [email protected]. You can read his pro wrestling articles on PhillyVoice here.
Subscribe to The Straight Shooters (@ShootersRadio) on Apple Podcasts, Spotify, iHeartRadio, TuneIn Radio, Stitcher, Google Play, Player FM, SoundCloud, and wherever else you get your podcasts!
Subscribe, rate, and review all Philly Influencer podcasts here. Follow Philly Influencer on Twitter, Facebook, and Instagram.