Finally, something good from the Sixers?
According to multiple reports, the Sixers are hiring former Rockets general manager Daryl Morey to run the team's basketball operations.
ESPN's Woj first stated the Sixers are in advanced talks with Morey.
The Philadelphia 76ers are in advanced talks on a deal to hire Daryl Morey to oversee the franchise's basketball operations, sources tell ESPN.

— Adrian Wojnarowski (@wojespn) October 28, 2020
Conversations with the Sixers and Daryl Morey started shortly after his departure from Houston, escalated in recent days and will culminate with Morey becoming the Sixers new President, sources tell ESPN. Doc Rivers and Morey have a strong relationship and history together.

— Adrian Wojnarowski (@wojespn) October 28, 2020
The Athletic's Shams Charania reports it'll be a five-year deal.
Sources: Former Rockets GM Daryl Morey will sign a five-year deal with the Philadelphia 76ers as soon as this weekend to run the franchise's basketball operations.

— Shams Charania (@ShamsCharania) October 28, 2020
According to The Inquirer's Keith Pompey, Morey could be here longer than Brand.
Brand has 3 years on his contract, according to a source. Ned Cohen will also remain. Alex Rucker, who was demoted, is expected to be let go. He'll be with Sixers thru transition, according to source. It could be 3 weeks, 3 months or more.

— Keith Pompey (@PompeyOnSixers) October 28, 2020
The Sixers fired head coach Brett Brown after their season ended, but said Elton Brand would remain with the team. Glenn Rivers was hired as the team's new head coach, and when Morey stepped down as general manager of the Rockets, rumors were already swirling that he and the Sixers were talking.
Morey turned down an opportunity to run the Sixers two years ago, opting to sign an extension with the Rockets. Clearly, James Harden and Russell Westbrook was not a basketball marriage keen to succeed.
The Sixers' front office – filled with Bryan Colangelo's people – seemingly finally made a good move. The team has simply not gelled and have become the mediocre team they were trying to avoid by tanking years ago. Hopefully with Morey, the team can put the pieces around Joel Embiid and Ben Simmons [they can't possibly trade one of them or both right now, right? RIGHT?] and see success in the Eastern Conference.
…
Listen to The Daily Ticket with Sean Brace on Fox Sports The Gambler today from 3 p.m. to 6 p.m. on 102.5 FM, 1480 AM, 104.5 HD2, and most importantly, on the iHeartRadio app to hear more on this move and any updates!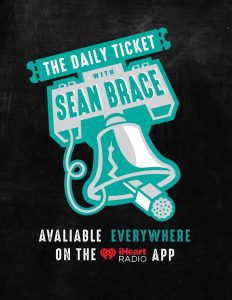 ---
You can follow Nick Piccone on Twitter (@nickpiccone) and e-mail him at [email protected]. You can read his pro wrestling articles on PhillyVoice here.
Subscribe to The Straight Shooters on Apple Podcasts, Spotify, Google Podcasts, Pandora, iHeartRadio, Radio.com, TuneIn Radio, Stitcher, Player FM, and wherever else you get your podcasts! Follow The Straight Shooters on Twitter (@ShootersRadio), like them on Facebook, and listen to every episode at ShootersRadio.com.
Subscribe, rate, and review all Philly Influencer podcasts here. Follow Philly Influencer on Twitter, Facebook, and Instagram.