Halloween Happenings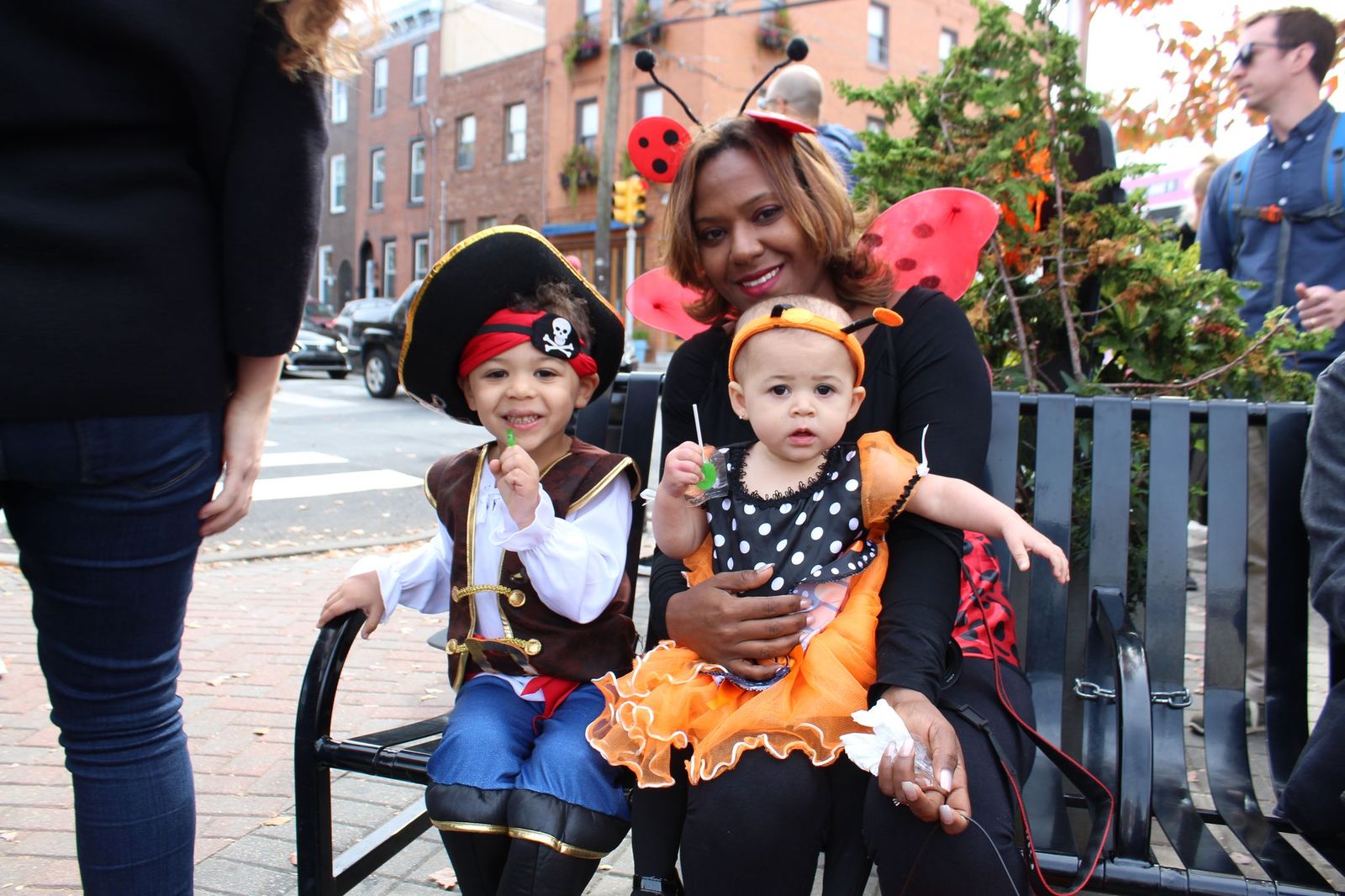 • The Devil's Crawl: Several bars throughout the city will be participating in the Devil's Crawl. This unique Halloween-themed bar crawl will have the masses out in the streets in their best costumes. On top of the 27 drinking establishments involved, there will be complimentary snacks and contests as well.
•  East Passyunk Avenue: East Passyunk Ave offers a double dose of fun in celebration of the spookiest day of the year with Fall Fest & Spooky Saturday on Saturday, October 30 kicking off at 11 am. To commemorate the fall season and Halloween, locals and visitors can partake in fall-themed festivities including a free costume photo booth (for children, adults, and pets), live music and entertainment, grab-and-go pumpkins, trick or treating at Avenue businesses, and more. Adults may enjoy exploring 40+ craft and arts vendors, spirited cocktails, seasonal fare, and so on.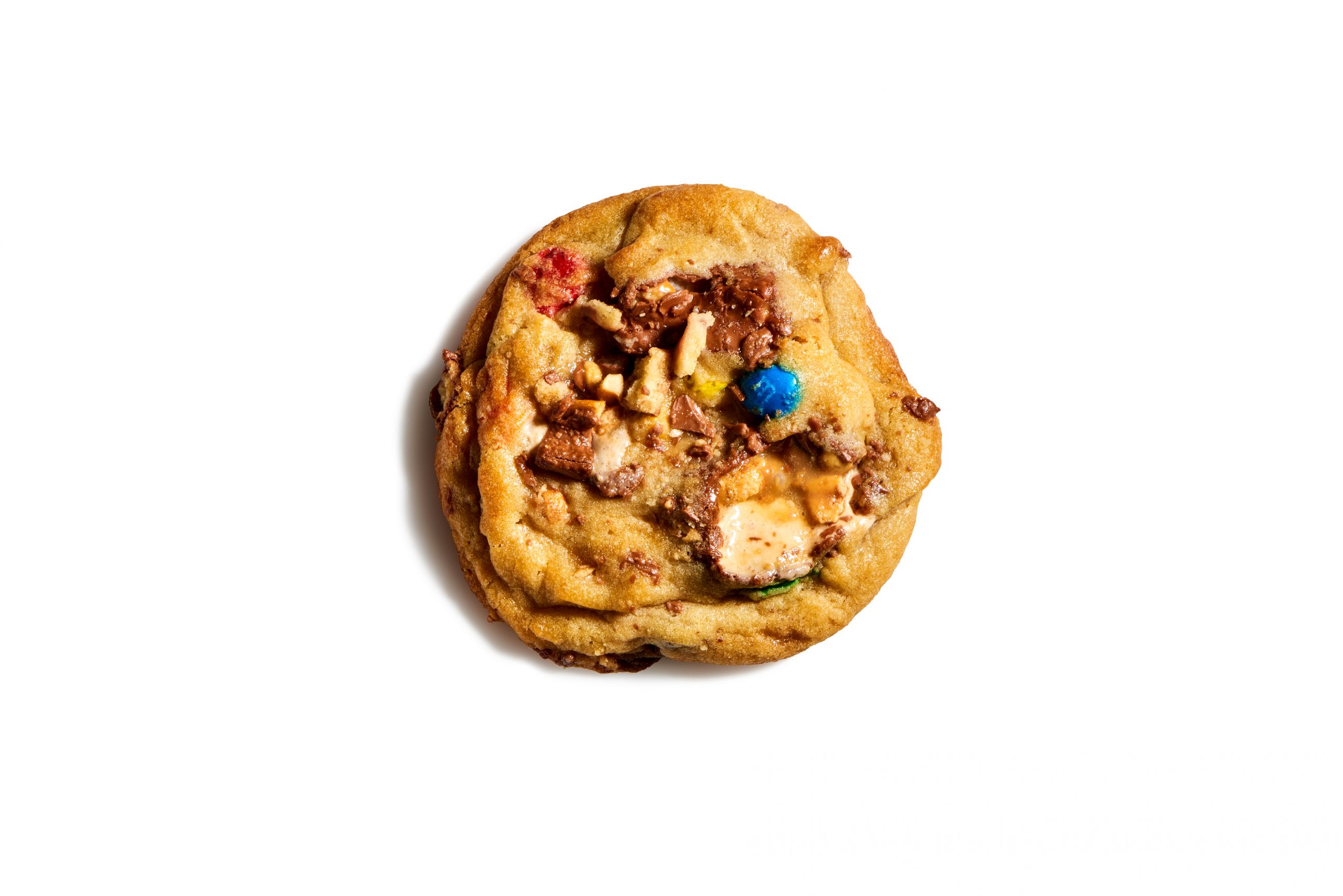 • Insomnia Cookies CookieLab's Spooky Makeover: Through Sunday, October 31, Insomniacs can visit SPookieLab to immerse themselves in seasonal vibes and indulge in limited-edition candy-centric milkshakes, cookies, and custom creations only available at the CookieLab. From dessert-lovers to families and more, the CookieLab will be open daily from 11 am – 3 am and give fans the opportunity to sample supernatural menu items while immersing themselves in seasonal vibes fit for Frankenstein. Insomniacs can also use their imagination to brew up custom creations only available at CookieLab.
•  Franky Bradley's: Mark Bee's effervescent funk- and kitsch-filled nostalgic restaurant and bar in the heart of Center City's Midtown Village, offers a jam-packed schedule of events leading up to Halloween including its groovy GOLDMEMBER Halloween Party on Saturday, October 30 at 10 pm. Guests are encouraged to dress to impress in 70s and 80s-themed costumes while dancing the night away to hits courtesy of Roxoff DJ's Drootax and DJ Chris Urban spinning vinyl. Additionally, once the clock strikes midnight, Franky Bradley's will host a totally rad costume contest.

•  MilkBoy Philly: MilkBoy Philly has one spook-tacular kick-off to Halloweekend in-store with The HYPE!'S Halloween Bash – an evening of live music and celebration featuring talented musical acts TYE, Monte, Boy Wonder, Ariel Skye, and Sinnia Brown, on Friday, October 29 at 8 pm. Costumes are highly encouraged, and tickets can be purchased online here for $12 per person.
• Northern Liberties Hound-O-Ween Pet Costume Contest and Festival: Philadelphia's largest charity pet costume contest is back – and cuter than ever. Tails are going to be wagging during the 7th Annual Hound-O-Ween Fall Festival and Doggie Costume Contest on Halloween Sunday, October 31, from 12-4 pm. Northern Liberties Business Improvement District will close down Laurel Street at N. 2nd for an open-air outdoor mini-festival and Halloween costume contest with proceeds to benefit Street Tails Animal Rescue. Contestants will compete for prizes in four categories for prizes, plus all pets will compete for the grand prize of $500, sponsored by Wilson's Estate Jewelry. All proceeds benefit Street Tails Animal Rescue in their mission to help homeless and unwanted animals in the Philadelphia area.  On top of the contest, look for outdoor food and drink, fall tunes, Halloween vibes, vendors, music, and more. Hound-O-Ween Fall Festival is one of many Halloween and Fall-themed activities in Northern Liberties on Halloween Sunday.

• Nightmare on Broad St: XFINITY Live!'s return to this list is exciting VIP Ultra Lounge, NBC Sports Arena, 1100 Social, and PBR will be overflowing with drink specials, live music, and giveaways
Nightmare on Vine: NOTO Philadelphia will also be hosting its massive chilling party Nightmare on Vine Street this Saturday night. With a $20 ticket fee (you can also get a $20 FAST PASS), this party will feature a DJ spinning the hot tracks and a packed dance floor.
• Wicked 5 Evil Parties Under One Roof: XFINITY Live! will be taking advantage of its six venue space and hosting a multi-party event. There will be multiple costume contests with up to $2,500 on the line, drink specials, live music, and so much more. This is one of the biggest parties in the area.
…
World Vegan Day
World Vegan Day is right around the corner on November 1, and to celebrate the veg-friendly bash here are some go-to Philadelphia restaurants serving up tasty plant-based fare.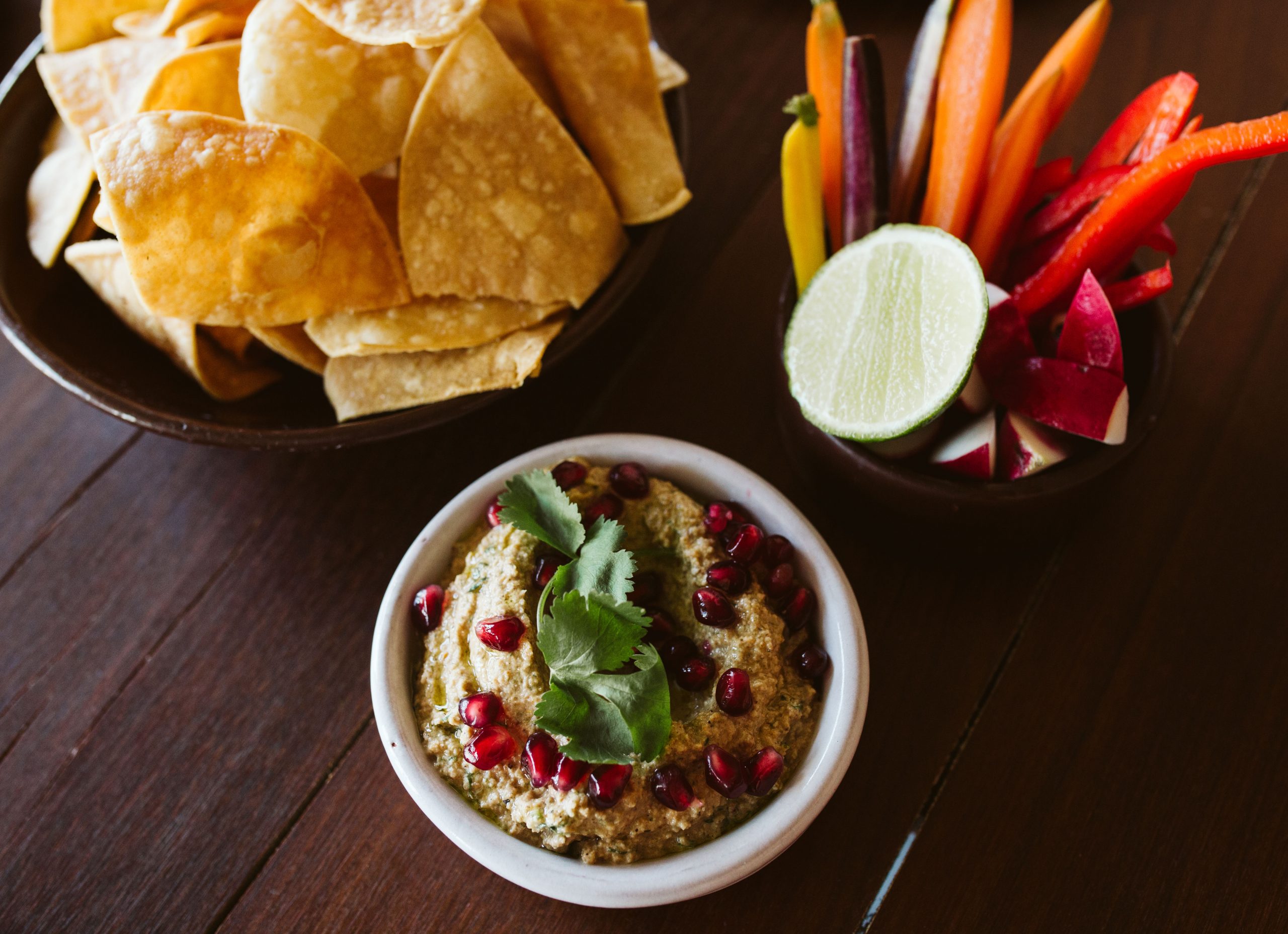 • Sabrina's Café: Sabrina's Café puts a twist on the classic Philly cheesesteak with the meat-less and dairy-free, fan-favorite dishes Veggie Philly Cheesesteak crafted with marinated seitan as the base, topped with sautéed onions and long hots served with vegan cheese on a Sarcone's roll, and Tofu Scramble prepared with spiced tofu, sauteed onions, bell peppers, spinach, mushrooms, garlic, and shallots.
• Silk City Diner Bar & Lounge: Silk City Diner Bar & Lounge serves up a satiating vegan fare with starters including Silky Hummus ($9) and Seitan Wings ($12), as well as crowd-pleasing handheld sandwiches including Crispy Maitake Mushroom ($14) crafted with vegan buttermilk marinade, shredded lettuce, tomato, pickles, and vegan poblano aioli, served on a vegan sweet potato bun, and the Impossible Burger ($10) prepared with a 4 oz patty, shredded lettuce, tomato, onions, pickles, and vegan thousand islands, served on a vegan sweet potato bun.
For the brunch-goer, Silk City Diner boasts an extensive line-up of savory and sweet creations including Vanilla Vegan Pancakes ($12) composed of vanilla pancakes, seasonal berry compote, and powdered sugar.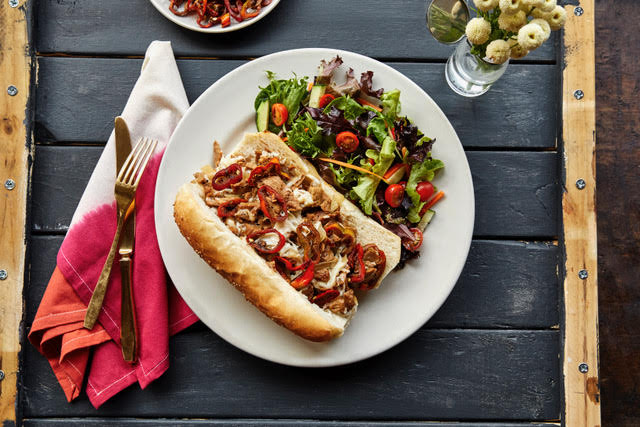 • Sor Ynez: Sor Ynez offers an abundance of plant-based dishes with an authentic Mexican flare, including the meat-less and dairy-free Vegan Mixiote ($18) crafted with eggplant, chayote squash, nopales, carrot, celery root, kale, chipotle sauce, and steamed in banana leaves, served with fried red onions and rice, Sikil Pak ($12) prepared with Mayan pumpkin seed hummus, pomegranate, crudite, and house chips, and Alt Pastor Tacos ($12) composed of spit-roasted cauliflower, red chile, pineapple, salsa verde, onions, and cilantro.
For those with a sweet tooth, Sor Ynez offers Vegan Churros ($7) rolled in cinnamon sugar and served with oat milk champurrado – ideal for capping off one filling and rewarding culinary experience.
• Square 1682:  Square 1682 the modern American kitchen located at the intersection of 17 and Sansom streets in Rittenhouse neighborhood, boasts a rich and spice-forward, vegan entrée with the signature Cauliflower Curry ($26) composed of madras curry, coconut milk, crispy chickpeas, and spinach.
• Triangle Tavern on East Passyunk Avenue: Triangle Tavern offers a plethora of creative, unique vegan-friendly fare sure to impress the elite of food enthusiasts with all-vegan dishes including Spaghetti & Meatballs ($15), Seitan Wings ($13), Roast Beef ($12), Cheesesteak ($12), Crab Cake ($11), Red or White Pizza ($12), and much more.
…
Thanksgiving Offerings
Thanksgiving dinner is less than a month away. We put together another list of the best restaurants in the city serving up some amazing dishes for you and your family.
• Chez Colet at Sofitel Philadelphia at Rittenhouse Square: Executive Chef Edward Hancock is bringing local goodness and a taste of French Art de Vivre to "Action de grâce," (Thanksgiving in French) and it's going to be one to remember. Chez Colet at Sofitel Philadelphia at Rittenhouse Square presents the single most lavish Thanksgiving meal and buffet in the city. It's $80 per person and includes a complimentary glass of champagne. The menu is half price for children under 12. There will be a raw bar, appetizers like Fall Squash Salad (Grapes, Pistachio, Feta, Maple Vinaigrette), entrees like Bourbon Braised Short Ribs, Herb Brined Turkey and other carvings, dessert, and more.
• Bridget Foy's: One of the most popular Thanksgiving dinners in the region is back for the first time since the fire. Bridget Foy's will resume their special holiday dinners again in-person starting with Bridget Foy's Thanksgiving Dinner. Bridget Foy's will be open from 1- 7 pm with dine-in service inside in the dining room, bar and bar lounge, and outside under the heated covered patio. Thanksgiving Dinner is $30 per person and includes Roasted Turkey, Mashed Potatoes, Stuffing, Brussels Sprouts, Cranberry Compote and Gravy. Dessert is a la carte, with options including Pumpkin Cheesecake, Maple Pecan Pie, Peanut Butter Kandy Kake, and Warm Apple Pie. Also, Bridget Foy's will offer take-out and pre-order for packages and pies. See below under the take-out section.
You can also place your order for heat and serve at-home Thanksgiving meals for $34 per person with roasted turkey, mashed potatoes, stuffing, brussels sprouts, cranberry compote, and gravy. They have homemade sweets and treats, add on pumpkin cheesecake for $10 a slice, or you can order a whole pie. Pie selection includes Maple Pecan, Double Crust Apple, and Pumpkin Pie. Sides of whipped cinnamon cream are also available. Place your order through Toast Tab.
• Dolce Italian: Dolce Italian will be serving up a 4-course Thanksgiving menu for $85 per person. The pre-fixed menu features choices of first, second, main, and dessert. Thanksgiving classics including Roasted Butternut Squash Soup, Roasted Turkey & Gravy, and Turkey and Pumpkin Cheesecake will be offered alongside Italian specialties like Sweet Potato Gnocchi, Stuffing with Spicy Italian Sausage and Warm Apple Crostata with Vanilla Gelato. The special Thanksgiving menu will be offered from 12– 7 pm and is dine-in only. Dolce Italian will also be open for regular breakfast service on Thanksgiving Day from 7 am-11 am.
• El Camino: El Camino has plenty of take-out and pick-up heat at home packages available for your Thanksgiving.  Forget the dirty dishes, grocery shopping, and cooking. Make this Thanksgiving holiday simple this year. Order your homemade turkey dinner from El Camino Real today with an easy pick-up in Northern Liberties.  All orders must be in by November 23. There are main dishes like a 14-16lb Southern Fried Turkey, sides like Roasted Brussels Sprouts with Bacon, Spiced Pecans, Pomegranates and Balsamic Reduction, and more to choose from.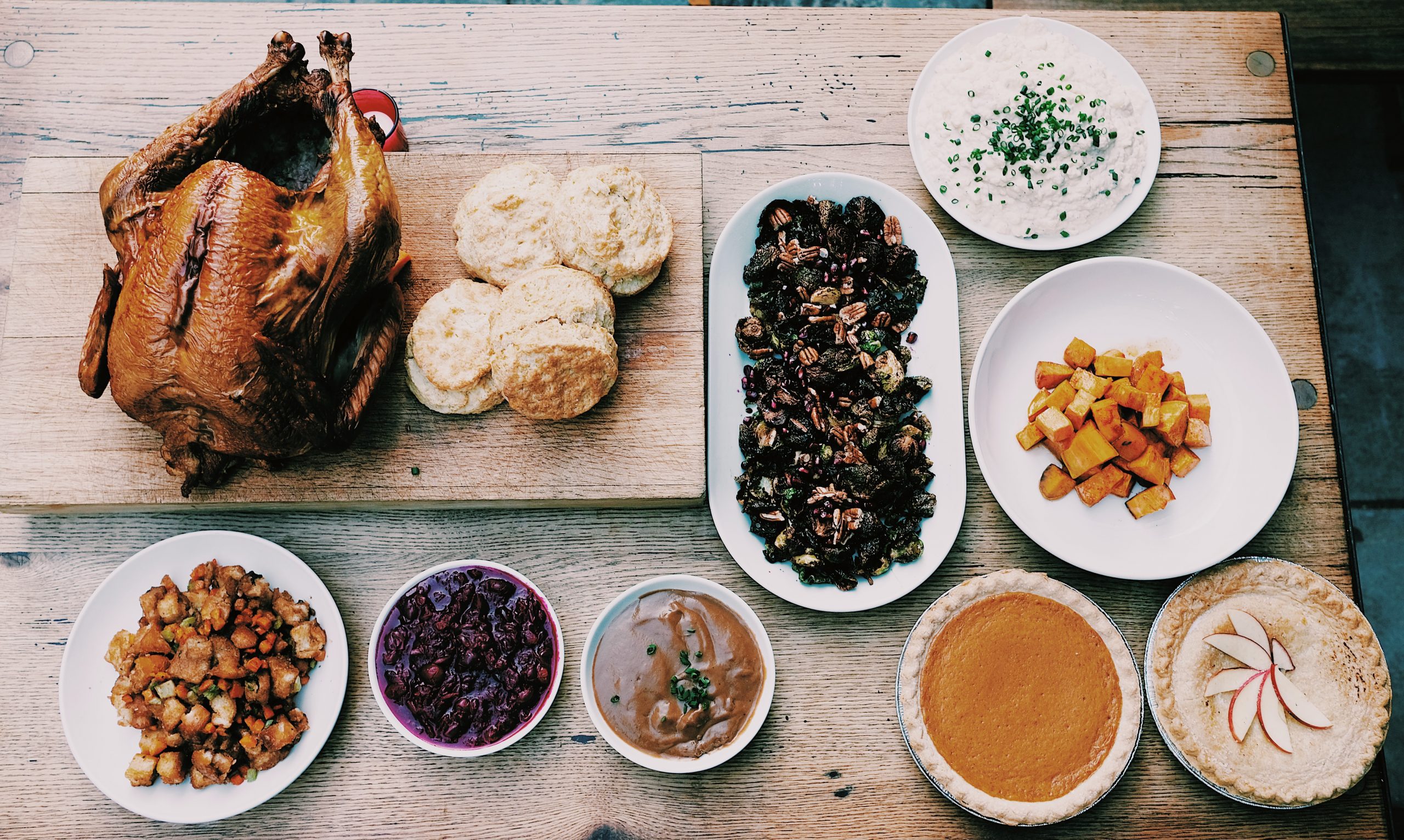 • Fork: Fork will be open and taking reservations from 1- 8 pm on Thanksgiving Day and serving a four-course prix-fixe menu for $95 per person. Guests will have the option to choose two of these offerings per person for the first course: Kuri Curry Squash Soup with pickled apple, Brussels sprouts and smoked grapes, feta, horseradish, hazelnut dukkah, Spanish Mackerel Crudo with torched skin, hakurei turnip, oranges, sunflower seeds, Beet Salad with persimmons, yogurt. Then comes the salad course, a Farm Salad, kiwi berry vinaigrette, puffed rice, chili crème Fraiche, aged alpine cheese.
The entree will be served to share per two people with options including Green Meadow Farm Roasted Heirloom Turkey with cranberry-rosemary-citrus sauce and gravy; Dry-Aged 32 oz Rib Eye Steak with confit garlic; or Whole Pennsylvania Trout with brown butter and herbs. The meal will be served with an array of sides for the table like  Parker House Rolls, Anadama Corn, and Walnut Stuffing, Mashed Potatoes with shaved truffle, and Roasted Fall Root Vegetables & Mushrooms. And to finish off the meal with some sweets, Fork will be serving dessert from their sister restaurant High Street Philly, Chocolate Hazelnut Silk Pie, Ginger molasses cookies, and Biscotti. Guests can opt to elevate the experience by adding on oysters for $4 per piece and charcuterie and cheese for two at $25. Reservations are available via OpenTable.
• Garces Trading Company Thanksgiving Dinner: Garces is serving up a Thanksgiving feast with turkey and all the trimmings. Let Garces do the cooking so you can spend more time with your family.  Thanksgiving dinner is prepared with ease with their heat and serve meal. Reheat instructions will be provided. The meals are $45 per person and feature a  minimum of 2 servings. Pick-up is now two days and at a new pick-up location this year. The starters include Butter Lettuce Salad (Tart Apple, Candied Walnuts, Brie, Maple Vinaigrette) and Rosemary Parker House Rolls served with Crème Fraiche Butter. There's also a Herb Roasted Hudson Valley Turkey Breast and gravy, Garces' Green Bean Casserole with  Mushroom and Crispy Onions, and more.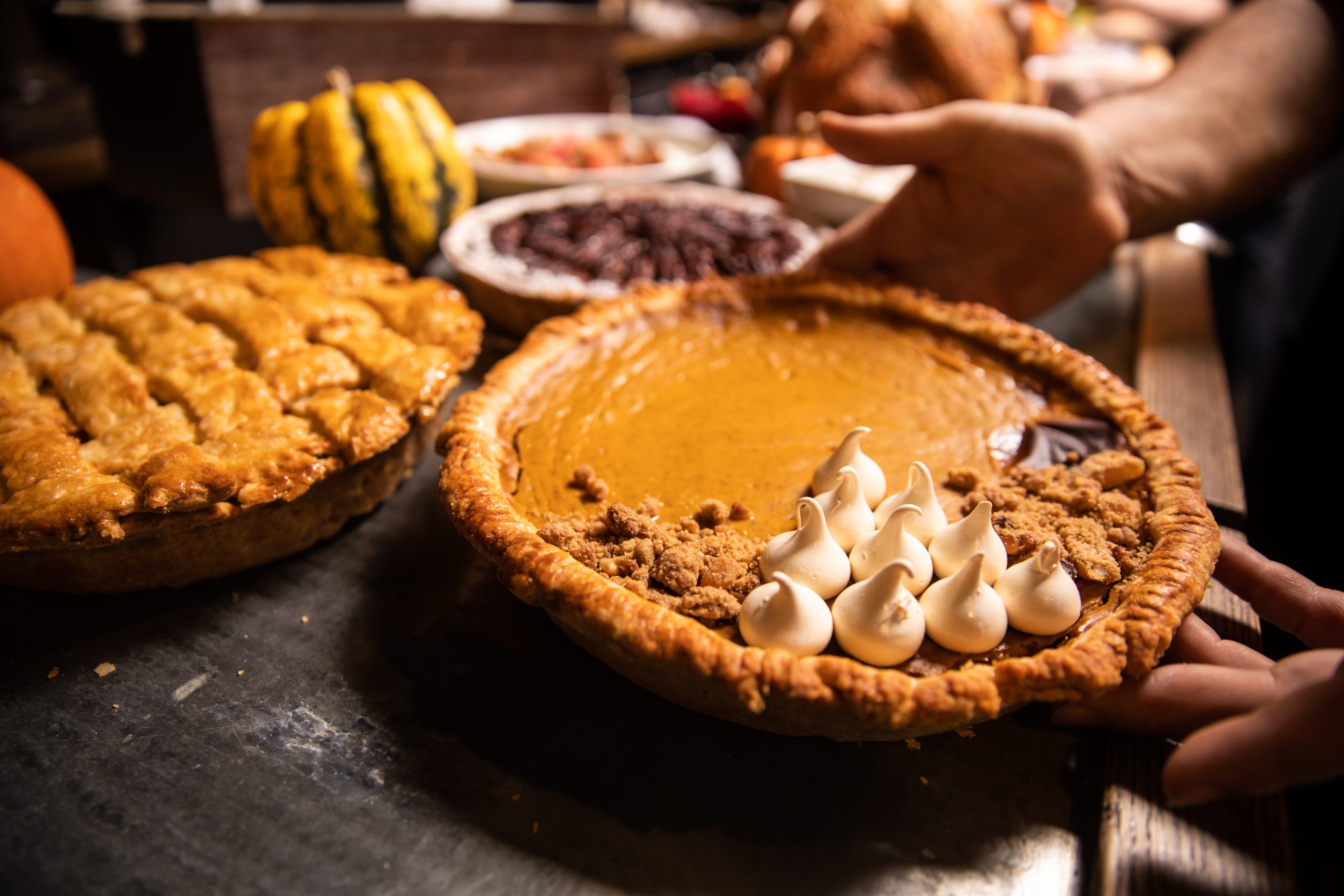 • Hudson Table: Hudson Table has the perfect Eclectic Thanksgiving Cooking Class, Meal kits for heat at home, and Holiday pies to go class for you. The cooking class will feature an international spin on America's favorite meal where you'll turn classic holiday dishes into an eclectic, inspired meal. In the pie class, you'll learn how to make your favorite holiday pies. Each pair will be taking home 4 whole pies or 2 of each pie if you sign up as a full table of 4. The minimum for this class is 2 tickets, which would equal 2 people making and splitting one of each of the 4 pies, working at a table with 2 other guests making their own pies. Their high-end meal kits are back for a limited time. This meal kit is intended to be 4 servings. It features Brined and Roasted Turkey Breast with Gravy and Cranberry Sauce, Roasted Garlic and Sage Stuffing, Creamy Pumpkin Soup, Twice Baked Potato Casserole, Glazed Brussel Sprouts, and Seasonal Berry Cobbler.
• Panorama: Panorama features a Thanksgiving Menu To Go and meal kits this holiday season. All packages will be ready for pick up Wednesday, November 24 between 12-6 pm. And you can pay online in advance by Friday, November 19. The menu includes Focaccia Bread (Housemade Focaccia Bread with Rosemary Whipped Brown Butter), Roasted Turkey (Hand Carved Slow-Roasted Turkey Served with Black Truffle Gravy), Rigatoni (Baked Wild Boar Bolognese, Mozzarella & Ricotta Cheese), Sweet Potatoes  (Baked Sweet Potatoes with Brown Butter Sage), and much more.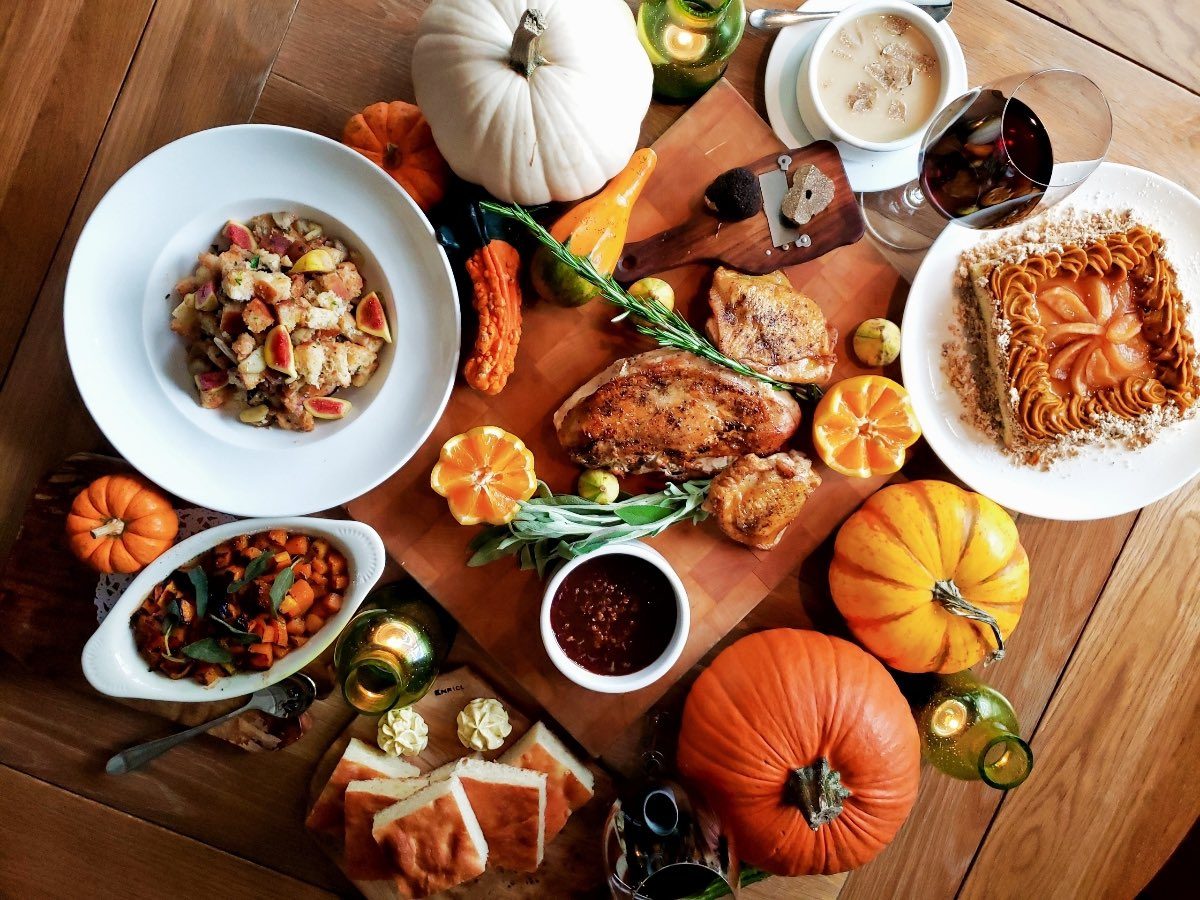 • Positano Coast: At Postino Coast, you can get trays to go. Each tray serves 10 guests and can be ordered with 48 hours' notice (requested). The menu includes Cold Antipasto (meat & cheeses, mixed olives, roasted peppers, artichokes, eggplant), Spiced Fried Calamari (served with pickled peppers and goat cheese), Spicy Paccheri Alla Vodka (cream, marinara, sun-dried tomatoes), Veal Marsala (marsala wine, mushrooms, sun-dried tomatoes), Eggplant Parmigiana (topped with marinara and mozzarella), Tiramisu, and more.
• Revolution Chophouse: Revolution Chophouse  (located within Valley Forge Casino Resort in King of Prussia) has a Thanksgiving dinner package + a la carte menu this year. It's $35 per person which includes a special Thanksgiving dinner, plus an additional seasonal starter (there's a dessert option for an additional price). You can bite into a savory Roasted turkey, herbed stuffing, whipped potatoes, candied sweet potatoes, sage turkey jus. This also includes their "The Gobble" sandwich to-go (roasted turkey, stuffing, cranberry sauce with warm gravy served on a Liscio's roll). Butternut Squash Bisque and a Pumpkin Pie Tart can be ordered a la carte for $9 each (in addition to the dinner). The menu will be from 2– 8 pm on Thanksgiving.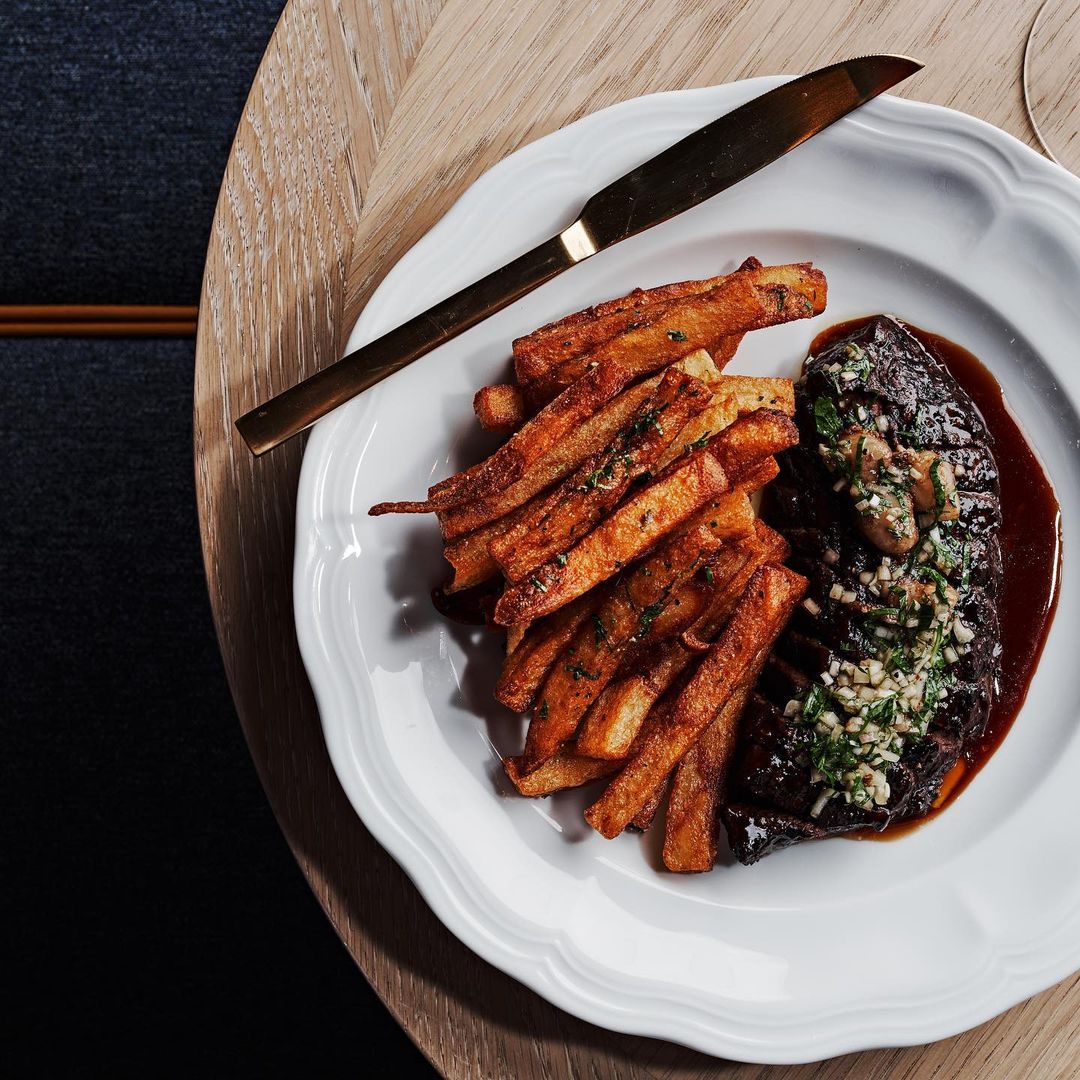 • Sophie's BBQ: Sophie's BBQ in Downtown Ardmore is offering Thanksgiving Turkeys this year with whole birds at $150 and a half bird for $80.00 each. Each order includes Cornbread, Cranberry Stuffing, and Briskey Gravy. Catering menu pricing and orders are also available for extra sides with any bird purchase. You can order online today.
• Steak 48: This Thanksgiving, Steak 48 will offer special seasonal menu items in addition to their full menu of a la carte offerings. Guests can enjoy turkey offered as the main entrée, as well as seasonal sides including truffle mashed potatoes, stuffing, and praline sweet potato alongside the restaurant's signature offerings of prime steaks, fresh raw bar, and seafood options, creative appetizers, hearty sides, and indulgent desserts. Steak 48 will be open from 5– 9 pm on Thanksgiving day.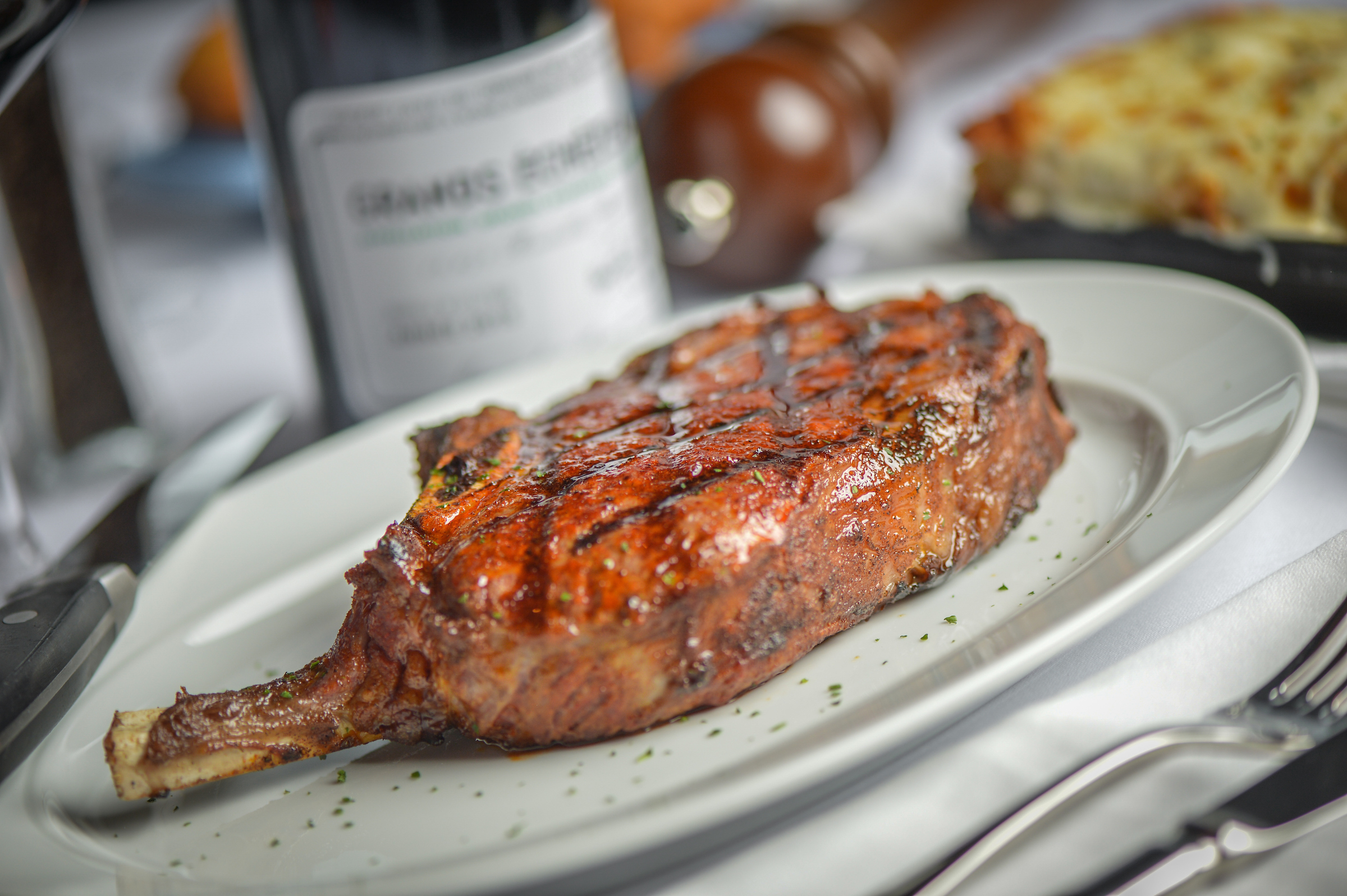 • The Wayward: The Wayward's French-inspired seasonal menu items will be offered a la cart alongside a select few Thanksgiving dishes available only on Thanksgiving day. Seasonal menu items include Smoked Honeynut Squash (raclette, pumpkin seed), Pan Seared Scallop (served with butternut squash, maitake, lardo, preserved lemon), Half Roasted Chicken (pan-roasted vegetables, saffron aioli, vin verte). Additional one-day-only Thanksgiving dishes will be available as well. The Wayward will be open from 5– 1 pm for dine-in only services on Thanksgiving.
---
You can follow Candis McLean on Twitter (@CandisRMcLean) and e-mail her at [email protected].
Subscribe, rate, and review all Philly Influencer podcasts here. Follow Philly Influencer on Twitter, Facebook, and Instagram.