These Players Could Make A Huge Impact On The Playoffs This Year, We Expect One Of Them To Be Named MVP
After a year of unpredictable NBA basketball, it's time to think about the playoffs…
It's that time of year again, the regular season is over and soon the playoffs will be upon us. Now is the perfect time to reflect on the season and think about what players' performances might teach us about how the playoffs will pan out.
We have struggled for the past week to put together this Top 10 list, based on the regular season. But if you know anything about the NBA playoffs, this list will look completely different by the end of the tournament.
#10 – Jimmy Butler – WING
Team: Heat (44-22)
21.4 points, 6.2 rebounds, 5.7 assists, 0.5 blocks, 6.7 net rating, 46 GP
Jimmy Butler has been the best thing to happen to the Heat this year. He is playing like one of the most mature players in the league. He is able to read games and his team.
He has repeatedly put in the exact performance the Heat has needed to win games. They would be a much poorer team without him.
The Heat are currently number one seeds in the Playoffs this year, you can find the odds on them winning and the other NBA Championship Odds here.
#9 – Luka Doncic – WING
Team: Mavericks (40-25)
28.0 points, 9.3 rebounds, 8.8 assists, 0.5 blocks, 3.4 net rating, 49 GP
Doncic might be the best player under 25 in the world right now. He is the type of player that puts other (and better) teams on edge when he steps out onto the court.
He is a playmaker. He makes the most of every second he spends on court. He and the Mavericks have an incredible future in store if he keeps playing this way.
#8 – DeMar DeRozan – WING
Team: Bulls (39-26)
28.0 points, 5.4 rebounds, 5.1 assists, 0.3 blocks, 3.5 net rating, 61 GP
This has not been the finest season for the Bulls, but that has not stopped DeRozan from giving his all.
If he is able to improve his defense and assisting abilities then he could make it into the Top 5 of this list next year.
#7 – Ja Morant – GUARD
Team: Grizzlies (45-22)
27.5 points, 5.8 rebounds, 6.7 assists, 0.4 blocks, 4.2 net rating, 53 GP
Last year's Rookie of the Year has not disappointed this season. Just think back to the start of the season when he scored 105 points and 24 assists in three games.
Cast your mind back to how flat the Grizzlies were looking without him two seasons ago and you will see what a difference this kid has made.
#6 – Chris Paul – GUARD
Team: Suns (64-18)
14.7 points, 4.4 rebounds, 10.8 assists, 1.9 Steals, 4.6 net rating, 65 GP
The Suns have been excellent this season. Chris Paul has been utter class on the court.
He is the kind of player who could take a team like this year's Suns to the Finals.
If we were Paul, we would be looking into whether Phoenix is the right place for us to be.
#5 – Kevin Durrant – BIG
Team: Nets (33-33)
29.1 points, 7.2 rebounds, 5.8 assists, 0.9 blocks, 4.1 net rating, 39 GP
For anyone who thinks Durrant should be retiring soon, just look at the following statistics.
Before Durrant was injured, the Nets were 24-14. Without him, they went 8-19.
He still has a huge amount to offer the game and god knows what the Nets would do if they lost him.
#4 – Stephen Curry – GUARD
Team: Warriors (44-22)
25.8 points, 5.2 rebounds, 6.4 assists, 0.4 blocks, 10.4 net rating, 59 GP
This might have been the worst season that Curry has ever had. But it says a lot about him as a player that his worst season is still enough to put him in the top half of this list.
He is someone we will be watching closely in the Playoffs, especially if he feels like he has something to prove.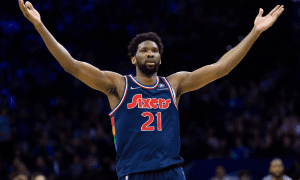 #3 – Joel Embiid – BIG
Team: 76ers (40-24)
29.7 points, 11.2 rebounds, 4.3 assists, 1.4 blocks, 8.1 net rating, 52 GP
If you want proof that hard work, reflection, and commitment to your dream can turn your career around then look at the last 5 years of Joel Embiid's life.
We remember 5 years ago, there were people encouraging him to retire. This year, we are naming him as the third best player of the year.
And we believe the best is yet to come for Embiid.
#2 – Nikola Jokic – POINT BIG
Team: Nuggets (39-26)
25.9 points, 13.8 rebounds, 8.1 assists, 0.8 blocks, 9.6 net rating, 58 GP
Last year's MVP has had another record breaking year.
His team has been riddled with injury. He is not surrounded by the best players in the league. And he's become a dad this season. Yet, in every single match, he has come out onto the court and given it everything.
We are in awe of this guy.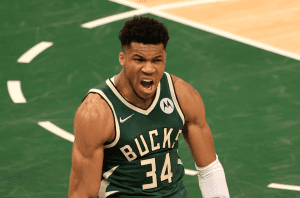 #1 – Giannis Antetokounmpo – BIG
Team: Bucks (41-25)
29.4 points, 11.5 rebounds, 6.0 assists, 1.4 blocks, 9.0 net rating, 55 GP
It is hard to put into words the season that Antetokounmpo has had. His statistics speak for themselves. While many think that Jokic will go back-to-back MVP awards this year, we think it will be a shame.
This man has had an incredible season and deserves a lot more praise than he is getting.