I'm hearing a lot of whispers within the Fantasy Football community that people are thinking that they need to draft a wide receiver in the first round, to which I say let them. The WR position is incredibly deep this year and I firmly believe that if you miss out on a top RB in the first two rounds that you may pay for it. There's only so many good RB's this year on paper, so don't shoot yourself in the foot by getting cute and not taking one ASAP. Here are my Top Ten Running Backs going into this season.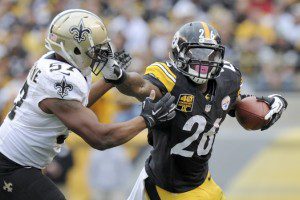 #1 – Le'Veon Bell (Pittsburgh Steelers)
There's no question for me that my number one running back going into the 2015 season is Le'Veon Bell. Though, I could understand if someone is hesitant to draft him at the number one overall position as he'll miss the first two weeks with a suspension, but the return on my investment that I think I can get from him when he gets back is too much for me to pass up. Bell is a true game changer and I believe he's only beginning to scratch the surface of just how epic of a Fantasy player he'll be for years to come. The one thing that you'll come to learn about me fast is that I love running backs that are dual threats and Bell is definitely that guy. He played in all 16 games last year and rushed 290 times for 1,361 yards and 8 touchdowns, with 0 fumbles. He was equally as impressive in the receiving game as he caught 83 balls for 854 yards and 3 touchdowns. The Steelers offense is absolutely tailored to him and I have full confidence in my ability to survive the 2 games that he'll miss in any league that I'm in, therefore, this pick is a no brainer for me. The Steelers passing game will be even more improved this year and the arrow is pointing straight up for Bell.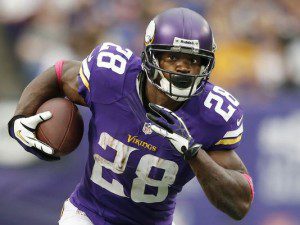 #2 – Adrian Peterson (Minnesota Vikings)
Adrian Peterson returns to the field after a one year hiatus for his domestic issues. He only played one game last year, where he rushed 21 times for 75 yards. Peterson will no doubt be refreshed and ready to go this year and play with revenge on his mind. The last time that Peterson saw the field for almost a full season was in 2013 when he rushed 279 times for 1,266 yards and 10 touchdowns in the 14 games he played in. As is the case in most years, Peterson will be held out of pre-season games to preserve his health. The return of Peterson instantly makes the Vikings a better team and it'll work wonders for now second year QB, Teddy Bridgewater. Expect for Peterson to be a workhorse as he's always has been and he'll be playing with a huge chip on his shoulder. He should touch the ball at least 20 times a game and is a good bet for 1 or 2 touchdowns a game on most days.
# 3- Jamaal Charles (Kansas City Chiefs)
At number three on my list of running backs coming into the season, you'll find Chiefs running back, Jamaal Charles. The Chiefs got a boost in the off-season when they actually went out and signed a legit WR, Jeremy Maclin. They have a beast at TE and they have the heir to the Charles throne at RB, with Knile Davis. I expect Davis to be worked into games a bit more this year, as he and Charles will pack a mean 1, 2 punch. Charles provides that dual threat ability that I love to talk about and while last year could technically be considered a down year for him, a down year for Charles is a tremendous year for most. Charles rushed 206 times for 1,033 yards and 9 touchdowns, while catching 40 balls for an additional 291 yards and 5 touchdowns. If you flipped Charles and Peterson on this list, I'd understand, as both players will be top options for their teams. I put Peterson a nose ahead of Charles for the simple fact of touches per game that they'll see. However, if you land Charles, you'll still find yourself in a good place, just make sure you try to handcuff him with Knile Davis. I don't usually promote the teammate handcuff, but in this case, if Charles goes down with an injury, I don't see much of a drop off in production with Davis, as he showed last year when Charles missed one game. Look for Charles to continue his success in fantasy this season.
#4 – Eddie Lacy (Green Bay Packers)
The 2014 season got off to a terrible start for Eddie Lacy as it looked at one point that he was going to be benched for James Starks. Prior to week 10 last season, Lacy only had 1 touchdown and 1 100+ yard rushing game. He looked very slow and he was allowing teams to bottle him up. However, he finished the second half of the season off strong and ended up with 246 carries for 1,139 yards, 9 rushing TD's and 4 receiving TD's. There's a part of me that feels that I'm being too generous with the #4 ranking here as I think that Lacy will always be a boom or bust guy. However, the Packers offense will again be dominant and while in most offenses, the run game opens up the pass game, that's not the case in Cheese Land. The Pass game led by Aaron Rodgers will open up the run game for Lacy. Lacy is like a bull and in the receiving game he had 42 receptions for 427 yards and 4 touchdowns last year. I don't know many guys that wouldn't get bulldozed by Lacy when he gets a head of steam. I wouldn't feel comfortable drafting him with the first three picks, but I do think that around pick 4 is right where he should be drafted.
#5 – C.J. Anderson (Denver Broncos)
C.J. Anderson will either be an absolute monster this year or he will be a total bust. I just don't think that there will be an in between here for Anderson. The talent is without a doubt there, but I'm feeling a bit uneasy of how new Denver Head Coach will use his running backs. The Broncos other backs, Ronnie Hillman and Montee Ball are also in the picture here and I could easily see Kubiak spreading the love between all three running backs. Anderson rushed 179 times last year for 849 yards and 8 touchdowns to go along with 34 receptions for 324 yards and 2 touchdowns through the air. He's an explosive back, but you know that Peyton Manning loves to spread the wealth around. Julius Thomas left in free agency to go to Jacksonville, which could bode well for Anderson as well, who enters his third season in the NFL. The Peyton led offense for the Broncos will cause havoc in the league again, so if their run game can produce like last year, teams better watch out because the Broncos will be tough to stop.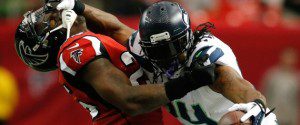 #6 – Marshawn Lynch (Seattle Seahawks)
Coming in at number six on my list is the player that if I were coach, I'd love to have on my team and that's Marshawn Lynch. The guy just doesn't give a rats behind and I love it! But in his case, it's not a bad thing because he stays out of a trouble when off of the football field. He's literally a beast of a player, hence the nickname "Beast Mode." Had it not been for a disastrous call by Pete Carroll at the end of the Super Bowl last year, Lynch would've been part of a team with two consecutive Super Bowls titles and perhaps have been the Super Bowl MVP. All the Seahawks had to do was feed the Beast. He was unstoppable. Lynch is entering his ninth year in the league and he just gets better with age, plus he's starting to catch the ball more out of the backfield. Last year he had 280 carries for 1,306 yards, 13 touchdowns and only 1 fumble. He also had 37 receptions for 367 yards and 4 touchdowns in the air. He's just a bad man all around and with the addition of stud TE, Jimmy Graham to help with blocking, Lynch could possibly have another big year here.
#7 – Matt Forte (Chicago Bears)
If you want to talk about a consistent player in Fantasy year after year, then look no further than Matt Forte, as he's the ultimate PPR player. This year the Bears come into the season without Brandon Marshall, who was their top receiver over the past few years. Marshall was traded to the Jets in the off-season and the Bears thought that they had a solid replacement for Marshall, when they drafted Kevin White out of West Virginia. However, White just suffered a stress fracture in his shin and could miss the entire season, which will leave only three good players for Jay Cutler to use and they are, Alshon Jeffrey, Martellus Bennett and Matt Forte. The Bears will again rely heavy on Forte to take the pressure off of Cutler. Last year Forte carried the ball 266 times for 1,038 yards and rushed for 6 touchdowns. Forte, always useful in the passing game, also had 102 receptions for 808 yards and 4 touchdowns. Forte's comfort zone is within the pass game and he's going to see a heavy dose of action this season. If you draw a pick between 6 and 10 in a PPR league, don't try to get fancy with your pick, snatch Forte up.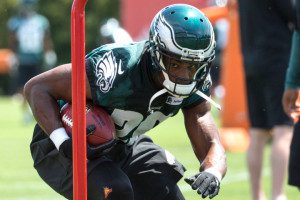 #8 -DeMarco Murray (Philadelphia Eagles)
Talk about a funky situation, last year's rushing champion, DeMarco Murray left Cockroach City, Dallas to play for a better team and a better City. In perhaps the surprise of the off-season, Murray signed with Philadelphia. Clearly Murray's Fantasy value will take a huge hit as he goes from being the main guy in the Cowboy backfield, with the best line in the game to joining Chip's Wonderland, where anything can happen. However, how bad could it be? The Birds are going to put up boat loads of points weekly and Chip will find creative ways to get Murray the ball. Plus, unlike LeSean McCoy, Murray fits this offense perfectly. He runs downfield and doesn't dance around the field like McCoy, where opportunities at times are wasted. Murray's monster 2014 saw him rush 392 times for 1,845 yards and 13 touchdowns. His rushing attempts were way too high and if he's going to preserve his health, those numbers are going to have to come way down. But, that's the beauty of Murray being in Philly. He won't have to carry the load as the Eagles also went out and signed Ryan Mathews to go along with their other speedy back, Darren Sproles. As if Murray's stats weren't sexy enough for you last year, he's also a threat to catch the ball out of the backfield. He contributed to the Cowboys pass game with 57 receptions for 416 yards. Murray will be a blast to watch in Eagles green, he just won't be as epic of a player as he was last year.
#9 – Jeremy Hill (Cincinnati Bengals)
Going into last season, the Cincy running back position appeared to be a lock for Giovanni Bernard. However, as Lee Corso would say, "Not so fast my friends." What started as a situation where Bernard and Jeremy Hill would split carries in games eventually led to Hill running away with the job toward the end of the season. Hill finished the season with 222 carries for 1,124 yards and 9 touchdowns. That's pretty impressive for a rookie, who wasn't even set to see much action last year, huh? At times Hill was running like a man on a mission and just trucking over defensive players. There's always a chance that Bernard could vulture some carries and touchdowns away from Hill, much like Hill did to Bernard last year. But, if Hill shows the skills that he had last year, it'll be tough for Bernard to see a lot of action on the field and that will be a great thing for Hill owners.
#10 – Alfred Morris (Washington Redskins)
You're reading this correctly, so there's no need to do a double take. That is Alfred Morris at number ten on my list coming into the season. I know Alfred Morris is projected to go in the late second or third round, but I see an opportunity for someone to strike gold here, if you choose to go with a WR with your first pick of the draft. I know the Redskins blow, RGIII blows (don't tell him that), but someone needs to produce for that terrible team and they can't even look to their TE's for help as they're all dropping like flies with season ending injuries. The Redskins still have DeSean Jackson, but that's about it, so they'll have to rely on Morris more this year. For some reason, they got away from going to him last year and I don't understand it. In 2014, Morris rushed 265 times for 1,074 yards and 8 touchdowns. Morris is still young and as he enters his fourth season in the league he has plenty of juice in him. Look for a big time improvement from him this year.
INJURY UPDATE
In regards to LeSean McCoy (Buffalo Bills) and in the interest of full disclosure, I had to do some last minute adjustments to my rankings. Late Tuesday, word broke that LeSean McCoy had been diagnosed with a left hamstring injury. He's set to have an MRI to check on the severity of the injury. Initial word from Rotoworld is that he can be ruled out for the rest of the preseason and should probably be viewed as questionable for Week 1 against the Indianapolis Colts. Things are getting off to a rocky start for McCoy in Buffalo. I originally had McCoy listed as a shaky number eight in my rankings, but this no doubt throws a curve ball to all RB rankings. Even if this turns out to be a relatively minor injury, hamstring injuries can linger throughout the season. McCoy was already pissed when he found out that the Eagles traded him to Buffalo and much like a scorned woman, McCoy has constantly vented his displeasure with Chip Kelly and the Eagles to the media. McCoy, much like Adrian Peterson, was already coming into the season with a "Chip" on his shoulder, pun intended. But unlike Peterson, McCoy appears to lack the maturity to turn that anger into positive aggression on the field. We have to wait to see what the results of the MRI say, but I think it's safe to say that McCoy needs to be avoided in the first round and depending on the severity of the injury, he probably should be avoided in the second round as well. The only question that remains to be answered at this point is, how low will Shady go?
The running back position is a position that you really need to get right when drafting. Everyone loves to target them and there's always a major rush on them during the second to fourth rounds of the draft. Before you know it, the good crop of backs are gone and you're left trying to predict which backups will get a chance to play during the season. It's not a fun game to play, so don't get left behind and draft smart when drafting running backs.
You can stay up to date with everything fantasy football related by following me on Twitter (@ViggieSmalls765) and Instagram.