For the second part of my fantasy football preview, I'm going to focus on the players that I won't draft for various reasons this season, unless I'm beyond desperate. One of my favorite shows of all time is HBO's Curb Your Enthusiasm. If you've ever watched it, you'll be familiar with the term "Schmohawk" which essentially is a term for a driver that's a tool. As a tip of my cap to the creator of the show, Larry David, I use the term to reference fools (to be politically correct) of some shape, form or fashion. So for purposes of this writing, I'll be using the term "Schmo" when talking about the players that I believe will end up sinking your fantasy battleship this year. Here is my 2015 Fantasy All-Shmo team.
Quarterbacks
Colin Kaepernick (San Francisco 49ers)
Did any team in the NFL have a worse offseason than the San Francisco 49ers? I certainly don't think so. On the surface, it may not seem that bad, but big moves were made all around the team. Among the big moves that were made, the following left the coo coo's nest: Jim Harbaugh (fired), Frank Gore (free agency), Michael Crabtree (free agency), Stevie Johnson (cut), Patrick Willis (retired), Chris Borland (retired), Justin Smith (retired), Anthony Davis (retired) & Aldon Smith (cut for DUI/Arrest). Among some of the bigger entrances to the Bay area danger zone were: Jim Tomsula (Head Coach), Torrey Smith (WR) and Reggie Bush (RB). It was a drama filled summer that I believe will linger on as the season progresses. Drama plus an immature Colin Kaepernick won't equal any positive outcome in my opinion. Kaepernick is coming off of a sub-par year where he was 289 out of 478 for 3,369 yards, 19 touchdowns and 10 interceptions. Kaepernick had a passer rating of 86.4. The kid has a gun for an arm and is quite mobile, but his maturity level isn't there yet and I'm not sure it ever will be there. I expect him to rely heavily on veteran Anquan Boldin in the pass game and the ceiling is high for the 49ers ground game with the removal of Frank Gore and entrance of Carlos Hyde. However, Hyde is unproven at this point and the 49ers need a lot of "If's" to happen for them to have a good season. I like too many other Quarterbacks that I could grab in the later rounds of a draft than to play Russian roulette with Colin Kaepernick.
Drew Brees (New Orleans Saints)
Let me start by stating the obvious, which is that Drew Brees is a great Quarterback in real life. He generally has an explosive, high-powered offense to work with. However, in meaningful games for Fantasy purposes, Brees has started to sour a bit over the last couple of years and I've lost faith that he can bring a Fantasy team a championship. The Saints have a new look offense this year, as they lost stud tight end, Jimmy Graham in a trade to Seattle. Though, my gut tells me that the Saints new starting tight end, Josh Hill will be better than most expect, he's definitely not Jimmy Graham. Brees will still have some weapons at his disposal with guys like Brandin Cooks, Mark Ingram and newly acquired running back, C.J. Spiller. However, besides the loss of Graham, the Saints lost Kenny Stills, a young, talented receiver and wide receiver Marques Colston is clearly on the decline. Over the past 4 years, most of Brees' numbers have stayed relatively the same however, the category where he's seen a decrease in productivity is touchdowns thrown, as he's thrown for 46, 43, 39 and 33 consecutively since 2011. That number is troubling to me and with the loss of Graham and addition of Spiller, I think the Saints offense will be a bit more run heavy this year. I'm not saying that Brees is undraftable, but I think that what he could give you if you selected him with one of your top 3 selections, you could probably find elsewhere later in the draft with a lesser named Quarterback. Value is the name of the game when making draft picks and for those reasons, I will pass on Drew Brees and I think that he will be quite disappointing to you if you think that he's the Drew Brees of old.
Running Backs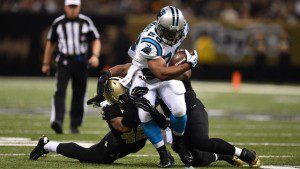 Jonathan Stewart (Carolina Panthers)
I have no clue why I hear so many people are raving about Jonathan Stewart as a great Fantasy option this year. Sure, DeAngelo Williams is no longer a member of the Panthers, but let's be honest, he just hasn't shown us any explosiveness over the last few years. He will certainly get more carries this year. However, whether his body can handle being a featured back is a question that has yet to be determined. Stewart hasn't played a full season since 2011 and even so, he shared carries with DeAngelo Williams over the years and is just not that good. Last year he played in 13 games and had a 175 carries for 809 yards and 3 touchdowns, while averaging 4.6 yards per carry. Cam Newton was battered quite often last year, so a healthy Stewart would be a big deal for the Panthers. Stewart is entering his 8th season in the league, but has yet to show me what I need to see to consider him a solid option at RB. The Panthers have added Jarrett Boykin, along with Rookie, Devin Funchess to their receiving core to play alongside Kelvin Benjamin. It certainly is an improvement from what they had last year, but I don't think it's enough for opposing teams to fear this year. Therefore, opposing defenses will continue to focus on shutting down the Panthers run game led by Newton and Stewart. I don't think Stewart is the answer here at all and I wouldn't bank on him making it out of this year uninjured.
Melvin Gordon (San Diego Chargers)
San Diego Chargers rookie Melvin Gordon shows a lot of promise as he was selected out of Wisconsin with the 15th overall pick in the NFL draft. However, I get the sense that this won't be the year that he breaks through, especially with high expectations for him with a high ADP. You need to make sure that you get bang for your buck when making your first 5 draft picks. The Chargers have a few other backs that are sure to get their share of playing time like Branden Oliver, Danny Woodhead and Donald Brown and I cannot see Gordon getting the bulk of the carries in this muddy field of running backs. To make matters worse, Gordon, as is the case with most rookies, is having some issues with pass protection in training camp and if he continues to have issues with picking up blocks, then it will be tough to have him on the field for a great deal of time. I'd avoid Gordon altogether, unless he somehow falls to you in the later rounds (which I highly doubt), after you have stacked your team with players that will be able to contribute right away.
Wide Receivers
Roddy White (Atlanta Falcons)
I've been burned too often by White and today, I say no more. The Falcons passing game should put up some big numbers this year and Roddy White should be able to be a big part of the offense. However, White is getting up there in age (33) as he enters his 11th NFL season. There's always talk during each week of every season of White potentially missing games due to a hamstring injury. Last year White had 80 receptions for 921 yards and 7 touchdowns. He averaged 11.5 yards per catch. [Editor's note: White was my best wide receiver last season – shows you what kind of season I had.] The Falcons' offense had become bland and predictable under Mike Smith, so perhaps the new head coach, Dan Quinn and new offensive coordinator, Kyle Shanahan, can breathe some new life into the offense. However, I believe that Roddy White is what he is and I believe his better years are behind him. This offense will be a work in progress this year and there are also many issues with the Falcons running attack at the moment. Their top 2 backs, Devonta Freeman and Tevin Coleman recently suffered hamstring injuries and will be sidelined for 2-4 weeks. There's some upside with those two backs, provided they stay healthy, but they're both young and unproven. So unless the Falcons coaching staff has some hidden gems at the running back position, the offense this year may go through the air an awful lot and we've seen how White and their offense can be shut down when there's no running attack. Stay away from Roddy.
Keenan Allen (San Diego Chargers)
After a phenomenal rookie season in the league, Keenan Allen took a huge nose dive last season. His first year saw him rake in 71 catches on 105 targets for 1,046 yards and 8 touchdowns. Last year saw his receptions slightly increase to 77 out of 121 targets for only 783 yards and only 4 touchdowns. His health was somewhat of a factor, but it doesn't account for all of his failures. He has a couple things working for him and they're the fact that he has Philip Rivers throwing to him in a contract year with something to prove and the fact that veteran tight end Antonio Gates is suspended for the first 4 games of the year, due to a suspension for a banned substance. Therefore, if Allen is going to do anything this year, he needs to make it happen during the first 4 weeks of the season. The problem here for me is that the Chargers brought in Stevie Johnson this summer. Not many people are talking about Johnson, but I think that Stevie will quickly become a favorite target of Rivers, as he's better suited for the Chargers system. I believe that Johnson will eat into a lot of the plays that might have otherwise gone to Allen. The wide receiver position is deep this year and you could do far better than Keenan Allen.
Tight End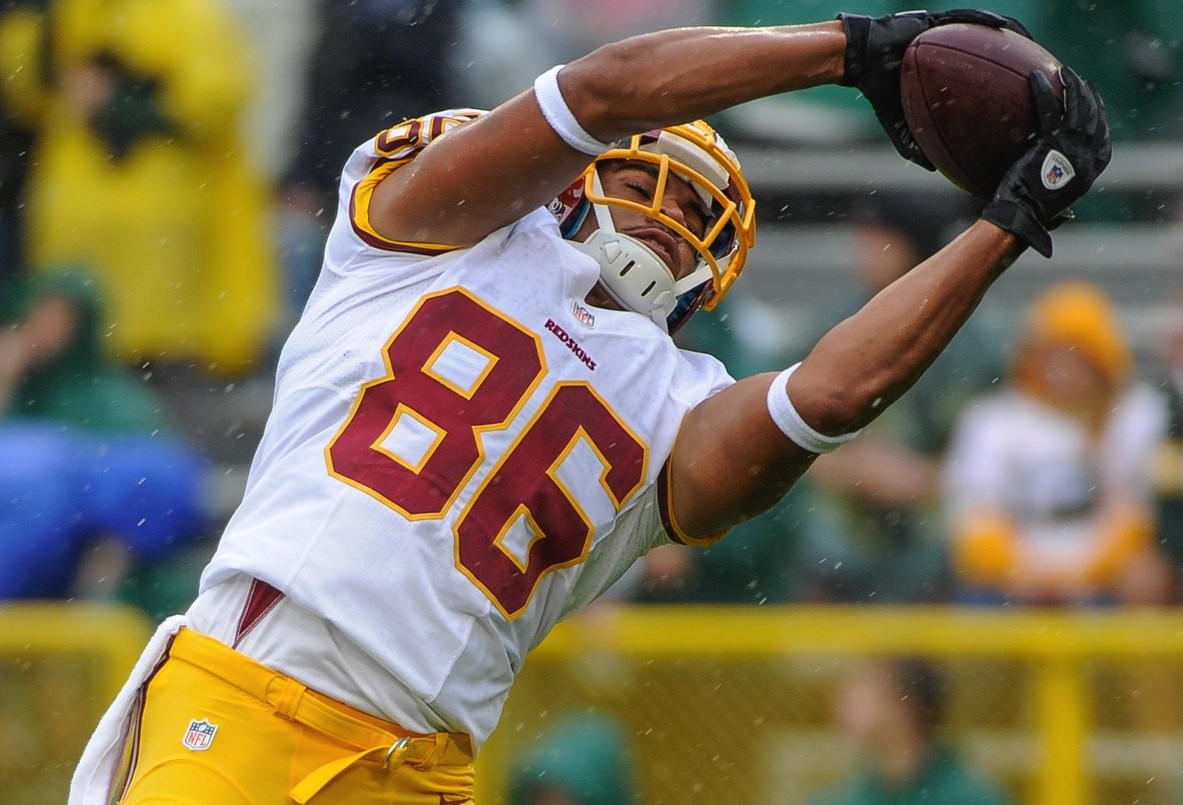 Jordan Reed (Washington Redskins)
Nope! I'm not going to be suckered into drafting Jordan Reed, regardless of what other Schmos are on the board at the time that I make my tight end selection. Clearly a talented athlete, but he seems to have gone to the Darren McFadden School of Injuries. Last year he had a couple concussions and this year he's already come out of the gate with a hamstring injury. To make matters worse for Reed, Niles Paul has been called a "more complete player" by Redskins Head Coach, Jay Gruden. Oh boy! A player never wants to hear that about a player on his team at that same position. Last year Reed only played in 11 games and had 50 receptions for465 yards with a whopping 0 touchdowns. If you're like me and are going to wait on selecting your tight end, do yourself a favor and don't take Reed at all. There are too many options out there that you could get better results from.
And here's an update on Redskins tight end, Niles Paul. He's done for the season. Paul suffered a dislocated ankle in his first pre-season game last night against the Browns. It still doesn't matter, as Jordan Reed's health issues still ensure that he shouldn't be owned, unless you're in the deepest of leagues.
There are some leagues that don't require a tight end, so if you're in one of those leagues, you don't have to worry about this position. But, really, the tight end depth in this league isn't great, so you may want to try to get your guy in the earlier rounds.
When dealing with sleepers, if you hit jackpot on a player, it could propel you to a Fantasy Championship. On the contrary, if you draft yourself a Shmo or two, you could be destined for the toilet bowl in your league. If you go into a draft with the mindset of drafting to get the best value for a pick, you might increase your chances of not drafting a Schmo. However, sometimes there's just no way around the Schmo and they come back to bite you. Do your best to be Schmo free for the upcoming season.
You can stay up to date with everything Fantasy Football related by following me on Twitter (@ViggieSmalls765) and Instagram.