0-2. At least last week we saw glimmers of this Eagles offense. Yesterday? Nothing. And I'm not sure one week will be enough time to fix it.
The Morning Brew is sponsored by:
BlindSquirrelApparel.com: Check out the brand new #TomStillCheated T-shirt! While you're there, pick up an "In Chip We Trust" T-shirt as well! Use promo code "BRACE" for 20% off!
Colin Good/KellerWilliamsRealty: TheGoodTeamSells.com In the market for a new house in the Philadelphia area? Colin makes it easy with brand new listings updated every day!
GodfatherLocks.com: The number one handicapper going right now! He's on a streak! New customers? It's easy, just sign up now and buy the three-day plan and get every play for three days!
If you'd like to advertise on PhillyInfluencer.com or The Morning Brew, shoot us an email at [email protected]
And now, the Brew:
"I think our offense did not play at all." – Chip Kelly
"I gotta do better running the ball." – DeMarco Murray
"We played pathetic today." – Josh Huff
Any good news? Well, if the Eagles play, you know, better, they could conceivably head into their bye week 5-2.

While we probably should still consider the Eagles not as bad as those other teams, it'll be pretty hard to convince ourselves of that after yesterday. Hell, I have no faith in them at all at this point. They've shown us nothing to get excited about except a good second half in Atlanta, which was probably enhanced by a bad Falcons defense.
I mean, there's literally nothing good that came out of this game. Tony Romo broke his collarbone again, but that's the least of the Eagles' worries. Their defense is a lot better than their offense right now, and their defense isn't even that good. Byron Maxwell is still bad, and quickly becoming synonymous with Nnamdi Asomugha as recent busts in the Eagles secondary. At the end of the game, they had a delay of game penalty after getting a holding call against them. You can't script this stuff. Chip's a mess.
A quick Twitter search [and likely national television coverage] will unveil people thinking Eagles fans were cheering Tony Romo's injury on the field when, in reality, from people who were actually at the game, the fans were cheering the turnover that ultimately resulted from it. But that doesn't fit the template narrative, so we probably won't hear much of that today.
I was told during the game yesterday that Kiko Alonso is done for the season.
Despite doing nothing when he got the ball in the first half, DeMarco Murray wanted the ballm, and let everyone on the Eagles sidelines know it.
https://vine.co/v/ePqEm03b3UY
A fan ran on the field during a commercial break yesterday, and was apparently taken down by Nolan Carroll.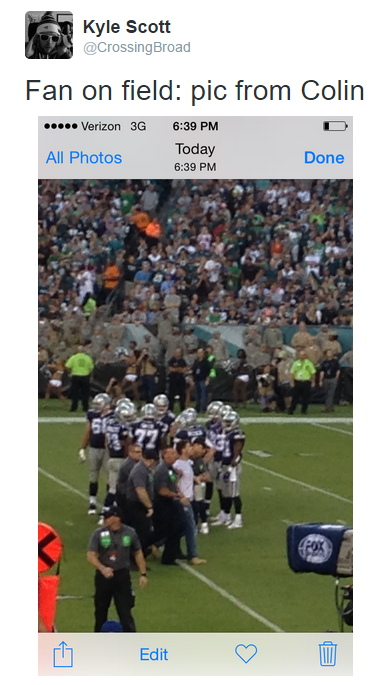 Jahlil Okafor made the rounds on Sunday at the Linc.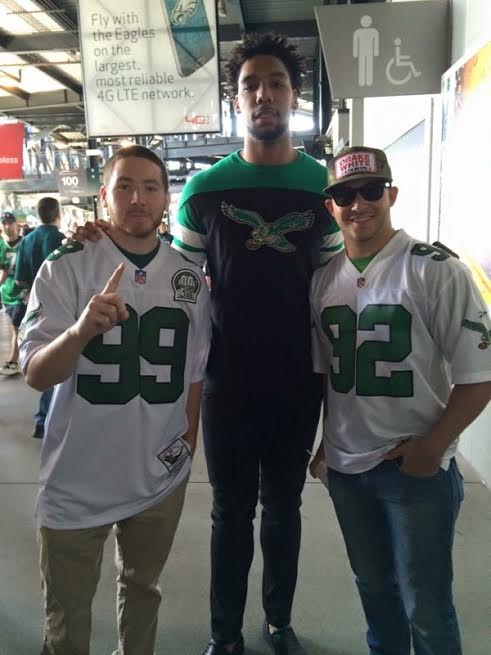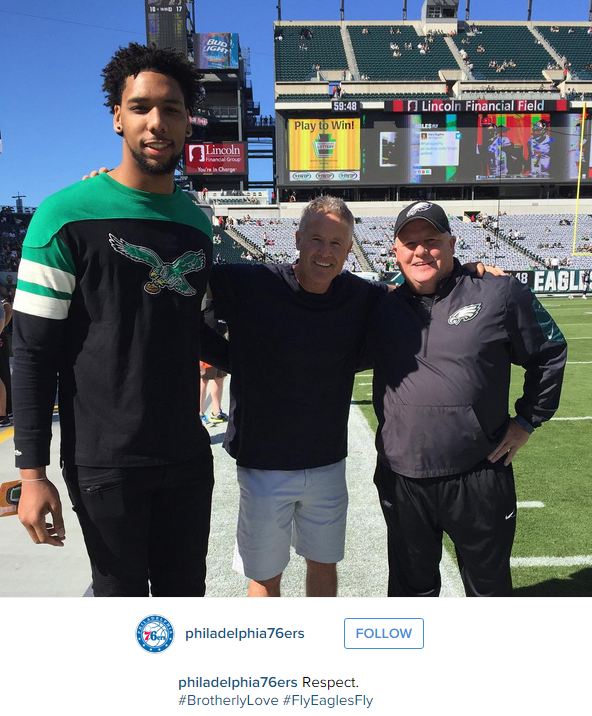 NFL Network's Ian Rapoport reported Sunday morning that Dez Bryant will miss 10-12 weeks after getting bone graft surgery on his foot.
The Cowboys are expected to be without star receiver Dez Bryant for longer than the team initially feared. In fact, there is a chance they don't see Bryant on the field until December.

Bryant, who broke a small bone in his foot late during the opening win over the Giants, actually needed a bone graft during the surgery that took place last Monday, according to sources informed of his procedure. So instead of a four-to-six week recovery as the team had hoped, Bryant faces a 10-12 week timeframe.
Bryant pretty much blasted the report with this Tweet.

Chuck Bednarik's family got some commemorative helmets yesterday.
Surely this wasn't the only Pope at the Eagles game.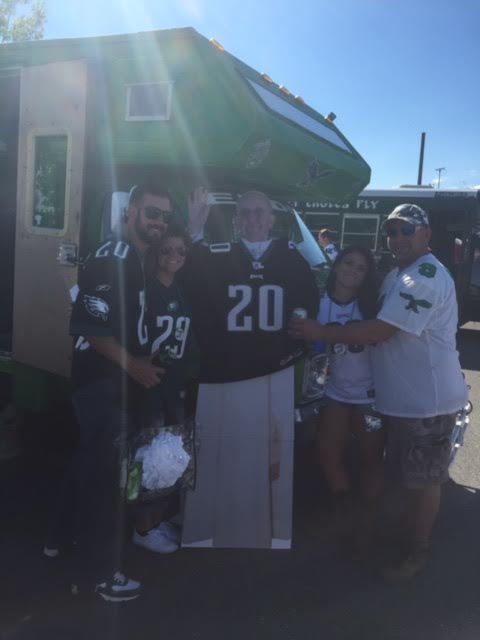 Billy Vargus, formerly of CBS3 and FOX 29, is already over Chip Kelly. He's probably not alone.
Welp.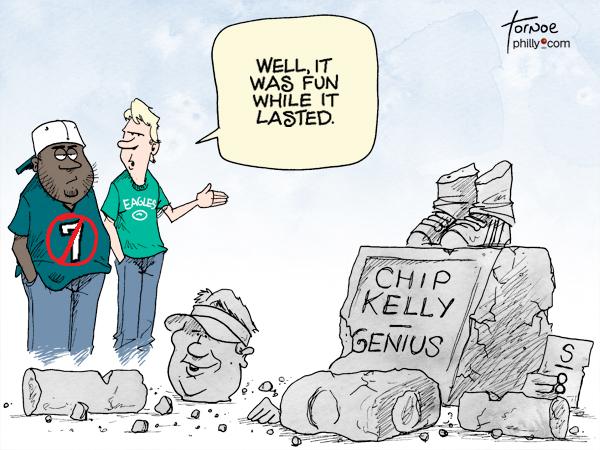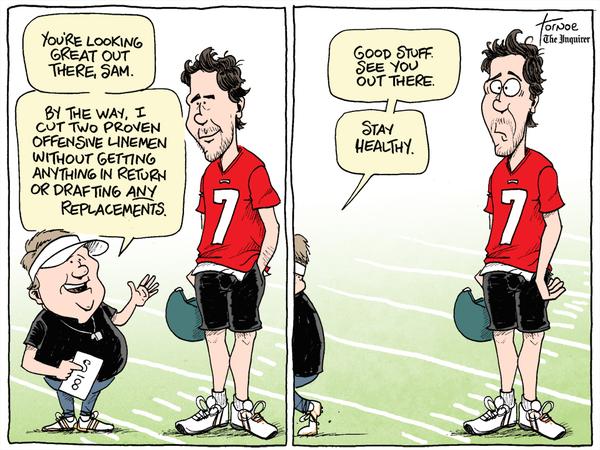 Photos credit: Philly.com's Rob Tornoe
I thought Donnie was dead after this.
https://vine.co/v/ePbqanZFEEa
🙁

At least this was good.
Amazing job @generaldwilson amazing. Go Birds!!! Complete with fly over! pic.twitter.com/7SNLZv98WO

— Cindy Webster (@Cindy610) September 20, 2015
Penn State used John Cena's theme song in their stadium on Saturday night. Their time is now, apparently.
https://vine.co/v/ePuDdib9nmB
Sticking with the wrestling theme, WWE security failed their talents again, allowing someone to enter the ring and stand near Roman Reigns and Dean Ambrose before their match at last night's Night of Champions pay-per-view.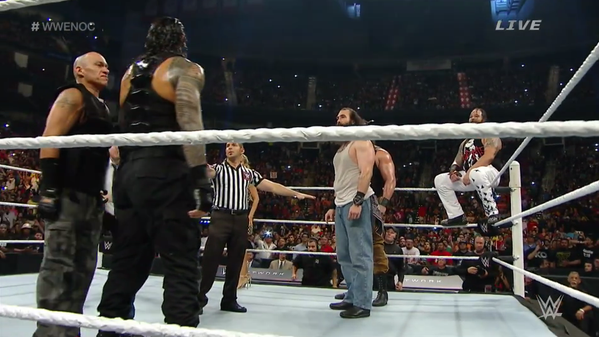 This has been relatively common lately. This happened on September 7th: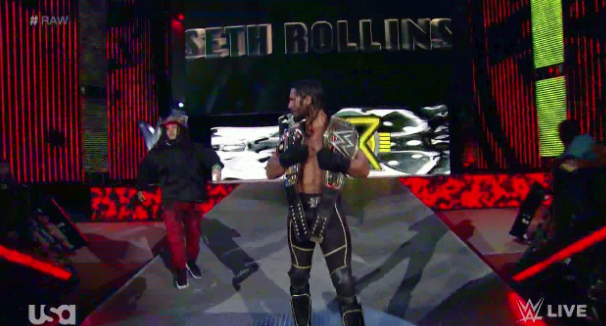 A fan threw a Money in the Bank briefcase at Roman Reigns before that. Not to mention the mentally unstable man who was shot outside the WWE Performance Center weeks ago because he was obsessed with one of the female wrestlers there. It's time to stop this. Claude Giroux loves aggressively recovering his groin muscles.
Speaking of the Flyers, their preseason begins tonight. They split squad with the Islanders, and then play the Rangers tomorrow night at the Wells Fargo Center. Here's their preseason schedule:

Tonight's game from Allentown will broadcast on CSN Philly.
Tom Brady dug deep in that win yesterday at Buffalo.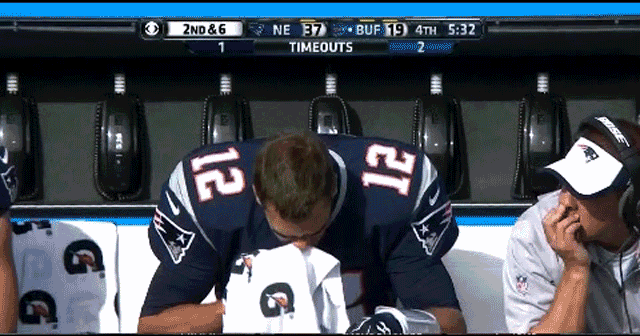 This T-shirt is being sold outside Wrigley Field. Classy.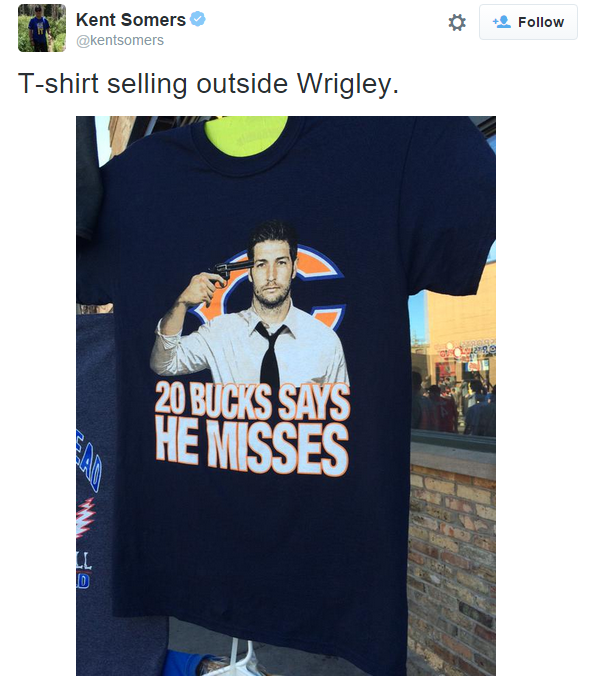 This is why I don't follow the NFL on CBS Twitter account.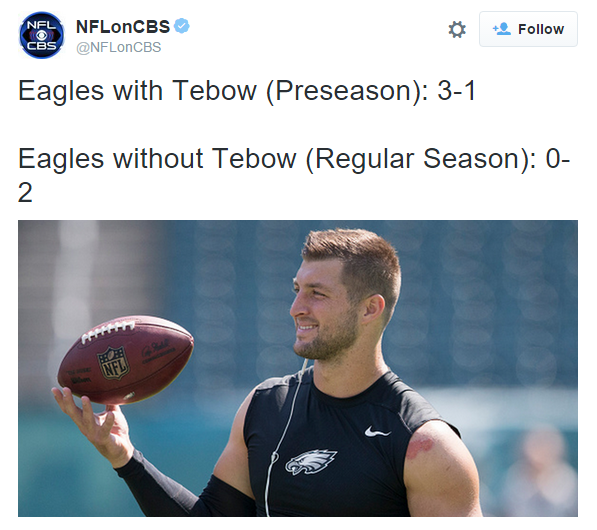 This guy isn't happy today. I'm probably going to use this a lot this season, for better or worse.
I may take your ball and go home, too.
Ball boy goes after a #Bears fan who attempted to take football pic.twitter.com/GTzccUHHMA — ✶ Sports Mockery ✶ (@sportsmockery) September 20, 2015
It could be worse. Eli Manning cost his team another win yesterday, in a game they had no business in losing.
Owned. [Deadspin]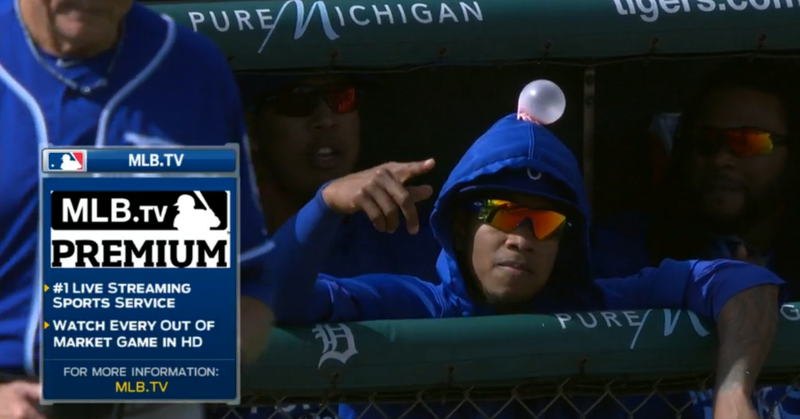 Wedding at the Linc. Ignore my foolish words on the Eagles-Cowboys game.
Charles Barkley's eulogy at Moses Malone's funeral was fantastic.
Sean hopped on BGN Radio with John Barchard to react to the pathetic Eagles-Cowboys game. Listen here.