The Sixers lost to the Houston Rockets tonight, marking their 27th consecutive loss, and breaking the record for most consecutive losses in major professional sports history in the United States. Now there's something that Philadelphia will likely hold forever. WOOOOHOOOO!
But, honestly, assuming this new title of pretty much the worst sports year in any city ever sucks. Jahlil Okafor's issues off the court have now marred the headlines, but with good reason. And tonight, it's all about the Sixers being… just really, really bad.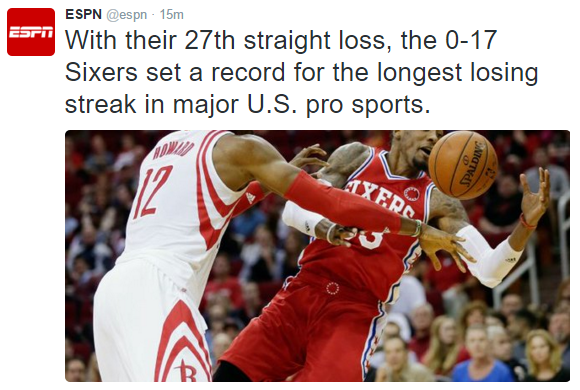 But, wait. There's more. If the Sixers lose their next two games, which are Sunday against the Memphis Grizzlies and at home on Tuesday against the Lakers, the 0-19 start to the season will officially become the worst in NBA history.
Yeah, the Sixers stink. But, they're playing hard and they're making it hard for opposing teams to beat them. So, at least there's that. Wow, this is pathetic.