Ladies and gentlemen it's the first day of February already. It's Super Bowl Week, so without further hesitation, let's whip up the finest Brew that you're going to have today.
The Morning Brew is sponsored by:
Colin Good/KellerWilliamsRealty: TheGoodTeamSells.com In the market for a new house in the Philadelphia area? Colin makes it easy with brand new listings updated every day!
Also, do you know a hero? If you know someone that's from/in the military, law enforcement, firefighters, educators or healthcare workers, and they're looking for a new home, please have them contact Colin! HomesForHeroes.com.
Godfatherlocks.com: The number one handicapper going right now! New customer? It's easy, just sign up now and buy the three-day plan and get every play for three days!
Bad Rhino Social Media Agency: Are you or your business looking for a new marketing strategy in 2016? Look no further than Bad Rhino Inc. You always want to work smarter when it comes to advertising right? Well in 2016, if you're not attacking from the social media side of things, you're missing out on a HUGE advantage! These guys are good…real good. Contact them today and get a jump on the new year! 
If you'd like to advertise on PhillyInfluencer.com or The Morning Brew, shoot us an email at sean@phillyinfluencer.com. Got tips? Email us at thephillyinfluencer@gmail.com.
Let's Brew it up for ya!!!
Say it ain't so Calvin Johnson…
Who remembers this Megatron Sportscenter commercial?
Calvin Johnson's "This Is SportsCenter" with Stuart Scott. These things used to be amazing… https://t.co/fa2cK130bX

— Andrew Luck (@FauxAndyLuck) February 1, 2016
Finally! The 4-3 Defense is Coming to Philadelphia
Cam Newton Looks Fantastic (I Think) Heading to the Super Bowl.
Here's Mitch Albom being a dick. He tells rape victim how to spend her money.
John Scott wins 2016 NHL All-Star MVP
Here Scott gets presented with his check by Commissioner Gary Bettman.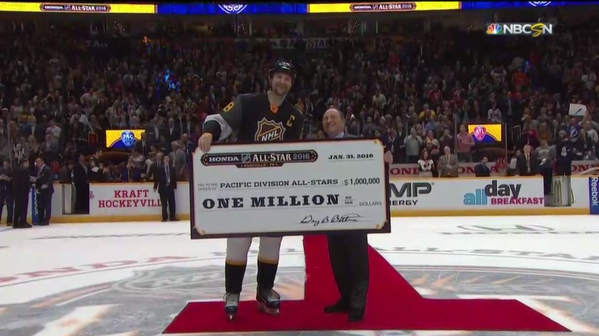 Police Searched For Johnny Manziel With A Helicopter
Creative Philly Fan Scores Steph Curry Autograph
Patrick Kane still sucks and everyone knows it…
Darren Sproles found the end zone at the Pro Bowl.
RKO Outta Nowhere…
Meek Mill will forever be a loser…
And damn it to hell, everyone knows it.
NCAA Hockey Player Takes Brutal Hit That Will Make You Cringe
Terrorists Are Trying to Use Exploding Kangaroos Now
The Rock Goes Off Script…
https://www.youtube.com/watch?v=VEHAeT_3zd0
This Kid is a Little Intense.
https://vine.co/v/i5dlw9lQ2Qm
Speaking of Rappers, here's Kanye's Anal Playlist…
Oh it's just Ben Simmons doing Ben Simmons things.