The NBA schedule for the 2016-17 season won't be released until late this summer, but ESPN unveiled 28 Christmas jerseys for NBA teams who might play on December 25th this year. ESPN received a catalog of the jerseys from an industry source.
The catalog shows the 2016 Christmas uniforms for 28 of the league's 30 teams. The exceptions are the Sacramento Kings and Utah Jazz, who will have new uniform sets for 2016-17 and whose Christmas designs apparently weren't ready when the catalog was produced. (Utah's new home, road and alternate designswere released last month; Sacramento's will be unveiled later this summer.)

Information accompanying the catalog indicates that the NBA will once again have five games on Christmas Day, so only 10 of the new designs will make it onto the court, although some of the others may be made available for retail sale. The league typically doesn't release its schedule for an upcoming season until August, so it's not yet clear which 10 teams will be playing on Dec. 25. But it's standard practice for Adidas to create Christmas designs for every team, and to list those designs in catalogs sent to the company's retail accounts, because the retailers need to place their holiday merchandise orders months in advance, prior to the release of the NBA schedule.

Last year's Christmas uniforms were generally well received by fans (a departure from the previous three seasons' holiday designs, which were often ridiculed), so repeating the 2015 template may turn out to be a popular move. Several of the uniforms are particularly handsome, including the Golden State Warriors' design, which makes good use of blue, gold and orange. But New York Knicks fans may cringe when they see their team's design, which is bright orange — a look that has not been kind to the team in the recent past.
Here's what the Sixers' Christmas jersey looks like: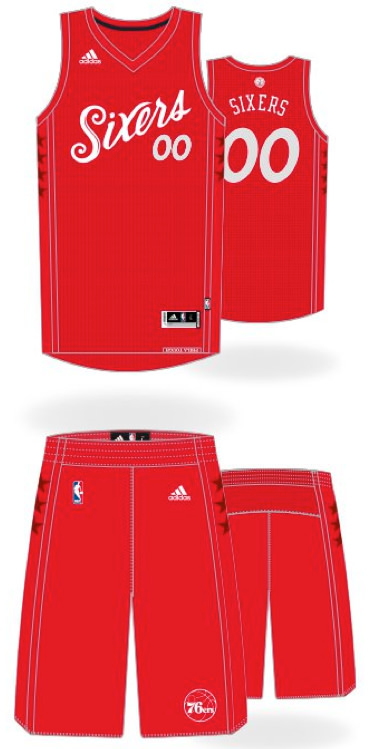 Imagine that in living color on the court… meh. Here are the rest of the leaked jerseys: [Click to enlarge]
[maxgallery id="23103″]