Awful work ethic, he doesn't know the playbook and he showed up to OTA's overweight were the most popular statements made by Tennessee Titans fans after the team traded away Dorial Green-Beckham.
A little denial perhaps?
This picture taken prior to the Eagles and Steelers preseason game of Green-Beckham Thursday night doesn't depict a man that's downed a few too many cheesesteaks.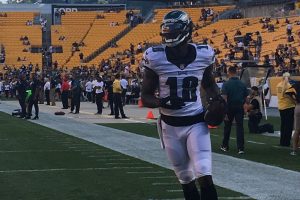 He looks like a beast chiseled out of stone! Maybe Lane Johnson should  go get some pointers.
That brings me to this point. The spring and early summer is a grind for any football reporter, so stories that normally aren't stories become stories, and that's when reports of a player with a checkered past like Green-Beckham get overblown. Sure, he came to OTA's overweight, but I can assure you he's not the only one. Besides, that's what the OTA's and Training Camps are for, to get back into the swing of things and return to football shape!
Forget about what Green-Beckham's done in Tennessee or anywhere prior, getting swapped for a turnstile like Dennis Kelly is a slap in the face and a wake-up call. At least it should be. You learn from the past and correct the things you used to do wrong. And if he doesn't, then he shouldn't be in the NFL.
Simple as that.
With the Eagles losing a lot of draft compensation over the next few years due to the Carson Wentz trade, Howie Roseman has taken a few chances on players with checkered pasts. The Eagles didn't have a second-round pick in this year's draft, but theoretically, this move can almost be seen as using that selection on Green-Beckham, who was taken in the second round last year.
Philadelphia also took chances on Wendell Smallwood and Jalen Mills in this past draft.
If head coach Doug Pederson and the rest of the  Eagles' organization show the proper emotional intelligence to handle these players, the low risks can certainly turn into very high rewards. There are several organizations that don't exemplify the patience to handle personalities like Green-Beckham, but the Eagles may be able to pull this off.