Each weekend, we will post some of the most unique social and culture places to visit in addition to exciting events in and around the Philly area. We call it Philly Influencer's Weekend Picks. If you attend any of these places or events, let us know how it went! Tweet us or email us at [email protected].
Final Eakins Oval Weekend
Where: Eakins Oval, 2451 Benjamin Franklin Parkway.
When: Everyday through August 21st.
The last day Philadelphians can enjoy the diverse splendor of Eakins Oval is this Sunday, August 21st. The oval has brimmed the parkway with activities and events during the entire summer. Activities visitors took part in included classes, food trucks, arts, and more. Here's the lineup for the Eakins Oval's final bow of the summer:
Friday, August 19th
Food Trucks: (11am-3pm) Local 215 (5-10pm) Local 215 Pitruco Pizza The Cow and the Curd UndrGrnd Donuts Oink & Moo BBQ
Farmer Explorer Instructional, 11AM
Health Promotion Council, 11AM
Whole Food Market Takeover, 5PM-10PM
90's Rock Party & Game Show, 5PM-7:30
Saved By The 90's Party, 8PM-9PM
Can't Hardly Wait Screening, 9PM-11PM
Saturday, August 20th
Food Trucks: (11am-10pm) Samosa Deb Braz BQ Mucho Bueno Lil Pop Shop (5-10pm) Cheese E Wagon
Youth Soccer Instructional, 12:30PM
Quizzo, 4PM-6PM
The Bearded Ladies Performance, 6:30PM-7:30PM
Sunday, August 21st
Food Trucks: (11am-5pm) The Cow and the Curd Street Food Philly The Tot Cart Philly Pretzel Factory  Cupcake Carnival
Face Painting,12PM
Mural Arts Summer Fun, 12PM
Philly Hoop Starz, 2PM
…
Spruce St Harbor Park
When: Everyday through September 25th
Philadelphia's most vibrant pop-up park continues to be one of the main destinations for visitors and residents during the summer. The park includes oversized games, hammocks, a floating restaurant, a sizable food truck fleet, beer gardens, and more nestled along its boardwalk. Dangling LED lights cascade from trees in the park, covering the entire area and providing a colorful glow for all during their fun-filled experience. Spruce Street Harbor Park is open every day and will continue until September 25th.
…
Parks on Tap Penn Treaty Park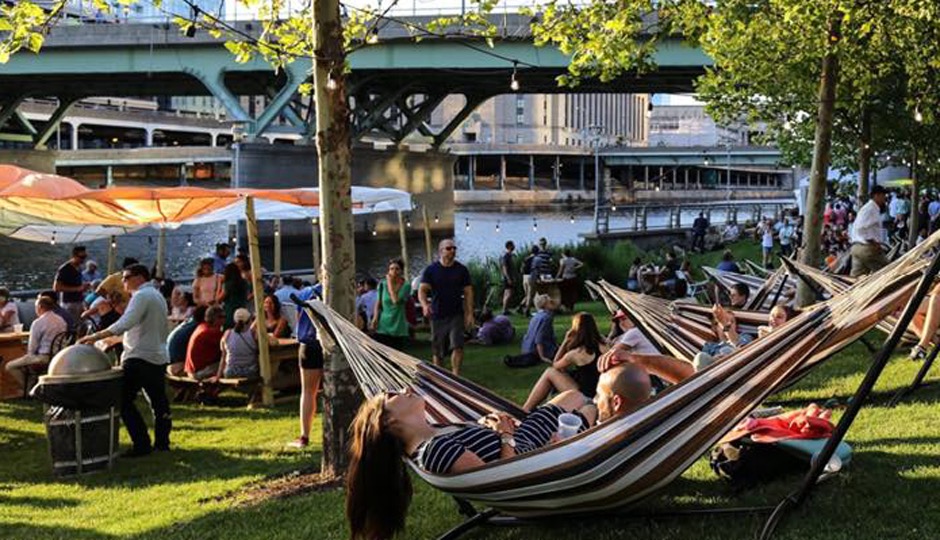 Where: Penn Treaty Park, 1219 N Beach St.
When: Friday, August 19th & Saturday, August 20th 1PM-11PM, Sunday, August 21st at 12PM-10PM
Parks on Tap gets a Delaware River and Fishtown welcome this weekend. The roaming beer garden will have yoga classes, the Indego Bike Share program from 5PM to 9PM, and a Class of 84′ concert from 6PM-9PM on Saturday. Keeping true to form, the event will have a wide range of seating, a selection of local craft beers, and food trucks. Come take in a panoramic view of the Ben Franklin Bridge and have a good time.
…
Silent Party at The Piazza at Schmidt's Commons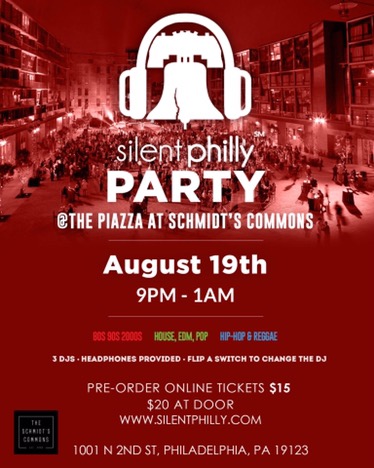 Where: The Schmidt's Commons, 1001 N 2nd St.
When: Friday, August 19th, 9PM-1AM
Schmidt's Commons brings this head accessory dance party back to their open piazza Friday night. There will be 3 genre spinning DJs sectioned off by color. Red is for 80's, 90's, and 2000's music. The green selection gives you EDM, house, and pop. The blue channel offers party goers hip hop & reggae. Switch your headset to any of those corresponding colors and you'll be immediately enhanced by all the hits within those sonic spectrums. Tickets are $15 online and $20 at the door. This is a summer and outdoor party that allows you to pick the musical pulse of your night.
Tickes can be purchased here.
….
Fishtown & Northern Liberties Night out Restaurant Week 
Where: Several restaurants in both areas.
When: August 19th-28th
Over 20 restaurants are participating in the 3rd annual Night Out Restaurant Week spanning from Fishtown through Northern Liberties. The eateries include Chart House, Morgan's Pier, Moshulu, Dos Segundos Cantina, Heritage, and many more. Sugar House Casino also joins the festivities offering a $25 Match & Play promotion when you bring your Restaurant Week receipt to the casino. Sugar House establishments Refinery and Hugo's Frog Bar are also participants included in the delicious eatery lineup of Night Out. The prices range from $20-$35 and the event runs through August 28th.
Participating restaurants can be found here.
…
Festival of India
Where: Great Plaza at Penn's Landing, 101 S. Columbus Blvd.
When: Saturday, August 20th, 1PM-6PM
The Council of Indian Organizations In Greater Philadelphia honors Indian Independence Day, which was August 15th, this weekend at Penn's Landing. There will be vendors, live music, dancing, cuisine, and family fun at this social and broad celebration. The PECO Multicultural Series continues to bring the highlights of authentic and ethic cultures to our diverse and culturally formed city. Come enjoy the elements and sounds of these great and unique people.
…
Indoor Antique & Vintage Market at The Kimmel Center
Where: The Kimmel Center, 300 S Broad St.
When: Saturday, August 20th, 8AM-4PM
Vendors from all around the Tri-State area present a lineup of antique and vintage collectibles to the masses. The Kimmel Center will host this gathering that displays the timelessness of craftsmanship and beauty. There's free admission and the market will include furniture, jewelry, and more.
…
Franklin Flea at Reading Terminal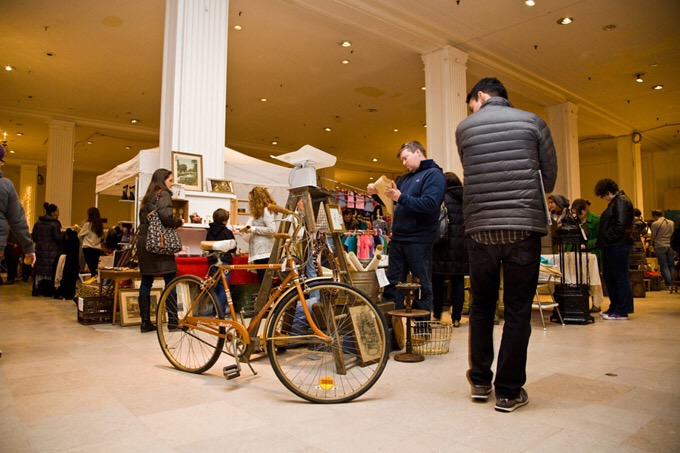 Where: Reading Terminal Market, 801 Market St.
When: Saturday, August 20th, 10AM-5PM
The lively marketplace at Reading Terminal serves as home to the Franklin Flea this year. The flea will showcase local handmade goods, vintage items, and more. It's free to enter and will allow guests the opportunity to amass an eclectic range of memorable possessions and enjoy a wide selection of food within the market when they're done porusing the ailses.
…
Liberty Music Fest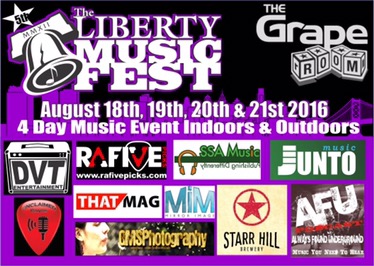 Where: The Grape Room, 105 Grape St.
When: Saturday, August 20th & Sunday, August 21st, 11AM-12AM
The 5th annual Liberty Musical Festival runs through the weekend. The event is free to enter and will have food trucks, merchants, and music industry information sessions. There are three stages, two for full bands and a third for acoustic acts. There will be 20+ acts each day. If you arrive past 8PM there will be an $8 cover charge. Musical genres include indie rock, hip hop, punk, singer-songwriter, alternative, R&B, and more.
…
University City 40th St Summer Series
Where: Free Library of Philadelphia at Walnut Street West, 201 S 40th St.
When: Saturday, August 20th, 6PM
Produced by Penn, University City District, and The Rotunda, the 40th Street Summer Series brings their monthly concert to enliven the area . The family friendly and free event captures the essence of the community and allows guests to enjoy nearby shops and food vendors. Come and embrace the energy that University City has to offer and take in the free musical concert from The Liberian Women's Chorus for Chance. There will also be a dance performance by the Modero Dance Company.
…
Bottles of Beer at Cavanaugh's
Where: Cavanaugh's River Deck, 417 N Columbus Blvd.
When: Saturday, August 20th, 2PM-6PM
Cavanaugh's River Deck offers a four hour beer sampling this Saturday. There will be live music, a full food selection, and of course a diverse variety of worldwide beers. Tickets are $38 and include a complimentary sampling glass and unlimited craft beer sampling. Come and enjoy a great time on the river, bask in the summer horizon while sampling drinks, and listen to some acoustic tunes.
Get tickets here.
…
Crabfest at City Tap
Where: City Tap House, 3925 Walnut St.
When: Saturday, August 20th, 1PM-4PM
One of the highlights of the summer is that crab season and seafood becomes a delicious necessity and paramount. City Tap House invites all crab lovers to come chow down on an all you can eat Maryland Blue Crab party. Tickets are $35 for this eat until you drop or pop seafood extravaganza. There will be live music and 2SP Brewing Company will provide drinks for the event.
Tickes are available here.
…
Barbra Streisand at Wells Fargo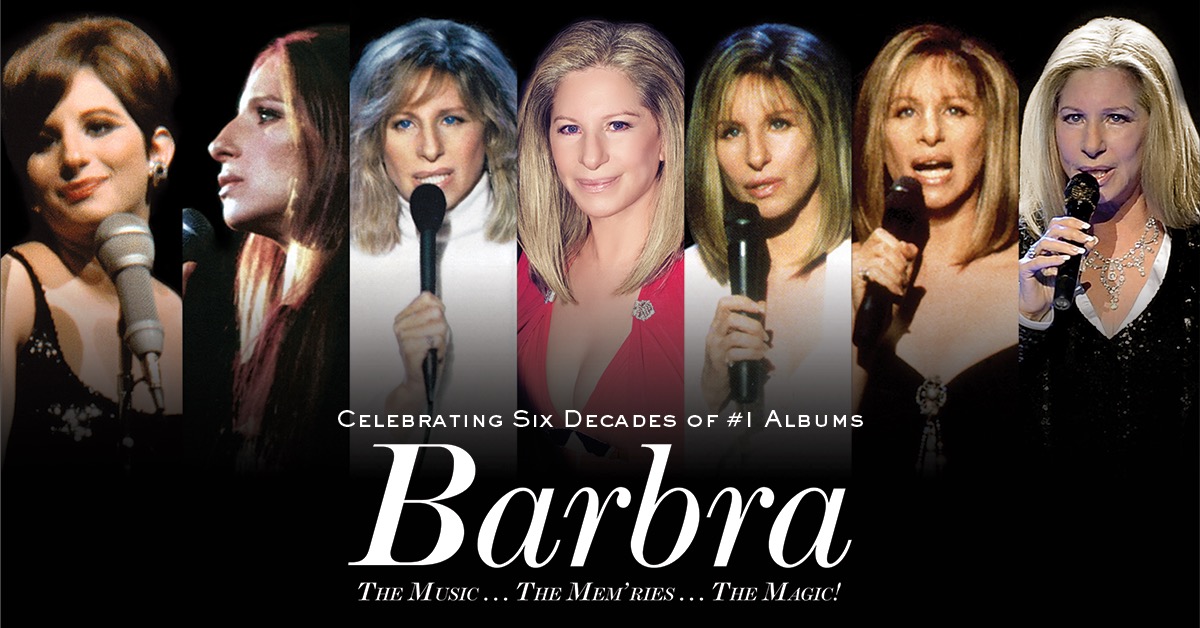 Where: Wells Fargo Center, 3601 S Broad St.
When: Saturday, August 20th, 8PM
It's Barbra Streisand. Do you really need an intro? Iconic musical star Barbra Streisand brings her legendary show to the Wells Fargo Center this Saturday night. Barbra Streisand is the  recipient of two Academy Awards, five Emmy awards, ten Grammy awards including the Grammy Lifetime Achievement Award and the Grammy Legend Award, four Peabody Awards, nine Golden Globes, and is one of the best-selling music artist of all time. This is a must see opportunity to become one of  the many spectators of musical greatness.
Concert tickets still available here.
…
Nari Ward: Sun Splashed
Where: The Barnes Foundation, 2025 Ben Franklin Parkway
When: Through August 22nd, 10AM-5PM
The Barnes Foundation presents Sun Splashed. The exhibit displays the found-art collective by Guggenheim Fellowship-winning artist Nari Ward. The assemblage art, 30 piece showcase, highlights the emergence of modern cities and touches on culture, politics, and power. Ward uses the assembly of textiles, textures, and common objects in urban areas to shape the perception of his detached works. Costs range from $25 for adults, $23 for seniors and $10 for youth and students.
Event details and tickets can be found here.
…
Caribbean Festival 
Where: Great Plaza at Penn's Landing, 101 S. Columbus Blvd.
When: Sunday, August 21st, 12PM-8PM
The 30th Annual Caribbean Festival is the 2nd PECO Multicultural Series event of the weekend. There will be live music, food vendors, and arts from over 14 Caribbean countries. Instructional workshops and marketplaces all highlight this free to enter event that benefits scholarship funds for students of Caribbean descent. There will be a surplus of good times at this cultural celebration.
…
Miller Light Presents: "The KickBack" Everyday People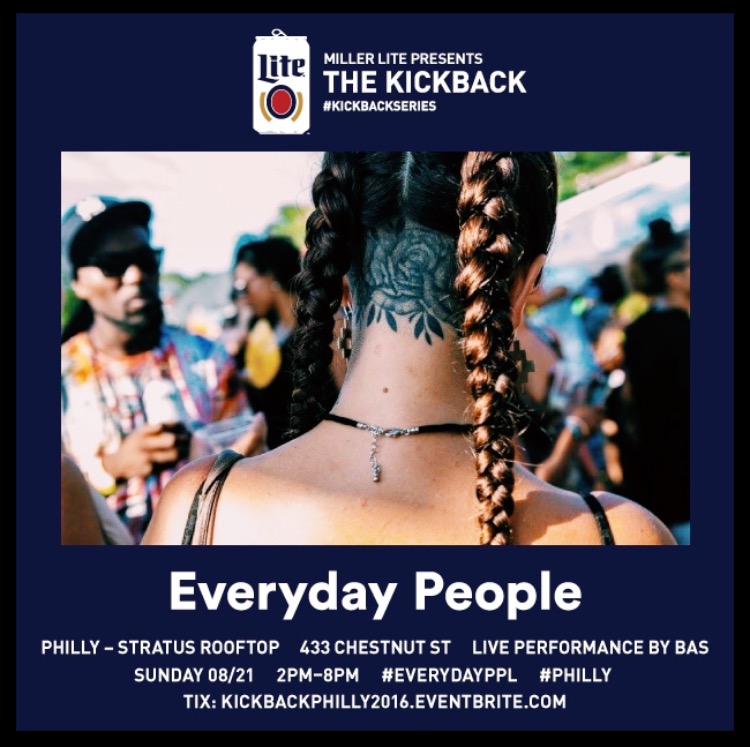 Where: Stratus Rooftop Lounge, 433 Chestnut St.
When: Sunday, August 21st, 2PM-8PM
Miller Light takes over Philadelphia again with their lively day party. Stratus Rooftop serves as the backdrop for a feel-good time with friends, signature Chef Roble Ali dishes, daytime drinks, and notable performances and musical acts. The party has been held in L.A., Chicago, D.C., Brooklyn, and other cities. Tickets are $10 and comes with a complimentary Miller Light beverage. This is a 21+ event that will be bursting with dancing, bars, and excitement.
Purchase tickets here
…
Schmidt's Commons Ultimate Cookout
Where: The Schmidt's Commons,1001 N 2nd St.
When: Sunday, August 21st, 12PM-5PM
Come join DJs and the West Philadelphia Orchestra for some refreshments and fun at this summer cookout. There will be water fun, a zipline, sand pits, lawn games, and more. Food and drinks will be provided by restaurants aligning the area such as Apricot Stone, Crabby Cafe & Sports Bar, Bar Ferdinand, El Camino Real Philadelphia, Grunners Run, and more. The food trucks for the event include: Johnny Bravo's Seafood, Sweet Lavender, and D'Emilio's Old World Ice Treats. There will also be a massive Slip N Slide that centers this freet to enter and family embracing community event.
…
Drake's  Summer 16 Tour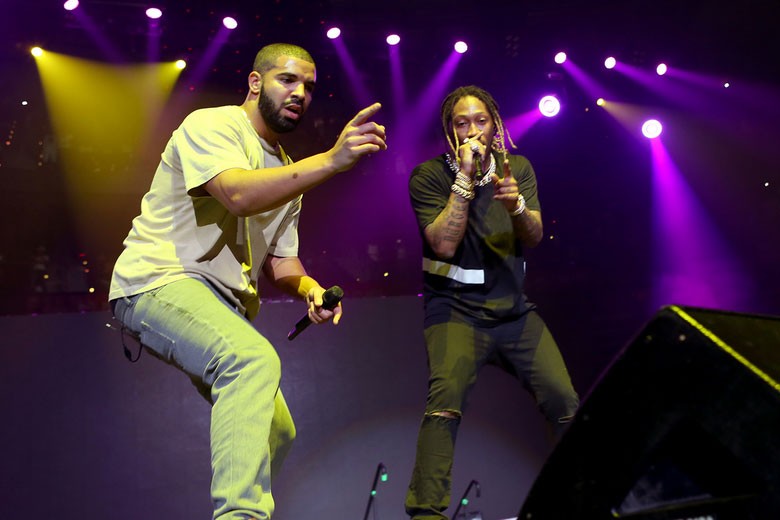 Where: Wells Fargo Center, 3601 S Broad St.
When: Sunday, August 21st, 6:30PM
The king of trop pop and hip hop hit maker Drake brings his Summer 16 tour to the Wells Fargo Center this Sunday night. Whether you turn on your radio or spark the screen of your television and turn it on, his music has been inescapable for the past several years. The Summer 16 Tour promotes and accompanies Drake's recent Billboard chart-topping album Views. Drake brings with him an equally prolific hip hop titan, Future, to ignite the stage. This dynamic and party stirring duo should not be missed. The mega act returns to the Wells Fargo Center later this year on October 13th.
Tickets can be found here.
Map