As you guys continue to read my columns, you will come to find out my opinion varies from most. I think we can all agree on who the top guys in each position will be, just maybe not in the exact order. That being said, there's no need to explain why Antonio Brown or Julio Jones should be drafted in the first round. However, I would more like to direct focus on the guys to look at in the money rounds of a draft, which are really Rounds 6-10. Some of the guys I am focused on inched closer to relevance last year and are now ready to be an integral part of your weekly lineup.
We all know the makings of good fantasy squad is depth and consistency. Over the last several years, the amount of players who have played a full 16-game season has declined. With head injuries being a main focus, and the new protocols in place, losing a few guys on your roster for a few games each season seems to be as automatic as a Brad Lidge save in 2008. [We'll miss you, too, Chooch.]
Let's not forget that most fantasy leagues run for a 13-week regular season, leaving a three-week injury to cost you 30% of your season. Like I said, "Depth is the key to championships." As I evaluate the players that could be gems in the money rounds, it's important to still temper expectations. In the world of Fantasy Football everyone is playing with a 50/50 percentage. The goal is to be on the right side of 50 to maintain success, which is something I am always striving for myself, and you, but by no means is it guaranteed.
Over the next few days, I will go over who I think could be steals in the mid rounds, as well as guys drafted late that could help fill in for bye weeks or injuries. So, who is the next Devonta Freeman? The following are the running backs I see being a big part of your success this year and where they could be had in your draft.
…
Giovani Bernard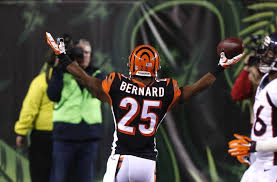 The Cincinnati Bengals have always employed a high powered offense and this year should be no different. However, with Marvin Jones and Mohamed Sanu both departing on lucrative free agent deals and Tyler Eifert still recovering from off-season surgery, the struggle to deploy the same weapons could be real. In an interesting statistic, 141 targets will be left on the table courtesy of Jones and Sanu, leaving one man in particular to pick up the slack.
Giovani Bernard has never been the number 1 guy, but has shown flashes of playmaking ability to be considered. He has continually played behind Jeremy Hill and has been a part of a RBBC over the last few years. Obviously Hill is the bigger guy, but Bernard did hold a 4.74 ypc last year and managed just 64 rushing yards less on 69 fewer carries. He has averaged 52 catches on 65 targets over the last 3 years.
If you combine this with the fact that he has never posted less than 1,029 yards from scrimmage and has averaged 1,147 over the last 3 years, it all adds up to a big fantasy year for Bernard. With an ADP in the 7th round, I think he could be a steal. A stat line to the tune of 900 yds+ and 75+ receptions is certainly attainable.
…
Carlos Hyde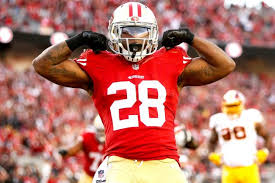 Carlos Hyde had all the hype last year. but found himself mired in injury and caught in a dysfunctional offense led by the now fired Jim Tomsula. Coming into 2015, Hyde was expecting to catapult himself into the top tier of running back and make his sophomore year something to remember. Unfortunately, after missing 11 games in his first 2 professional years he has become a forgotten commodity sooner than imagined. Luckily for him, 2016 could be a new year with new beginnings.
The 49ers decided to being in Chip Kelly to jump-start the organization in the hopes of bringing the winning attitude back to 49erville. While living through the 2 years of Chip in Philly, I can say without doubt that you will see some offensive numbers inflate. Sure, the defense may be playing like their hung-over from the night before and this year's team is only projected to win 5 games, but watching Chip score points with guys like Sanchez and Foles leaves no doubt he will do the same thing in San Francisco.
Hyde is an intriguing prospect and has no real competition behind him. He will have every opportunity to run, catch and score TD's in an up-tempo offense that will move the chains. He is being drafted anywhere between rounds 5-6 leaving you a guy that could easily rush for 1300 yds and catch 50+ as a gem in the money rounds.
…
Chris Ivory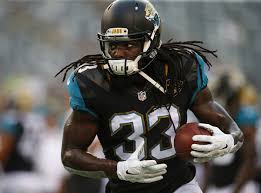 Is there a running back who runs harder than Chris Ivory? The answer to that is an emphatic No! Chris easily had his best season as a pro ripping though lines to total 1070 yds and score 7 TD's. This newfound success helped him earn a nice 5 year deal from the
Jaguars, who are an exciting young team with plenty of weapons. Blake Bortles continues to grow with the help of guys like Robinson,
Hurns, and Thomas snagging balls on the outside. These big time playmakers are the reasons why a safety needs to stay back on opposing defense leaving Ivory to rack up more yards on the ground.
Most books will tell you Ivory will be the 2nd guy in a RBBC system with no chance of leading the attack. I beg to differ. T.J. Yeldon was drafted to be the guy and after one year the coaches patience with his ball handling problems and scoring struggles is wearing thin. Yeldon sported a horrific 2.86 ypc inside the 20 giving you the insight on why he couldn't score.
Ivory is a completely different animal. He is a monster in the red zone and has the physical toughness to push many lines forward. In an exciting style of offense and one that continues to excel, a TD opportunity each week is far from out of reach. Ivory is being drafted anywhere after round 9, which is great spot to nab a RB2 who could not only provide depth, but be a decent spot-starter on your team.
…
Ameer Abdullah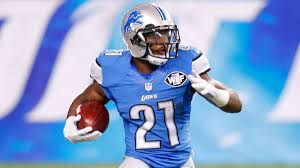 The Detroit Lions had a rough off-season as they learned that their best player, Calvin Johnson, after several nagging injuries decided to hang up his cleats. This left a huge void in the offense that will look for people to soak up the 142 targets that remain on the table now. Obviously the Lions are and will continue to be a pass first offense with Matt Stafford coming close to 600 pass attempts once again, but the running opportunities will still be there and possibly be more fluent.
Abdullah definitely needs to work on his ball handling skills, but the explosiveness needed to be the man is there. Theo Riddick did catch 80 balls last year and that number should stay around the same.
The running game will solely be on the shoulders of Ameer as he hopes to build on the 5.32 ypc he compiled over the last 5 regular season games in 2015. With Joique Bell, the goaline ball hawk gone, inside the 20 should be the new home of Abdullah. He is being drafted anywhere between rounds 8-10 and has the ability to be a strong RB2 if he can master the art of holding onto the ball. He truly has the skills to put on a show in Detroit.
These are some guys to target in those money rounds in your draft who I feel will provide good value for where they are selected. Like I have said before, anyone can draft in rounds 1-2, but the real players know how to draft in rounds 6-10. Stay tuned as I will profile the WR's who could be gems in the next coming days, as well as the guys who I deem to be all Hype and no return. Come get at me in the comments section as I'd love to get your take and spark up a nice debate.
As always, you can stop by my Facebook page (Fantasy Sports Addiction) or tweet me (@TCutillo23) for questions or some nice fantasy debates. I can also be heard weekly  via the internet stream live at WENG RADIO every Monday at 4:00 P.M. ET for a weekend sports wrap. But most importantly, you can catch me here at Pi!