When I decided on this idea in the summer, I wasn't sure how it would work out. To say it is easy is an understatement. Weekly fantasy leagues and DFS contests will always have their appeal, but an elimination pool of this magnitude really puts your brain on overdrive. From long range scheduling analytics to weekly defensive ranks, there is always something that needs to be projected when picking your best trio. This has turned out to be a survivor pool on steroids in more ways than one!
Did you happen to put your faith in DeAndre Hopkins this week? Did you decide to hop on the Le'Veon Bell train in his first week back? Do you still have some aces in the saddle or did you use up all your studs during the first four weeks?
Before we get into the stats, let's look at the Week 4 results so far and see where everyone stacks up. The top trio was Cam Newton, Melvin Gordon, and A.J. Green picked by [email protected]. Below is a more in-depth recap: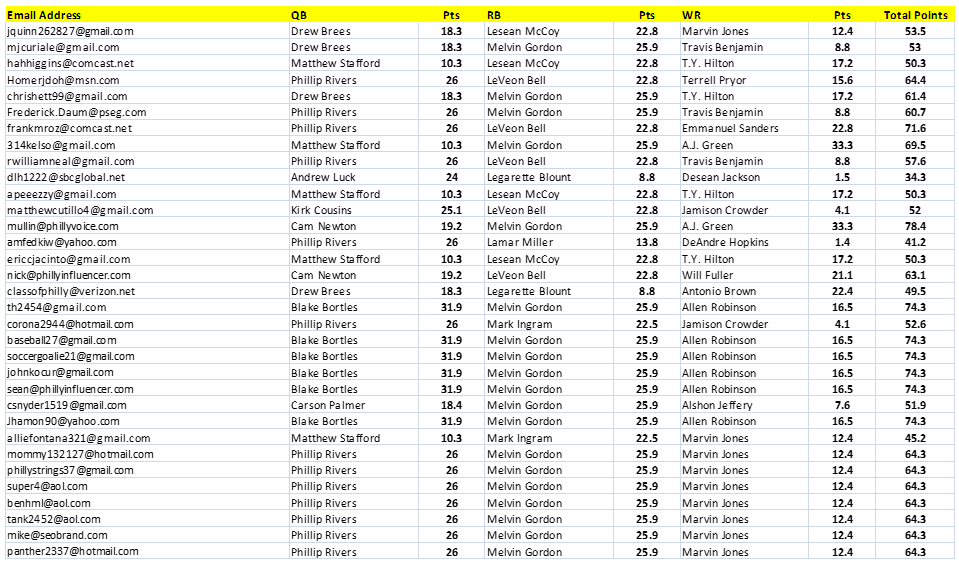 For all my statistical animals out there, below are some neat little tidbits based on Week 4. Let me know what you think so far and anything you would like to add as well. Do you have a favorite trend, stat or pattern that you follow? Please place you suggestions in the comment button below!
Most used quarterback in Week 4: Phillip Rivers (12 times)
Most used running back in Week 4: Melvin Gordon (19 times)
Most used wide receiver in Week 4: Marvin Jones (9 times)
Week 4 average for QB points: 23.03 pts
Week 4 average for RB points: 23.4 pts
Week 4 average for WR points: 14.3 pts
Week 4 average Total points: 60.8 pts
…
Here is a look at how everyone stacks up so far. Where you at?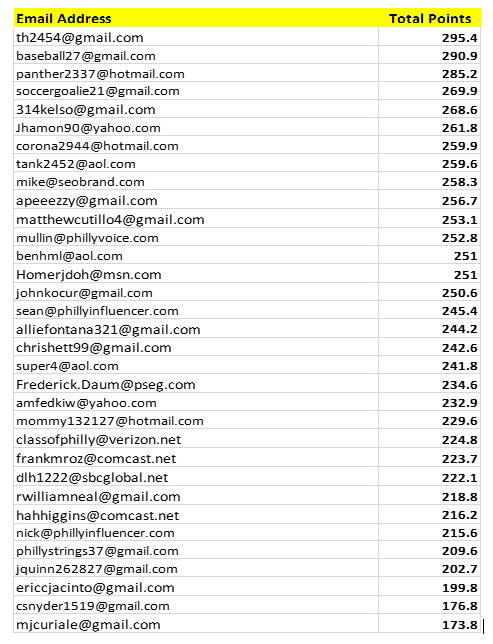 Good luck to everyone in Week 5 and look forward to the playoff version with a few new twists coming soon.
As always, you can stop by my Facebook page (Fantasy Sports Addiction) or tweet me (@TCutillo23) for questions or some nice fantasy debates. I can also be heard weekly  via the internet stream live at WENG RADIO every Monday at 4:00 P.M. ET for a weekend sports wrap. But most importantly, you can catch me here at Pi!
For fantasy purposes, all my articles are predicated upon a PPR-based system.