It's the end of the year, so I thought I'd put together a top 20 list of the top moments in Philly sports this past year. There's been very little to cheer for in terms of championships, but there were plenty of milestones hit during 2016 that will hopefully bode well for the years ahead for our sports teams. If you disagree with any listing or think I forgot any, email me or hit me up on Twitter and let me know. I'm all for debate and discussion about this topic.
Let's hit it!
15. Josh Innes fired after 'Dwayne from Swedesboro' controversy | August 24, 2016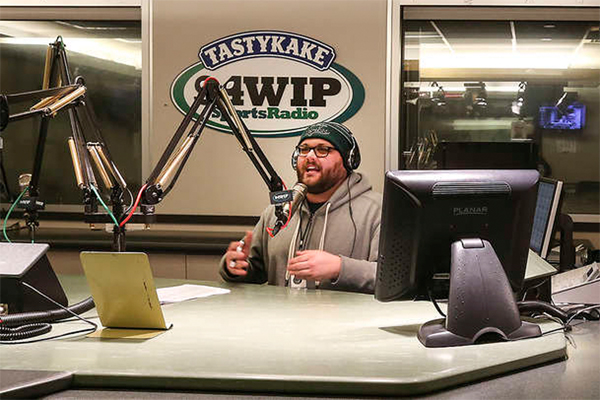 In terms of sports talk radio in Philadelphia, there was no more polarizing figure in 2016 than Josh Innes. Hell, he may have been the most polarizing figure in Philly sports talk radio since he arrived in 2014. But even after 97.5 The Fanatic's gaffe in regards to the whole fake caller 'Dwayne from Swedesboro' incident, reported on by Kyle Scott of Crossing Broad, Innes couldn't just sit back and laugh. He posted a picture of a guy in blackface, which ultimately got him fired, according to Innes.
RELATED | Josh Innes Fired from WIP
Just a few weeks ago, Innes joined Scott on an episode of Crossing Streams to circle back to his time in Philly and talked a little – very little – about his time in Houston currently. You can listen to that below.
[soundcloud url="https://api.soundcloud.com/tracks/298041404″ params="color=ff5500&auto_play=false&hide_related=false&show_comments=true&show_user=true&show_reposts=false" width="100%" height="166″ iframe="true" /]

…
14. Lane Johnson's suspension | August 9, 2016 and October 11, 2016
Lane Johnson. pic.twitter.com/2nMmUBOSbJ

— Nick Fierro (@NickFierro) August 13, 2016
It was over two months after Darren DeGaetano first reported that Lane Johnson was facing a 10-game suspension for violating the league's PED policy, but on October 11, Johnson was formally suspended for ten games. The Eagles went 2-8 in Johnson's absence, and ran the ball with ease last Thursday night when Johnson returned.
Go figure, in his first game back, they defeated the New York Giants, who are in prime position to make the playoffs. Thanks, Lane.
RELATED | Lane Johnson's 10-Game Suspension Upheld
…
13. Standing ovation for Chase Utley | August 16, 2016

He's not technically a Phillie anymore, but he'll continue to be a Phillie regardless of where he ends up. Chase Utley returned to Citizens Bank Park in August as a member of the Los Angeles Dodgers and was given quite the warm reception from the crowd. Those damn Philly fans, amirite?
RELATED | Watch the crowd at CBP Welcome Chase Utley Home
…
12. Eagles trade up to the second overall pick | April 20, 2016
The Eagles traded Kiko Alonso and Byron Maxwell to the Miami Dolphins in March to move up to the eighth overall pick in the NFL Draft, but they weren't satisfied. The next month, they swapped picks with the hapless Cleveland Browns to land the second overall pick in the NFL Draft. And that was the moment that Carson Wentz became our savior.
…
11. Temple defeats Navy for the AAC Championship, then Matt Rhule leaves | December 3 and December 7, 2016
The Temple Owls were on a mission in 2016. And that mission ended with the American Athletic Conference championship after decimating Navy, 34-10. Matt Rhule led his men into battle against the favored Navy, the #19 ranked team in the nation. The Owls must have known greener pastures awaited Rhule, because they played the game of their lives.
Days after Temple University celebrated, they mourned. Matt Rhule said that his job was over at the university after bringing an AAC Championship to the school and his athletes. Days later, he was having his introductory press conference as the new head football coach at Baylor University. Good for you, Matt.
Here were the top 20-16 Philly sports moments of 2016.
Stay tuned for tomorrow's list: 10-6.