Featured Bars and Lounges
…
This Week in Cocktails: National Hot Toddy Day
This Friday, January 11th, is National Hot Toddy Day. Since the weekend weather calls for some bundling up, a hot toddy may just be the best thing to happen to you in the next few days. There are several places in the city to get this flavorful and warming cocktail.
Assembly Rooftop Lounge: Assembly Rooftop Lounge, located on the 9th floor of The Logan Hotel overlooking the Benjamin Franklin Parkway, invites guests to cozy up next to a fire pit and sip on a Hot Dotty ($14), a creative twist on the classic, served with Jameson whiskey, laphroaig, ginger, sage, honey, and lemon. This warm beverage is part of Assembly's new winter cocktail menu boasting two additional hot cocktails and new seasonal and festive tipples.
CO-OP: CO-OP, The Study hotel's bustling restaurant and lounge located on the corner of 33rd and Chestnut Sts., is warming things up with a Hot Toddy ($10) boasting hot cinnamon spiced whiskey and orange. Guests can pair the hot cocktail with one of CO-OP's hearty entrées, such as the Braised Lamb Bucatini or Cast-Iron Pork Chop, for the perfect winter meal.
Red Owl Tavern: Red Owl Tavern, the bustling restaurant and bar across the street from Independence Mall in Old City, invites guests to escape the cold and enjoy a Mint Toddy ($12), served with bourbon, honey, lemon juice, and topped with mint tea. Cure whatever ails you with this simple classic cocktail from Lead Bartender, Kyle Darrow.
The Twisted Tail: The Twisted Tail is known for its extensive selection of brown spirits, so it's no surprise that this Headhouse Square restaurant, bar and live music venue has one of the best hot toddies in the city. Bourbon lovers can enjoy the hot beverage, boasting Jim Beam, ginger puree, fresh lemon with clove and wildflower honey, for $11 on Friday.
…
The Spotlight of the Week: Joe's Steaks + Soda Shop's Kielbasa Cheesesteak
In celebration of 70 years in the community, Joe's Steaks + Soda Shop will be highlighting the area with a new feature creation each month through the year. Each Tuesday of the month, stop by for savory cheesesteak and milkshake specials. This month, the Kielbasa Cheesesteak ($6.75 for a small/$9.25 for a large is the cheesesteak of the hour. The simmering cheesesteak features old-fashioned Polish kielbasa from Czerw's Kielbasy. Both the Fishtown and Torresdale locations will have the creation-of-the-month each Tuesday through January.
The upcoming months will feature:
• February 2019 – Chocolate Covered Potato Chip Milkshake featuring Herr's potato chips ($6.50)
• March 2019 – Pound Cake Cheesesteak featuring Stock's Bakery ($9.25)
• April 2019 – Butterscotch Krimpet Milkshake featuring Tastykakes ($6.50)
…
Center City Restuarant Week Begins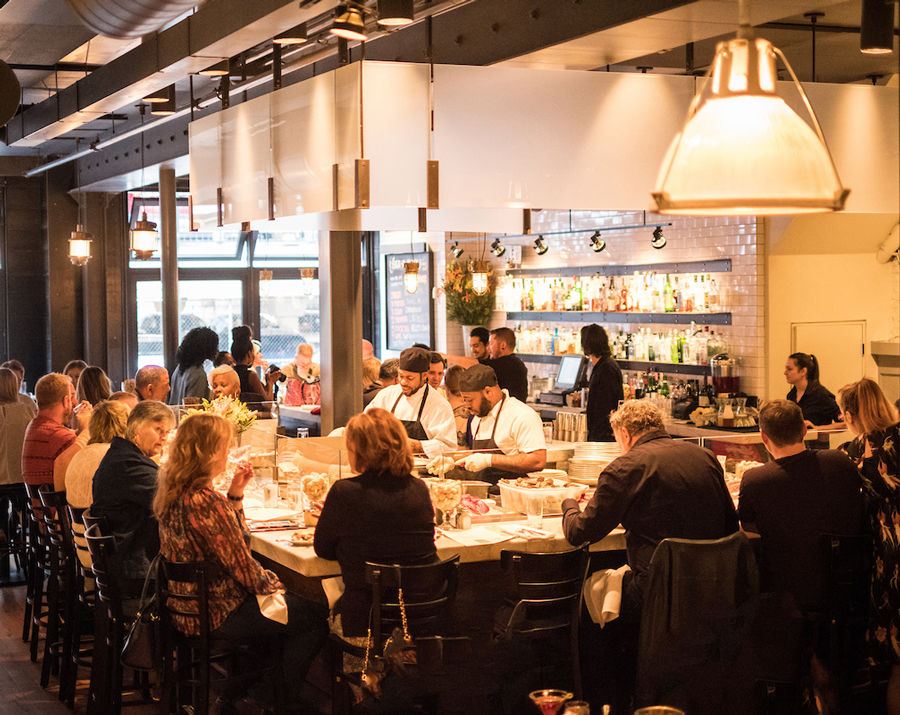 This Sunday marks the beginning of 2019's Center City Restaurant Week. The culinary dynamo is a phenomenal aspect of the city's exquisite dining experience each year. The wallet-friendly series will run from January 13-25, 2019.  Several restaurants across Center City offer three-course dinners for only $35 per person. In addition, many will also offer three-course lunches for $20.
For those driving out to stop at one of the amazing restaurants, Restaurant Week patrons can park for $9 or less at participating Philadelphia Parking Association and Philadelphia Parking Authority facilities from 4:45 p.m. to 1 a.m. Present your voucher from participating restaurants at the kiosk and you can enjoy a discounted meal and save on parking. For a list of locations, visit the Restaurant Week Parking page.
New Lyft riders will receive a $10 discount on their first ride using the code RW2019.
…
Weekly Events 
Each week, Philly Influencer picks the best parties, events, and social gatherings the area has to offer.
Philly Loves Bowie Week: Philly Loves Bowie Week continues through next Sunday. There are several special quizzo nights at bars, brunches, auctions, concerts, and events planned throughout the week.
Silent Philly Party at Lucky Strike: The partySilent Philly will be taking over the bowling entertainment venue Lucky Strike this Thursday evening. will run from 7 pm- 11 pm. Come out for a night of dancing, colorful headphones, and the tunes of your choosing.
Cooking Classes at Lets Cultivate Food: Let's Cultivate Food will be hosting tremendous cooking classes all week. This Wednesday will be Dumpling Cooking Class with Wine and Thursday will feature Paella Cooking Class with Sangria.  Friday is What the PHO?!? night with dessert and wine. Come out and sharpen your skills while sipping on something fantastic.
Bibliococktails: Tasting room Art in the Age will be hosting Bibliococktails this Friday night. 2019 marks the bicentennial of the birth of Walt Whitman. There will be a custom Whitman-inspired cocktail devised by the expert mixologists at Art in the Age. Come listen to readings of his poetry while tasting cocktails inspired by his works.
Ben Franklin's Birthday Bar Crawl: Old City pubs like the Victoria Freehouse and City Tavern for will be celebrating the birthday of Ben Franklin this Friday with a birthday bar crawl. The series will last from Friday, January 11th-Friday, January 18th.
Lil Wayne Night: Kung Fu Necktie will be hosting Lil Wayne Night this Friday. Dj Deejay will be playing the best tracks from his Cash Money, Young Money, and beyond. You'll hear the countless collaborations from the Hip-Hop titan as well.
Shake It Off: Taylor and Friends Night: The Foundry at The Fillmore will be hosting a Shake It Off: Taylor and Friends party this Friday night. DJ Caity Candy will be playing Taylor, Lorde, Ed Sheeran, and more of her friends on this pop night.
Bye Bye Liver: The Philadelphia Drinking Play: Yards Brewery will be the place to be this Friday evening. Bye Bye Liver: The Philadelphia Drinking Play is a sketch-comedy show centering on all our wild nights of drinking. There will be crazy audience participation and drinking games during the event.
Ardmore Winter Beer Festival: This Saturday is the 2019 Armdore Winter Beer Festival. There will be over 50 craft samples from Yards, Goose Island, Terrapin, and more. There will also be plenty of food vendors, live music, and more.
Daybreakers PHL Dance Dance Resolution 2019: One Liberty Observation Deck will be hosting Daybreakers PHL Dance Dance Resolution this Saturday morning.  This morning dance party is set for 57 stories above the city. The party starts with yoga and then ends with a 2-hour dance session.
Watson Adventures' The Munch Around the Market Scavenger Hunt: Watson Adventures' The Munch Around the Market Scavenger Hunt offers you the opportunity to eat your way through Philly this Saturday. Reading Terminal Market will host this amazing foodie event that will have munch challenges, photos stations, and plenty of food.
Winterfest Live!: Over 75 breweries will be handing out samples of over 150 beers, at Xfinity Live's annual Winterfest Live!. There will be live music, entertainment, prizes and contests, firepits, and more.
Moshulu Masquerade: Moshulu is offering you this fun and energetic party on this waterfront this Saturday night. There will be a two-hour open bar, hors-d'oeuvres, and a live band, and more.
Featured Event
---
THE 25THANNUAL Hair O' The Dog
Where: The Crystal Tea Room, 100 E Penn Square #9B
When: Saturday, January 19th
Voted the "Best Event in Philly",  one of Philadelphia's most popular, upscale, and glamorous events is back with a bang this year. The 25th Annual Hair O' The Dog will take place on Saturday, January 19th. Top-tier ticket packages will feature gourmet stations, hors d' oeuvres prepared by the Finley Catering culinary team, Bailey's dessert bar, signature cocktails featuring Ketel One Botanicals, and a Planet Ciroc VIP Lounge. A 5-hour top-shelf open bar featuring additional brands from the Diageo portfolio like Captain Morgan, and Don Julio, and beer including Peroni Nastro Azzurro, Miller Light and more.  Grammy Hitmaker T-Pain will be performing at this amazing party in which a portion of proceeds will benefit the Morris Animal Refuge.
For more information, click here.
---
You can follow Candis McLean on Twitter (@CandisRMcLean) and e-mail her at [email protected].
Follow Philly Influencer on Twitter (@PHL_Influencer),Facebook and Instagram.