This week's practices entered into game week mode. Thursday night signaled the first time this off-season that the team took on an opponent that wasn't wearing midnight green. The Eagles' practice week included the standard walkthrough Wednesday and other standard game week protocol. There was tons of competition and plenty to breakdown after Thursday's preseason loss to Tennessee. 
Check out our Eagles Training Camp highlights from Week 2!
Practice Highlights 
• Get a glimpse of the Eagles marquee players as they catch, accelerate through routes, make wrapup tackles, and perform drills.
For the full-length video, click here.
…
Press Pass 
• Doug Pederson spoke to the media this week to break down the team's performance against Tenessee, the status of the injured players, and what he's like to see from the team going forward.
Watch live as head coach Doug Pederson meets with the media. https://t.co/PpRrer0Qod

— Philadelphia Eagles (@Eagles) August 10, 2019
…
Quarterback Carson Wentz
• Carson Wentz talked about his connection with his skill position players, his desire to get reps in the preseason, and what he's seen from the talent on the field.
Watch live as Doug Pederson and Carson Wentz meet with the media. https://t.co/MvtwuPBucL

— Philadelphia Eagles (@Eagles) August 6, 2019
…
Key Quotes 
Q: How much does Nate Sudfeld's injury affect your ability to evaluate him going into the season? I know you wanted him to play a lot during this preseason.
Doug Pederson: Obviously we're grateful that he got the time he got in the game the other night. I thought he did some great things, showed great poise, made some great throws. There were a few things that we saw on film that we will be able to coach him up this afternoon when we watch the tape with the players.
Felt good. It is unfortunate that he got injured. Going to miss the rest of training camp, obviously. But this is a great opportunity for both Cody and Clayton to really embrace now the opportunity they have in front of them.
…
Defensive Coordinator Jim Schwartz 
• Jim Schwartz touched on about the defensive additions, what he looks for when he's looking for in the evaluation process, the linebacker rotation, and the cornerbacks play.
Watch live as defensive coordinator Jim Schwartz meets with the media. https://t.co/XLdPEjzoo1

— Philadelphia Eagles (@Eagles) August 4, 2019
…
Key Quote
Q: When you got into that picket-fence defense last year, a number of teams would get a few blockers out in front — the offense ran that here today against you. Did you ask them to do that because you know you are going to see those looks?
Jim Schwartz: I don't ask the offense to do anything in practice. We just play it as it comes organically and play it as it comes out. That way you vet stuff and go. We made a mistake in it last week.
I don't script practice, I just call it. The reason I do that is because you have to vet everything against everything. There is no better way to do that than just throw the call out there, and whatever the offense has called, it's called. That way you know if you're good at it or not.
We have work to do in a lot of things, whether it's man, zone, third down and long, third down and short. That's no different. Get it ready for when the games happen, and if you play with discipline, you tackle well, you rush well, that's a tough combination when the offense is so far behind the sticks.
…
Offensive Coordinator Mike Groh 
•  Mike Groh unfolded some details about the running back room, the performance of the young offensive linemen, and what the bubble wide receivers need to show in the upcoming weeks.
Watch live as offensive coordinator Mike Groh meets with the media. https://t.co/2bYP1g8mQB

— Philadelphia Eagles (@Eagles) August 5, 2019
…
Key Quote
Q: How is RB Miles Sanders' progress in terms of his pass catch protection and ball security? (Zack Rosenblatt)
Mike Groh: [RB] Miles [Sanders] is doing a great job every day. He's coming out and knows what we want to get better at each and every day. He's really just kind of started, being able to get out there and be involved in the huddle, and be part of the play call, get out, be able to decipher what the defense is doing, react to it. We think that he's really making good progress.
…
Practice Notes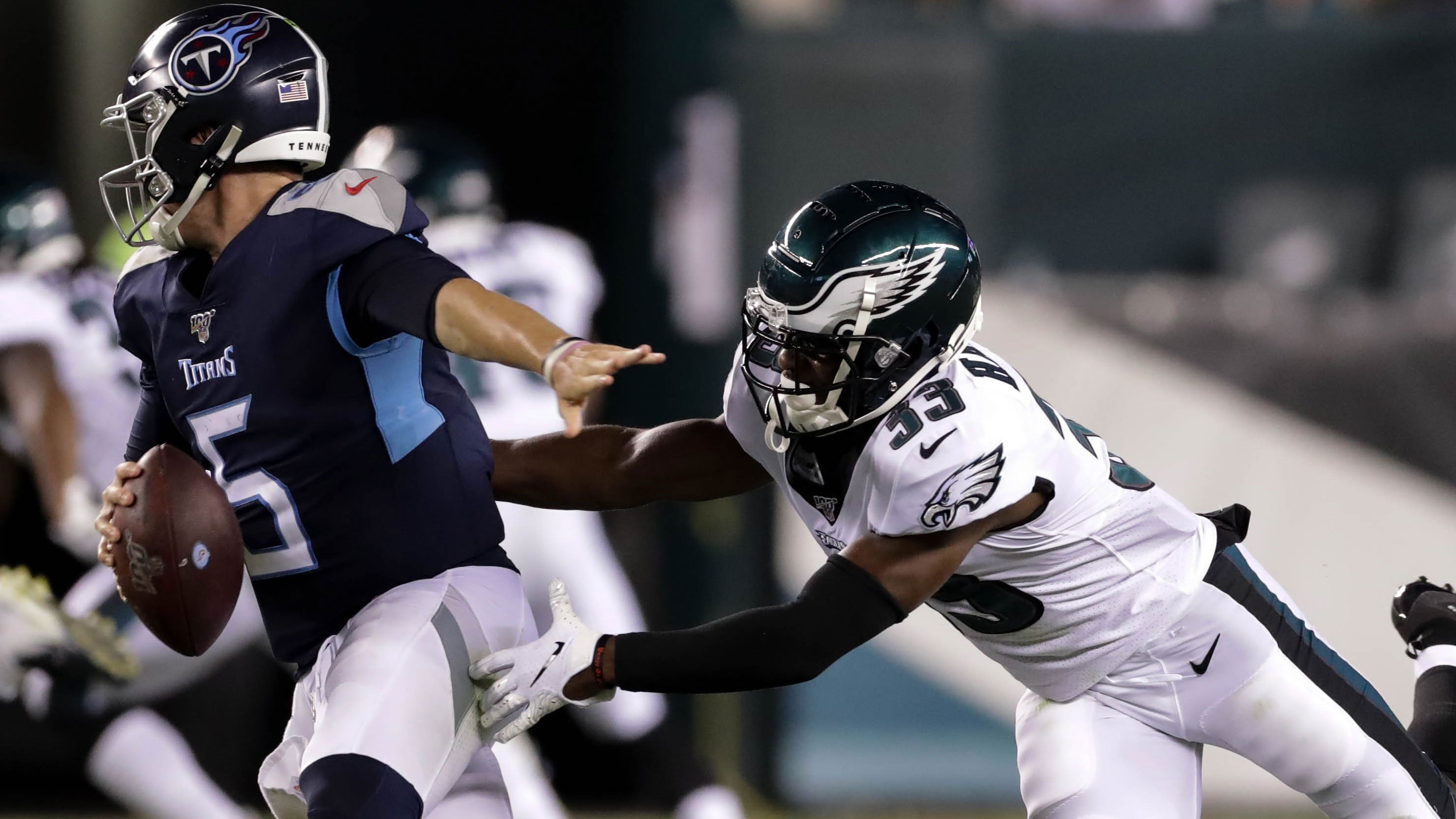 • Malcolm Jenkins had a good week of camp. The team leader had several picks during practice this week. The safety room is got more crowded last week and healthier with Rodney McLeod returning to team drills. It will be interesting to watch as the roster comes to form.
• Daeshon Hall continued buzzed-about play this week with a strong preseason debut. He finished the game with a Daeshon Hall 90.9 PFF rating which was second-highest on the team.
• Easily the best highlight for the quarterbacks this Thursday, the 75-yard TD pass from Sudfeld to Michel was a thing of beauty.
Sudfeld hits Marken Michel in stride for a 75-yard BOMB!#TENvsPHI | #FlyEaglesFly pic.twitter.com/ikfXgylpgX

— Philadelphia Eagles (@Eagles) August 9, 2019
• Derek Barnett, Rodney McLeod, and Ronald Darby all returned to team drills this week. This is a tremendous jolt to the defense. Barnett looked really good in his first practice.
Derek Barnett is looking pretty good going up against Jason Peters in 11 on 11. #Eagles

— Zack Rosenblatt (@ZackBlatt) August 11, 2019
• Joshua Perkins is now taking first-team reps with the Goedert and Rodgers being down with injuries.
• The low snaps from the backup centers continued through practice this week. The lack of snap consistency was something that came up in Thursday's game as well.
• Carson Wentz continues to have a really strong training camp. His connection to Alshon Jeffery was on display this week.
The Carson Wentz to Alshon Jeffery connection has been clicking today. #Eagles

— Brandon Lee Gowton (@BrandonGowton) August 11, 2019
• Andre Dillard continues to project high in practice. He excelled against Vinny Curry and Brandon Graham in practice. This shouldn't be a surprise for anyone who watched his preseason debut.
man Andre Dillard's pass set is so damn silky

— Mike Golic Jr (@MGolicJR57) August 9, 2019
• The defense is continuing to have fun out there.
Timmy Jernigan just combined with Zach Brown on a TFL of Miles Sanders. Jernigan then spanked Sanders twice.

— Jimmy Kempski (@JimmyKempski) August 11, 2019
…
News 
• Lincoln Financial Field:  Lincoln Financial Field is now a certified sensory-inclusive stadium thanks to a full-time, dedicated suite. The stadium is the first in the league that created this initiative for fans and families facing sensory challenges.
• Lane Johnson and Dallas Goedert: The Eagles announced this week that Lane Johnson and Dallas Goedert are done for the remainder of the preseason. Their injuries are not reported to be significant.
• Eli Harold: Defensive end Eli Harold was signed this week and T Ryan Bates was released. Harold will be playing in a 4-3 for the first time since college.
Jim Schwartz on Eli Harold: "Good body for what we are looking for. Our scouts had liked him a couple years ago. He has had a little bit of production. …Put his hand in the ground and let him come. He's big, he's strong and we will add him to the mix."

— Zach Berman (@ZBerm) August 11, 2019
• Other Signings: The team also signed depth players CB Ajane Harris and DE Kasim Edebali. 
…
Bonus Points: The Best Player Interactions of the Week
• The players tried a little name-that-tune singing contest this week. The results were staggeringly successful.
…
• Malcolm Jenkins was pretty pumped for the preseason kickoff.
#Eagles S Malcolm Jenkins is feeling it before #TENvsPHI kickoff!! 🦅🦅🦅🦅#FlyEaglesFly pic.twitter.com/OLWy0a2bL4

— Philly Influencer (@PHL_Influencer) August 8, 2019
---
You can follow Candis McLean on Twitter (@CandisRMcLean) and e-mail her at [email protected].
Subscribe, rate, and review all Philly Influencer podcasts here. Follow Philly Influencer on Twitter,Facebook, and Instagram.