The Spotlight of the Week: Dogs on the Deck
Chef Nicholas Elmi and his all-star team at Royal Boucherie are gearing up for Dogs on the Deck II. The second-annual chef-driven patio hot dog competition, held Wednesday, August 14, from 6 p.m. to 8 p.m. on the Old City restaurant's second-floor patio, benefits the Pennsylvania Animal Welfare Society (PAWS).
Guests will enjoy four expertly crafted dogs from top chefs and craft beer from James Beard Award-winning Allagash Brewing Company; $40 gets four gourmet dogs and four beers. Additionally, Elmi and the team will kick off the event with a "welcome dog" for all. The party will spill over into the adjacent Parlor — the second-floor bar, lounge and dining area. Participating chefs are Michael Ferrari of Res Ipsa; Andrew DiTomo of Vetri Family; Matt Harper of Kensington Quarters; and returning champion Damon Menapace of Le Virtù.
Tickets may be purchased by calling (267) 606-6313 or by clicking here.
…
This Week in Cocktails: Cucumber Cocktails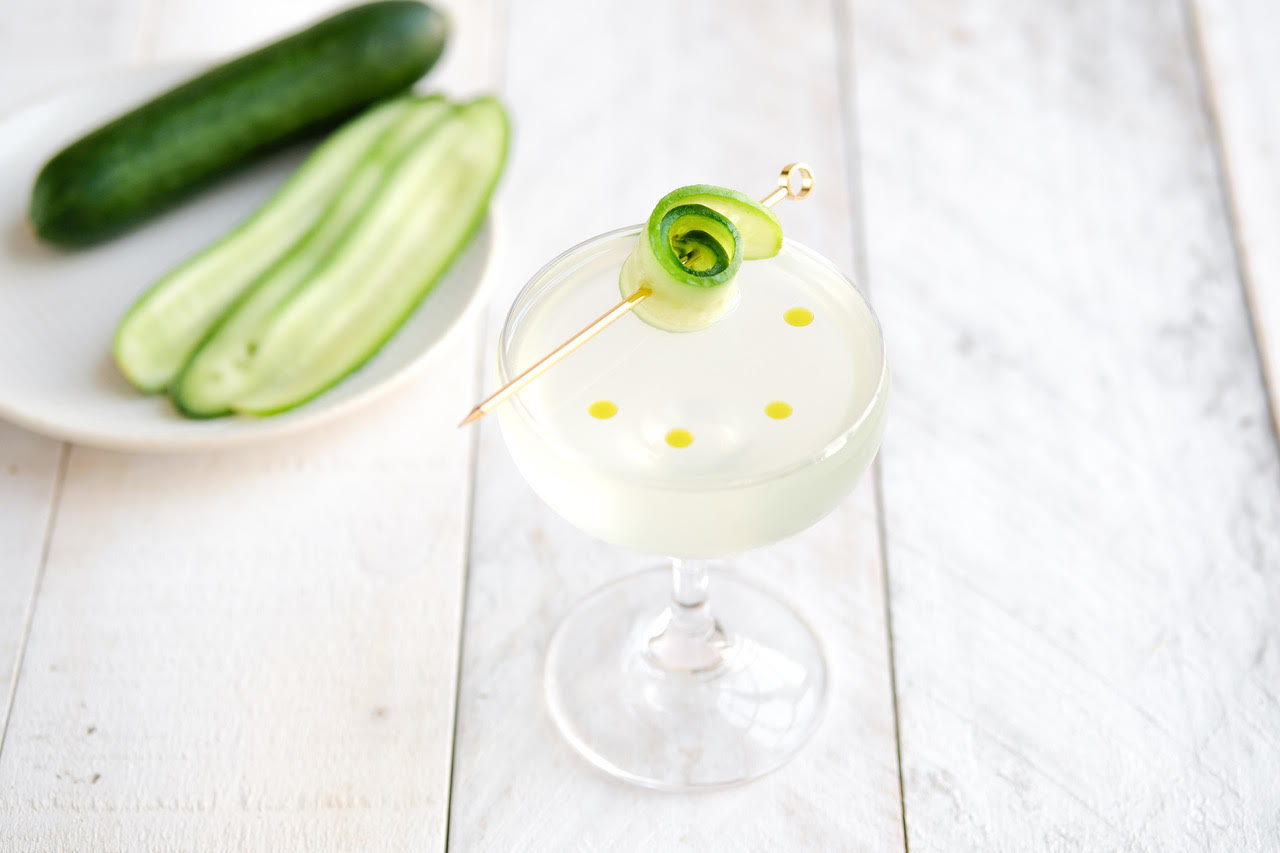 Assembly Rooftop Lounge: Assembly Rooftop Lounge, one of Philadelphia's most spectacular rooftop bars, serves a refreshing Spring Garden cocktail for $16 this summer. Made with Stateside Vodka, yellow chanteuse, green bell pepper and cucumber oleo-saccharum, thyme, peach bitters and lemon juice, this delicious cocktail creation is sure to satisfy any guest while they enjoy views of the Benjamin Franklin Parkway, Philadelphia Museum of Art and Center City.
Art in the Age: Art in the Age, Philadelphia's one-of-a-kind tasting room, home bar supply, bottle shop, and interactive classroom celebrates summer with a brand new seasonal cocktail menu, including a $12 Skinny Dipper —  made with Powderhorn Rye Vodka, Lo-Fi Dry Vermouth, cucumber seal salt brine, and additional black pepper bitters. Cocktail lovers can not only enjoy the cocktail at the tasting room but also leave with all of the components to go home and replicate that exact libation for friends and family. The recipe can be found below.
The Bar by Bluebird Distilling: The Bar by Bluebird Distilling, the craft-cocktail bar inside Old City's artisanal food hall "The Bourse", invites guests to take a break and cool down from exploring Old City with their "A Collins Has No Name" creation. This summer cocktail is made with Bluebird Distilling Vodka, St. Germain, fresh lemon juice, house-made cucumber syrup, mint, and club soda.
MilkBoy: MilkBoy, the nation's only entity including a bar, recording studio and live music venue, goes boldly into summer with not one but two cucumber cocktails at their Chestnut Street location. Guests can choose between a ($11) Cucumber Cooler — Effen cucumber vodka, lime, cucumber and cilantro —  and a ($10) Pimm's Cup —cucumber, lemon, and soda — while enjoying live music performances and bar food classics at one of Philadelphia's most unique bars and music venues.
Red Owl Tavern: Red Owl Tavern, located across from Independence Hall, offers guests a Tavern Pimm's Cup ($10), made with 5 spice infused Pimm's, cucumber, mint and ginger ale. This refreshing cocktail is perfect for summer sipping at Red Owl Tavern's newly renovated outside patio on 5th and Chestnut Sts, offering views of America's birthplace and most historic square mile.
Townsend: Tequila lovers can stop by Townsend this summer and sip on a delicious What does the fox say, boasting Blanco Tequila, aloe liqueur, cucumber, lemon, pineapple, cocci americano and green chanteuse for $14. Located in the heart of East Passyunk, this award-winning three-bell restaurant is known for its inventive bar program and seasonal and hyper-local elegant French cuisine.
The Twisted Tail: The Twisted Tail, located in historic Headhouse Square, serves guests a simple yet delicious cucumber vodka cocktail all summer long. Made with Grey Goose Pear, lime and cucumber, this refreshing libation — called Kool Kat —  is the ultimate drink for a fun night with family and friends in Society Hill, just a few steps away from the waterfront and fun activities such as Spruce Street Harbor Park.
…
Center City Sips Picks: Chima Brazilian Steakhouse, Davino's Northern Italian Steakhouse, and Field House
Each Wednesday between the hours of 5 p.m. and 7 p.m., the areas of Avenue of the Arts, Center City East, Center City West, and Rittenhouse Square participate in Center City Sips. Over 80 participating locations have $6 cocktails, $5 wines, $4 beers, and appetizer discounts. Here are this week's best deals.
• Chima Brazilian Steakhouse: Stop by Chima Brazilian Steakhouse during Center City Sips for a $6 Chima Iced Tea (EFFEN yuzu vodka and iced tea), Big Ginger (2 gingers whiskey and ginger ale), or an Apple Breeze (EFFEN original vodka with apple pucker and cranberry juice). House Cabernet and Chardonnay will be discounted as well. Try the Sirloin Sliders, Brazilian Pastels, Bacon-wrapped Filet Skewers, Chicken-Pineapple Skewers, and more.
• Davino's Northern Italian Steakhouse: Davino's Northern Italian Steakhouse has San Marzano Tomato Pizza (mozzarella and fresh basil) for $6, Crispy Calamari with cherry peppers, citrus aioli for $7, American Kobe Beef Meatball with Caciocavallo for $7, and several others small plate options. Pair the sizzling selections with Il Conte Montepulciano d'Abruzzo, 2017, Abruzzo, IT or a glass of I Castelli Pinot Grigio, 2017, Alto Adige, IT.
• Field House: for a fun time, come to Field House on Wednesdays. If you eat at the downtown sports bar and lounge after Sips, you'll get 15% off dinner. Try the EFFEN Yuzu Citrus Peach Lemonade Fishbowl cocktail or Strawberry Margarita Fishbowl. Pinot Grigio, Cabernet, Kona Big Wave Draft, and Bud Light Draft are all available for during the drink specials deal hours.
…
Old City Eats Picks: High Street on Market, JJ Bootleggers, and Keating's Rope & Anchor Bar + Kitchen
Each Thursday between the hours of 5 p.m. and 8 p.m., Philadelphia participates in Old City Eats. Over 25 participating locations have half-priced appetizers, $4 beers, $5 cocktails, and other drink specials.
• High Street on Market: Venture to High Street on Market each Wednesday during Old City Eats for some amazing steals. The American cuisine eatery and artisanal bakery has discounted cheese curds each week. You can sip on a Mezcal Jawn cocktail without breaking the bank.
• JJ Bootleggers: JJ Bootleggers has a rotation of $5 select appetizers during Old City Eats each Wednesday. The moonshine themed and rustic bar will be pouring up Rum Runner libations featuring Bacardi each week. Miller High Life is the beer of choice doing these hours.
• Keating's Rope & Anchor Bar + Kitchen: Keating's Rope & Anchor Bar + Kitchen offers up goat cheese fritters (Elderflower honey, blackened pepper, chipotle cumin aioli), avocado toast (Hass avocado, lemon zest, feta cheese, toy box tomato, multigrain points), cheesesteak landing eggrolls (Shaved steak, caramelized onion, provolone, cheddar whiz), and a spinach and red pepper flatbread (Garlic, mozzarella cheese, aged balsamic) each week. Mojito (Bacardi Añejo Cuatro rum, lime juice, simple syrup, mint, club soda) and Miller High Life are also discounted.
…
Weekly Events
Each week, Philly Influencer picks the best parties, events, and social gatherings the area has to offer.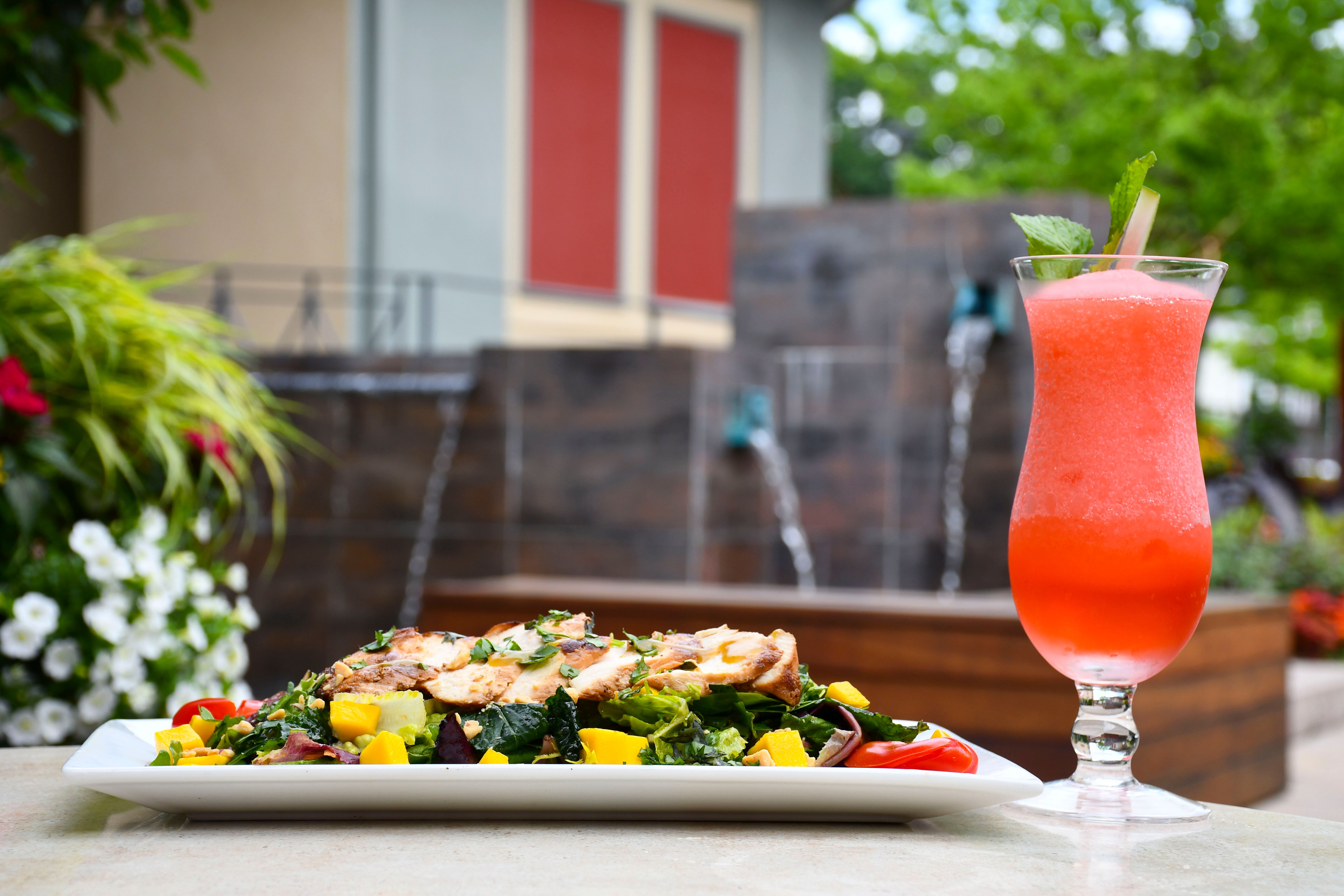 • Parks on Tap: Parks On Tap is at Dickinson Square Park this week. The beautiful terrain will be bursting with lively guest, food trucks, the best brews, and more. On Thursday from 6 p.m. to 7 p.m., there will be free yoga in the park.
• Punch Buggy Brewing Company: Punch Buggy Brewing Company will be opening its doors this week. The Old Kensington brewery will be hosting a grand opening weekend from Thursday, August 8 through Sunday, August 11. There will be food and plenty of brews to go around.
• PHS Pop Up Specials: The Philadelphia Horticultural Society has pop up beer gardens at 15th & South and University City. Each week they have tremendous drink specials at each location. The South Street location features tremendous libation options. Come to the Ucity Square garden for Happy Hour during the week.
• Summer Nights at Penn Museum: Penn Museum is bringing back its Summer Nights series this week. There will be live music, cocktails, several curated activities, and more. Wednesday night, Martha Graham Cracker has created a lineup of that will keep you entertained all night long.
• Clues & Booze & Chews: Cliveden in Historic Germantown will be hosting Clues and Booze and Chews: Twilight Tales this Friday night. This will be a large-scale scavenger hunt, that includes drinks, small plates, and entertainment. The event begins at 6:30 p.m.
• 2nd Saturdays: Northern Liberties 2nd Saturdays events are back this weekend. Several shops, restaurants, bars, galleries, and spaces will be opening up their business for deals. People will be crowding the sidewalks to visit the vibrant part of the city.
• Port Richmond Blues Festival: The Port Richmond Blues Festival is this Saturday. Come out for "Booze, Blues, and BBQ on Tioga Street". There will be food eating contests, vendors, and more. King Groove, Mikey Junior, Russ Lambert, and Blue Bizness will be performing.
• Drake Night: The Fillmore Philadelphia will be hosting "So Far Gone" Drake Night this Saturday night. The hits of the Toronto rapper will be blasting through the speakers all night. The entertainment will be rocking.
• Reggae in Love Park: In celebration of Jamaica's 57th independence anniversary LOVE Park will be hosting a day of fun activities. There will be prizes, giveaways, contests, food and drinks, live music, and more. Miss Universe Jamaica Davina Bennett, "Queen of Reggae" Marcia Griffith, and others will be in attendance.
• Chestnut Hill Restaurant Week: Chestnut Hill Restaurant Week will kick into gear next week. There will be savory prix-fixe meals for wallet-friendly deals. Iron Hill Brewery & Restaurant and several frequented hotspots are all participating. Head to Campbell's Place to chow down on bites from Chef/Owner Rob Mullen, who has also cooked for celebrity musicians Beyoncé, Jay Z, and U2. Or get intimate and cozy at MICA; don't forget the wine – it's BYOB.
…
Featured Event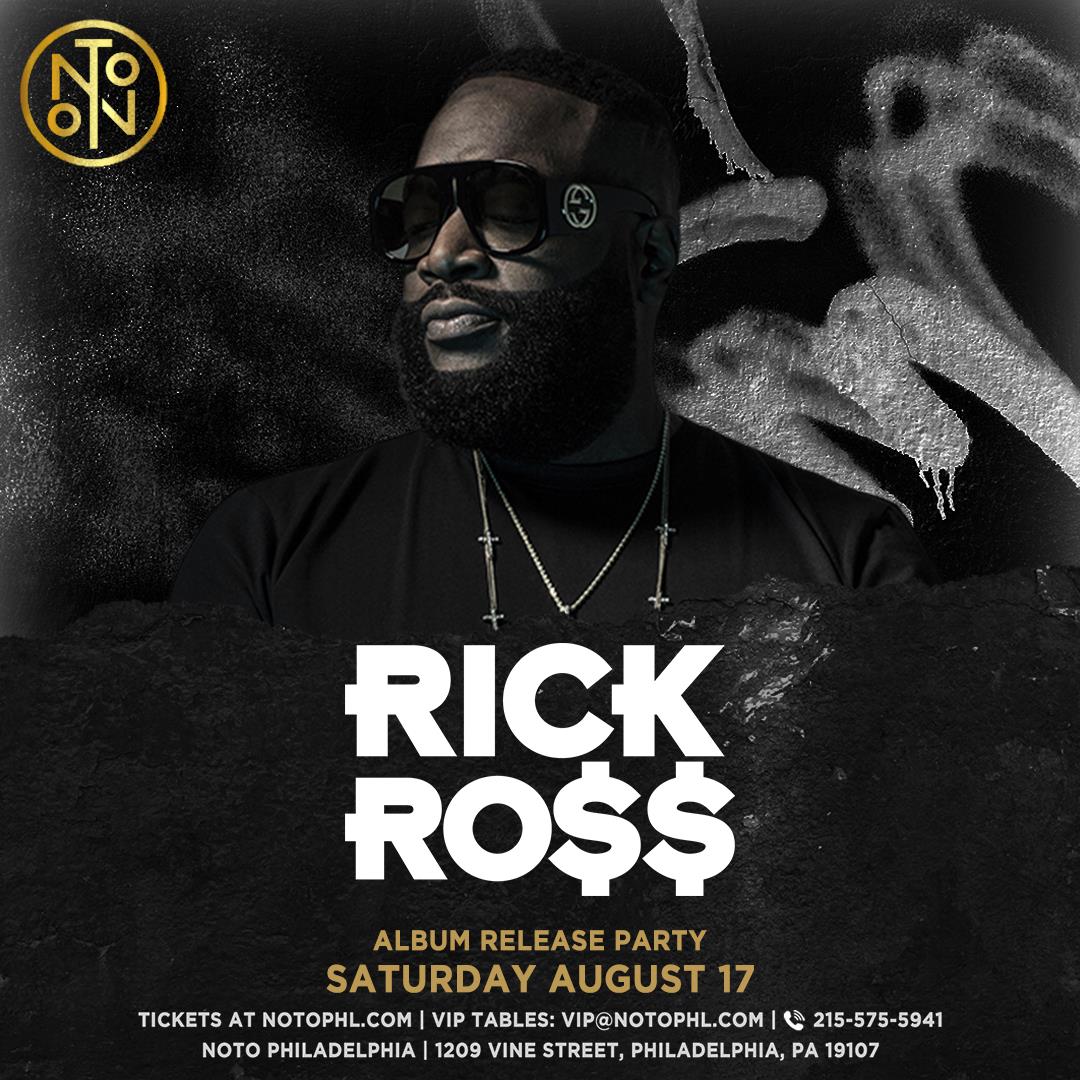 Where: NOTO Philadelphia | 1209 Vine St
When: Saturday, August 17 | 10 p.m.
Miami hitmaker Rick Ross will be in the City of Brotherly Love next Saturday! In celebration of his upcoming release Port of Miami 2, NOTO Philadelphia will be hosting a blowout extravaganza. Come hear tracks like "Turnpike Ike" and several others from the sizzling release. Tickets are on sale right now for the party of the month! You don't want to miss Ricky Rozay's Philly takeover.
For more information, click here.
---
You can follow Candis McLean on Twitter (@CandisRMcLean) and e-mail her at [email protected].
Subscribe, rate, and review all Philly Influencer podcasts here. Follow Philly Influencer onTwitter, Facebook, and Instagram.