The Bourse Food Hall Presents: "Fried Chicken Fridays"
Summer Fridays are about to get even better. Starting Friday, July 24 and running through Friday, August 14, The Bourse Food Hall invites fried chicken lovers to its patio for "Fried Chicken Fridays" with Freebyrd Chicken, a month-long pop-up.
Each Friday from 3 p.m. to 8 p.m., Freebyrd Chicken will be on The Bourse's 5th St. patio across from Independence Mall slinging grab-and-go fried chicken sandwiches and beers. All guests must be seated at a table after ordering. Masks are required at all times unless seated. Tables are first-come, first served.
"We are excited to partner with one of our food hall vendors, Freebyrd Chicken, for this fun – and tasty – patio pop-up," said Victoria Greer, The Bourse Food Hall General Manager. "We've recently expanded our outdoor seating while maintaining all CDC guidelines and look forward to safely spending summer Fridays on the patio with our Philly fam."
Freebyrd Chicken will be on the patio every Friday offering grab-and-go The FreeByrd Chicken Sandwiches ($10) with buttermilk brined fried chicken, Alabama white BBQ sauce, homemade pickles, on a soft roll, plus cans of Yeungling ($4), Miller Lite ($4), and Yards Brawler ($5). Guests will be able to order in-person with credit card.
Freebyrd Chicken's delicious fried chicken sandwiches are also available for delivery at freebyrdchicken.com or via third-party app. Freebyrd Chicken offers a Weekend Family Bundle, including four sandwiches and two sides with option to add drinks, for $40. The bundles can be ordered at freebyrdchicken.com.
Additionally, The Bourse Food Hall has recently partnered with Snack Pass to offer delivery and pick-up from multiple vendors in one order. Participating vendors include Prescription Chicken, Abunai Poke, Scoop DeVille and Marino Bros. Cheesesteaks. Orders can be made here.
…
Iron Hill Brewery Re-Opens Center City Location
Iron Hill Brewery and Restaurant is announcing the reopening of the patio for outdoor dining at the East Market location in Center City Philadelphia on Wednesday, July 22. Iron Hill Center City is open Monday through Friday from 3:30 p.m. – 8:00 p.m., and Saturday and Sunday from 12 pm – 8:00 pm. The patio has expanded seating available on Chestnut Walk at East Market, with beer tents available for quick and walk-up service on Friday evenings, and Saturday and Sunday. On the heels of their reopening of the Center City location, Iron Hill has also announced the company-wide launch of a new menu to be available across all 17 locations.
Guests can dine on new items like the beer-inspired Fried Chicken Sandwich ($13.70), served with a brand new-house made IPA sriracha ranch sauce, and the Chicken and Baby Back Ribs ($19.30), featuring whole chicken wings in a spicy Vienna Red Lager barbeque sauce and a half rack of ribs served in Bedotter Ale barbeque glaze. In addition to new dishes, Iron Hill is bringing back fan-favorites like hearth-baked pizzas, gourmet tacos, and specialty grilled cheeses. A wide selection of vegetarian items (available at select IHB locations) have been added, including the Quinoa and Grilled Vegetable Bowl ($16.00), Seven Vegetable Pizza ($12.50), and buffalo Cauliflower Tacos ($12.70). Iron Hill is also offering a Taco Tuesday special with a la carte tacos for $5 each. All menu items are also available for take-out and delivery across all Iron Hill locations.
The opening tap list in Center City will include Iron Hill favorites like the Philly Special IPA and Lavender Tripel, as well as some new additions like Homestead, a citrusy Farmhouse Ale, The New Normal, a West Coast-style IPA and Local Lager, the newest low-calorie lager light in body, calories and bitterness, but heavy on flavor. Complying with local and state ordinances, guests must purchase food in order to enjoy on-site alcohol consumption.
"We are so excited to get our Center City location back up and running", says Iron Hill CEO Kim Boerema. "Restaurants throughout the city, even across the nation, have felt the burden caused by business disruptions during this time and we are thrilled to be able to re-open our Center City location. We owe a huge debt of gratitude to our Iron Hill Center City staff for their patience and commitment to our company while we navigated this situation."
Reservations are encouraged and can made here.
…
Jet Wine Garden Celebrates National Wine and Cheese Day
In celebration of National Wine and Cheese Day on Saturday, July 25th, Jet Wine Garden is offering a pairing for the ages: Rex 1516's famous Pimento with a sparkling Pet-Nat from Slovenia.
From 12-10 p.m., Jet Wine Garden, the outdoor oasis adjacent to Jet Wine Bar, will be making wine and cheese lovers' dreams come true with the ultimate pairing: Matic 'Mea" Pet-Nat, Stajerska Slovenia with Rex 1516's Pimento cheese and crackers.
Culinary Director, Lucio Palazzo, hand-makes Rex 1516's über-popular Pimento, a classic Southern cheddar cheese and pepper dip, which pairs perfectly with the effervescent citrus notes in the Pet-Nat (short for Pétillant Naturel), a natural sparkling wine. Like much of the wine being brought into popularity at the moment, this sparkler actually dates back pre-Champagne.
The Pimento Cheese is available for $5, while the Pet Nat is $15/glass or $60/bottle.
Jet Wine Garden is located at 1525 South St. and is open Monday through Thursday 4-9 p.m., Friday and Saturday 12-10 p.m. and Sunday 12-8 p.m.
…
The Parking Lot Social Gets an Extension
Due to the popular demand and an overwhelming response from the people of Philadelphia, The Parking Lot Social will be extending its stay in the City of Brotherly Love, with a second week of drive-in entertainment from Wednesday, July 29 through Sunday, August 2 at the Philadelphia Navy Yard. Featured on Good Morning America and named by Forbes as one of the premier drive-in entertainment tours of the summer, this limited-engagement event modernizes the traditional drive-in experienced through a supersized, multi-sensory attraction.
With the ability to host up to 250 cars at each event, The Parking Lot Social represents the next evolution in the 'drive-in' experience and each tour stop will offer five nights of incomparable entertainment with the emphasis on having a fantastic night out while maintaining social distancing recommendations.
Extended Schedule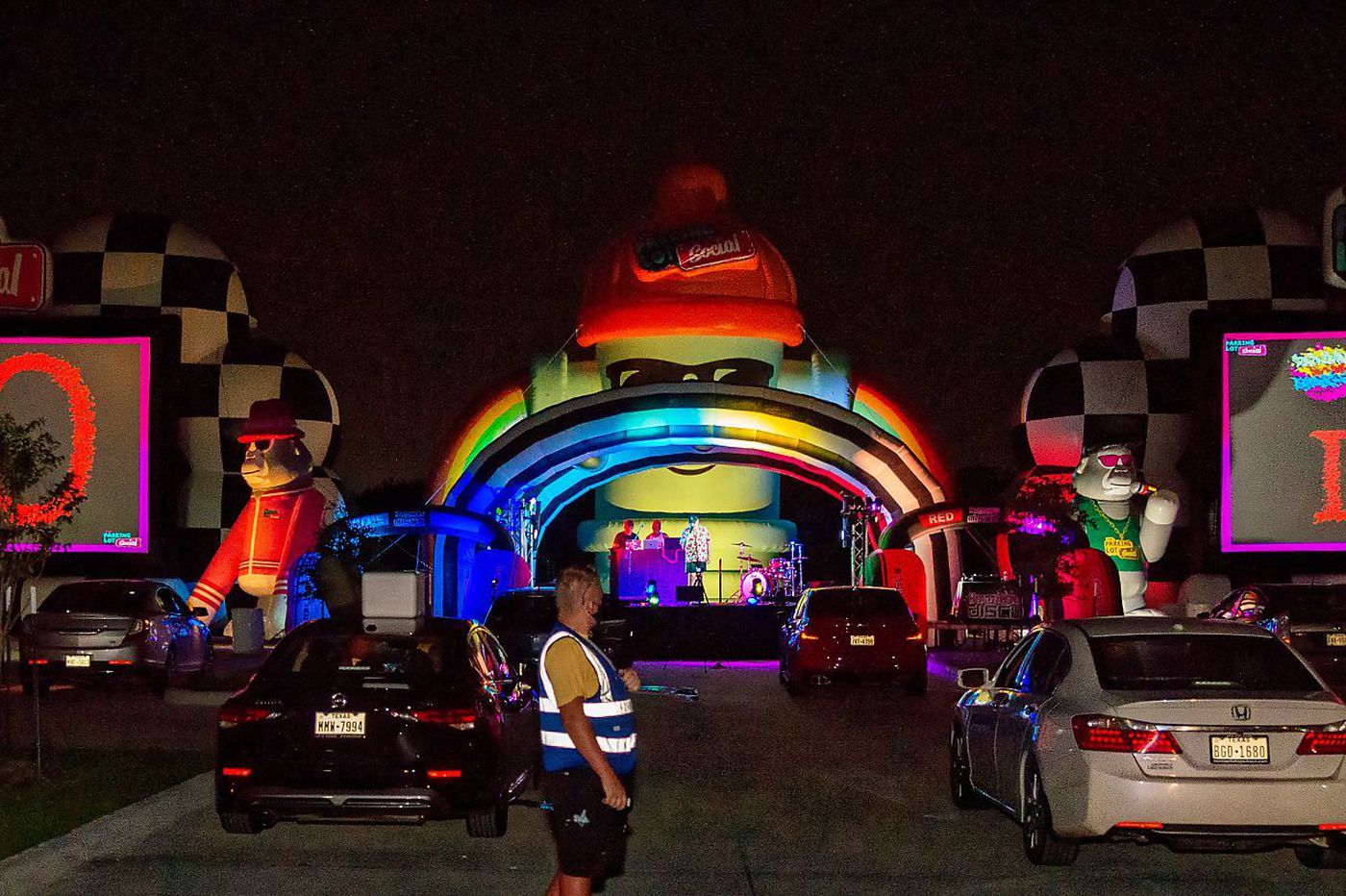 Wednesday, July 29
Parking LOL Comedy Night – Come out and relieve some stress through the medicine of laughter, as a variety of local stand-up acts will ensure endless LOLs in your car at this dedicated stand-alone event.
Thursday, July 30
80's Movie Night & Midnight Movie – A special drive-in showing of a classic 80's movie on our two MASSIVE 40ft screens. And check out their very own Throwback DJ on the main stage playing all the biggest hits from the decade straight to your car stereo. Themed costume encouraged! There's also late-night thrills are guaranteed at the showing of midnight movies across our two massive 40ft screens. Live DJs complete the lineup.
Thursday 80's Movie- Dirty Dancing
Thursday Midnight Movie – The Goonies
Friday, July 31
The Parking Lot Social & Midnight Movie – Engine Off, Party On! Experience the main event of the tour with a thrilling mix of Car-A-Oke, Boom Boom Bingo, Silent Disco DJ Battles, Trivia Contests, and much more.
Friday Midnight Movie – Pulp Fiction
Saturday, August 1
Social Kids & Midnight Movie – Families can enjoy The Parking Lot Social experience with a more kid-friendly environment that features: The Big Family Trivia Contest, Boy v Girl and Parent v Kid Silent Disco, kid's themed Car-A-Oke and Bingo! A fun, safe day out for the entire family is guaranteed.
Saturday Midnight Movie – The Lost Boys
Sunday, August 2
Social Kids & Family Movie Night –  Grab the family and jump in the car for a classic drive-in movie experience that's suitable for all ages. Sing-along laughs along and don't forget to share the popcorn as The Parking Lot Social delivers a truly memorable experience. The mainstage DJ will get you all in the mood for an awesome family night out.
Sunday family Movie – Grease
---
You can follow Candis McLean on Twitter (@CandisRMcLean) and e-mail her at [email protected].
Subscribe, rate, and review all Philly Influencer podcasts here. Follow Philly Influencer on Twitter, Facebook, and Instagram.