A few years ago, I randomly hopped on a plane to see Celine Dion in Vegas for the weekend. I remember being blown away by the show's set designs (there was a surging waterfall during "My Heart Will Go On"), choreography, and the command of the music legend—who even kept singing while stepping over two fallen concertgoers who snuck on stage during her rendition of "River Deep Mountain High". When Dua Lipa brought the Future Nostalgia Tour to the Wells Fargo Center on Saturday, the dazzling execution and powerhouse visuals were right up there with that night in Vegas.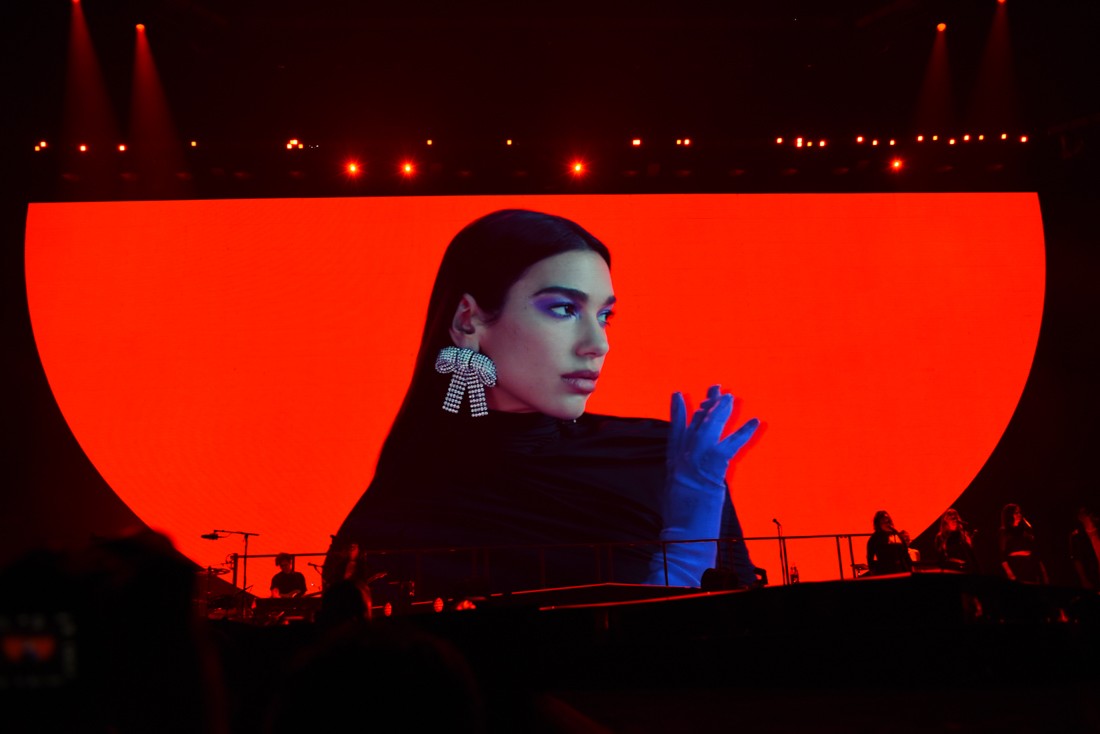 From 80s filters on screens during the Flashdance-themed track "Physical", to flawless transitions with skaters and dancers using every inch of the bright neon-lit stage, and to Lipa gliding through the air during "Levitating", every moment of the show was crafted to give fans a relentless night of entertainment. And that shouldn't be a surprise, since due to COVID-19 delays, the show was 22 months in the making. During that time, Lipa was able to release chart-topping hits like "Cold Heart" and  "Levitating" (the single was released six months after this tour was originally scheduled to start). Also during this break, the album Future Nostalgia won Best Pop Vocal Album at the Grammys and the British Album of the Year award at the Brit Awards.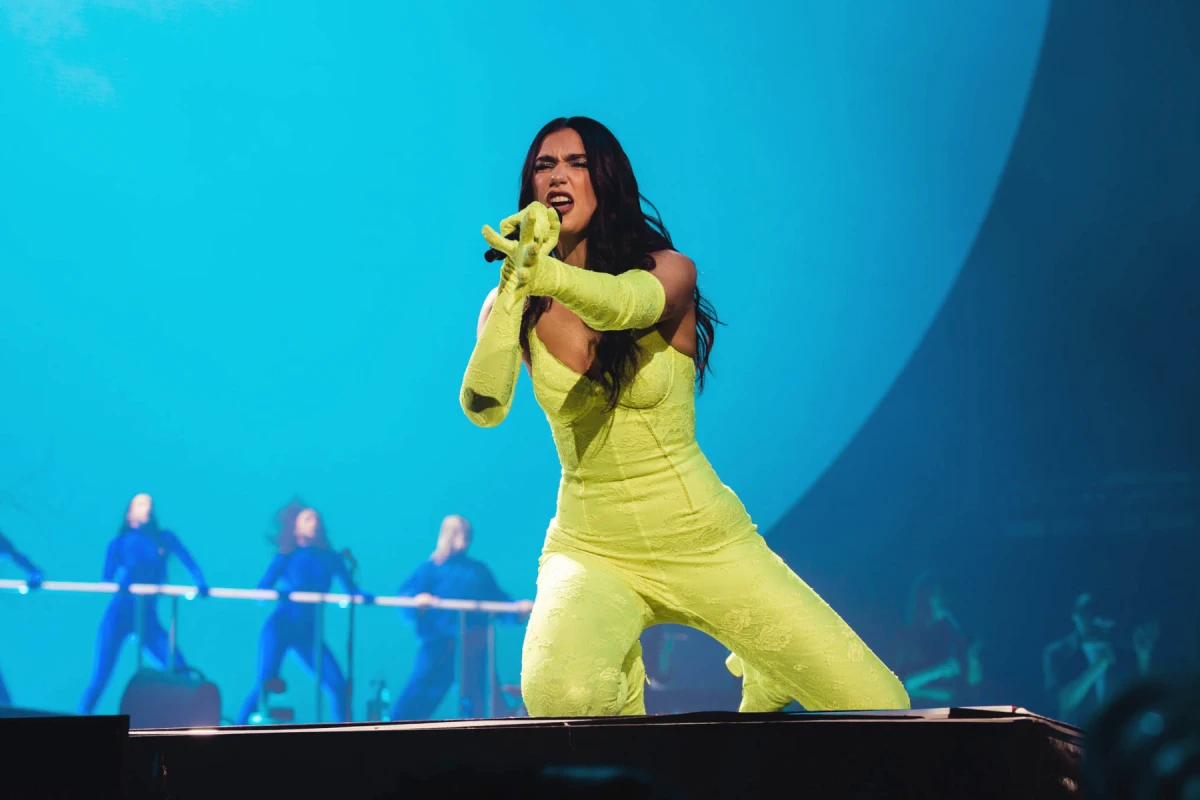 All of this success and build-up meant that the Future Nostalgia Tour is not just a victory lap for one of the biggest pop albums in years, it could also be seen as the crowning run for one of the genre's biggest acts. And at the Wells Fargo Center in South Philadelphia, it was just that. During the show, opening acts Lolo Zouaï and Caroline Polachek warmed up the glowstick and heavily glitter-toped crowd with a few of their own singles. Zouaï, in particular, had the Philly crowd mirroring her body roll dances and a few fans unlocking their phones to record her smooth flowing vocals on "Brooklyn Love".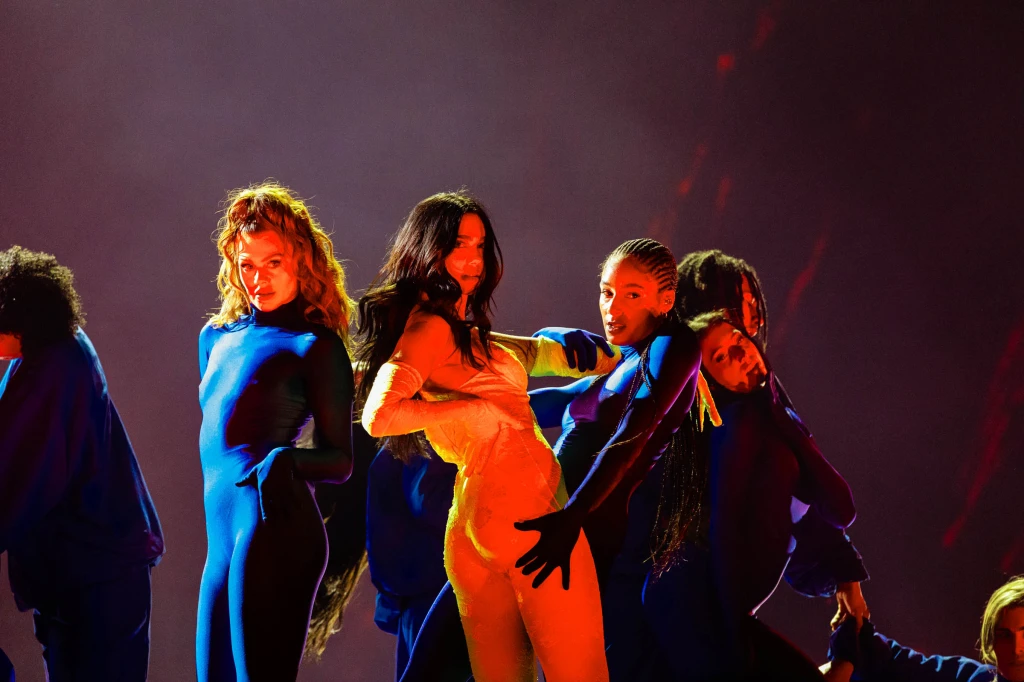 But later, when the main stage backdrop switched to static and the words "In Stereocolor: Future Nostalgia" filled the screen, that collection of phones soared to the thousands. Everyone eagerly tried to capture the moment where Lipa's magic and signature tone took over the stage. Soon, the area was filled with her cascading vocals that start the track "Physical" a confetti of screams from the crowd swarmed through the air. Lipa, surrounded by background dancers wearing royal azure blue outfits, came out in a neon-yellow bodysuit with elbow-length gloves by Balenciaga. Even without the contrasting colors, every eye in the venue would've funneled to Lipa's vibrance, high kicks, and stage presence.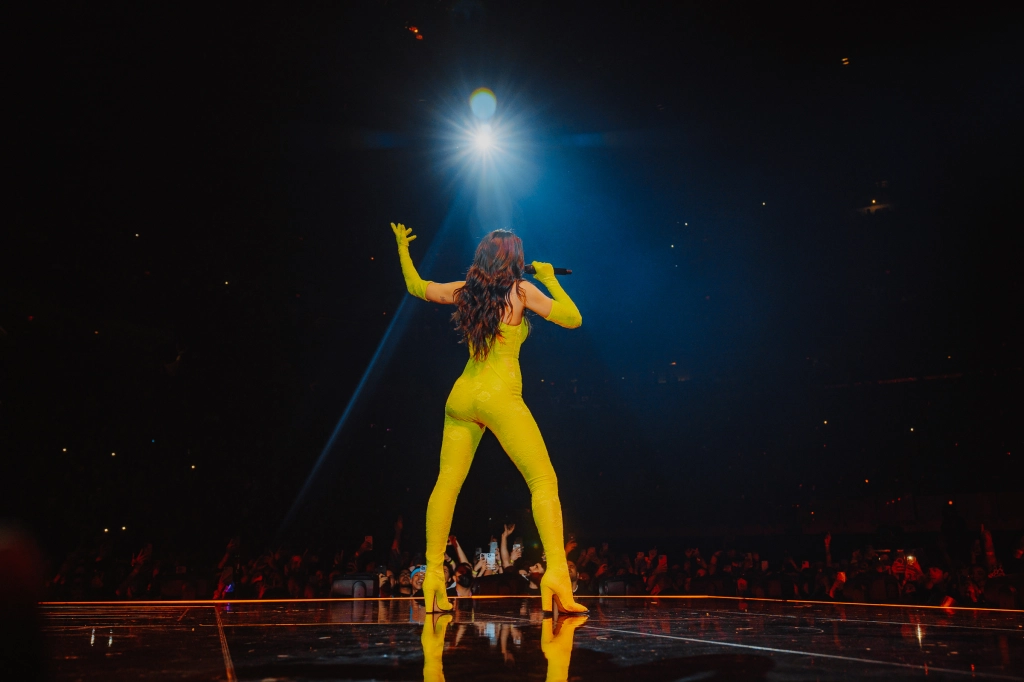 What followed was an energetic 90-minute and 18-song set by Lipa. From fans clapping in rhythm to "Be The One" to carefree crowd jumps during "Electricity", it was a community of thousands being brought together by one thing—the star power of Lipa. These tracks weren't the only set list detours from her latest albums. Lipa also serenaded the crowd with "New Rules", "One Kiss", and a few other tracks.  And judging by the volume of the people screaming along to "IDGAF", the fans really enjoyed musical flashbacks. She closed the night with Future Nostalgia's title track and ended with "Don't Start Now" while wearing a sparkling black cutout bodysuit. While watching her shimmer and her hair float through the air as she bounced around the two stages thanking the Philly crowd, I thought of the lyrics from "Future Nostalgia" … and I have to agree with the certified star – both she and her sound are the future.
…
Future Nostalgia Tour Set List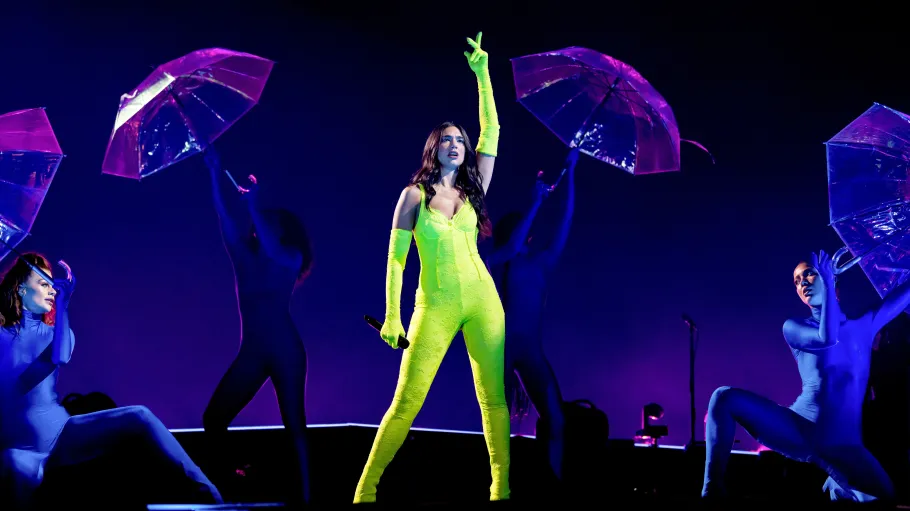 "Physical"
"New Rules"
"Love Again"
"Cool"
"Pretty Please"
"Break My Heart"
"Be the One"
"We're Good"
"Good in Bed"
"Fever"
"Boys Will Be Boys"
"Club Future Nostalgia"
"One Kiss"
"Electricity"
"Hallucinate"
"Cold Heart"
"Levitating"
Encore Tracks: 
"Future Nostalgia"
"Don't Start Now"
…
Tour Remaining Dates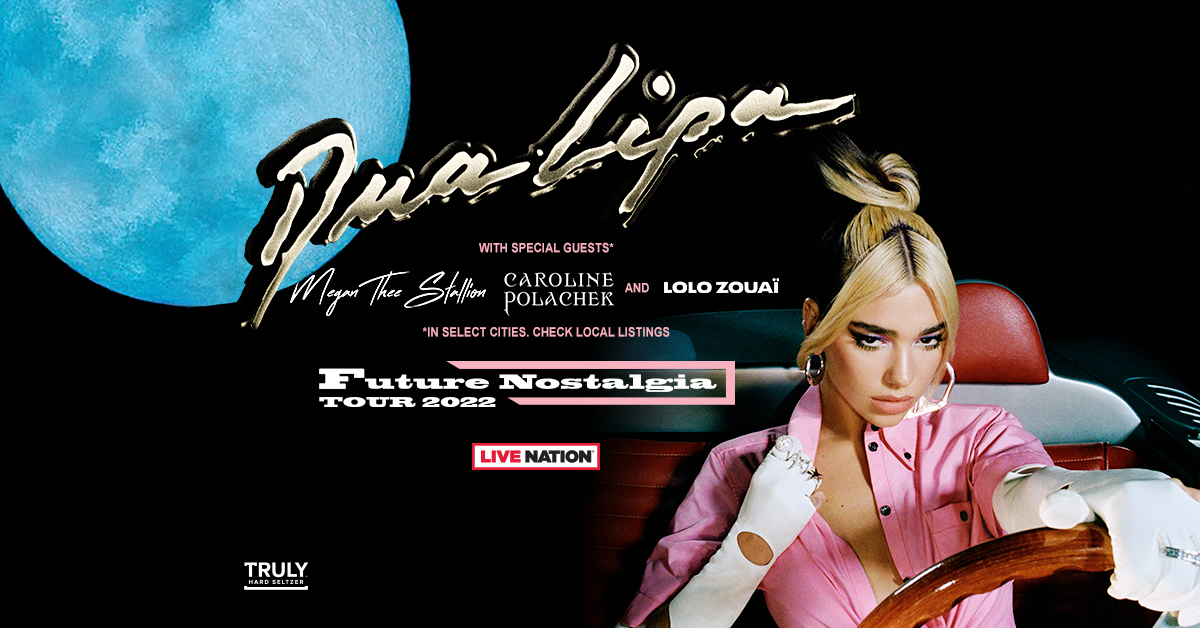 February 22, 2022 – Montreal, QC – Centre Bell # !
February 23, 2022 – Toronto, ON – Scotiabank Arena # !
February 25, 2022 – Detroit, MI – Little Caesars Arena # !
February 26, 2022 – Columbus, OH – Schottenstein Center # !
March 1, 2022 – New York, NY – Madison Square Garden # !
March 2, 2022 – Washington, DC – Capital One Arena # !
March 4, 2022 – Newark, NJ – Prudential Center # !
March 5, 2022 – Buffalo, NY – KeyBank Center # !
March 8, 2022 – Minneapolis, MN – Target Center # !
March 9, 2022 – Chicago, IL – United Center # !
March 12, 2022 – Houston, TX – Toyota Center # !
March 13, 2022 – Dallas, TX – American Airlines Center # !
March 15, 2022 – Denver, CO – Ball Arena * #
March 17, 2022 – Tulsa, OK – BOK Center * #
March 20, 2022 – Phoenix, AZ – Footprint Center * #
March 22, 2022 – Los Angeles, CA – The Forum # !
March 25, 2022 – Las Vegas, NV – T-Mobile Arena # !
March 27, 2022 – San Jose, CA – SAP Center # !
March 29, 2022 – Portland, OR – Moda Center # !
March 31, 2022 – Seattle, WA – Climate Pledge Arena # !
April 1, 2022 – Vancouver, BC – Rogers Arena # !
# Dates featuring Caroline Polachek
! Dates featuring Lolo Zouaï
* Dates featuring Megan Thee Stallion
---
You can follow Candis McLean on Twitter (@CandisRMcLean) and e-mail her at [email protected].
Subscribe, rate, and review all Philly Influencer podcasts here. Follow Philly Influencer on Twitter, Facebook, and Instagram.