The Philadelphia Eagles have relied on many players to help them start the 2022 NFL season undefeated and in Sunday's 29-21 victory over the Jacksonville Jaguars it was time for two others to lead the way to a fourth-consecutive win.
Running back Miles Sanders and pass rusher Haason Reddick both delivered Player of the Game performances as Nick Sirianni's men moved to 4-0. Sanders rushed for 134 yards and two touchdowns offensively while Reddick sacked Jaguars quarterback Trevor Lawrence twice and recovered two fumbles defensively, including on the Jags final drive of the game to ice the victory for Philadelphia.
After watching many others take a leading role in earlier victories this season, both Sanders and Reddick delivered when their numbers were called on at a wet and soggy Lincoln Financial Field.
"[I'm] Definitely getting in the groove – my job is to be ready whenever they call my number," Sanders said postgame. "Whenever they call my number, I'm going to be ready, regardless. With the weather being the way it was, we leaned on our offensive line, and our offensive line had a heck of a game."
"It just shows who we are," Reddick said about the Eagles overcoming a 14-0 deficit to win the game. "[The Jaguars] got up on us early. Nobody waivered, though. Nobody flinched. 'Everybody, let's go.' Let's keep going. We've got them, and that's exactly what we did. We kept our heads down and continued to work. Played ourselves back into the game, took the lead and got the 'W' today."
While both offensive units struggled for big plays down field throwing the ball, the rushing game for the Eagles excelled. Sanders totaled 134 of the team's 210 rushing yards on 27 carries, setting a new career record for rushing attempts and rushing yards. The former Penn State tailback rushed the ball hard, giving quarterback Jalen Hurts plenty to consider when coming up to the line of scrimmage.
After only totaling 88 rushing yards through the opening three games, Sanders came up big for the Eagles offense, showing his importance in the dynamic group of players that Sirianni has at his disposal.
"I think Miles ran really hard today," Hurts said about Sanders. "Miles protected the ball. Everybody protected the ball. He made plays. You see him running up the diagonal route, cutting across the field. He played angry in my opinion. He played with a purpose this afternoon. He deserves it. He had a hell of a game."
"We'll do whatever we need to do to win the football game," Sirianni said about the offense. "Of course, conditions are going to play into that. We look at everything. We take everything into account. We were running the ball really well. That second quarter, our offensive line was rolling. And that's a good defensive line. I've known that going back to my Indy days that that's a really good defensive line."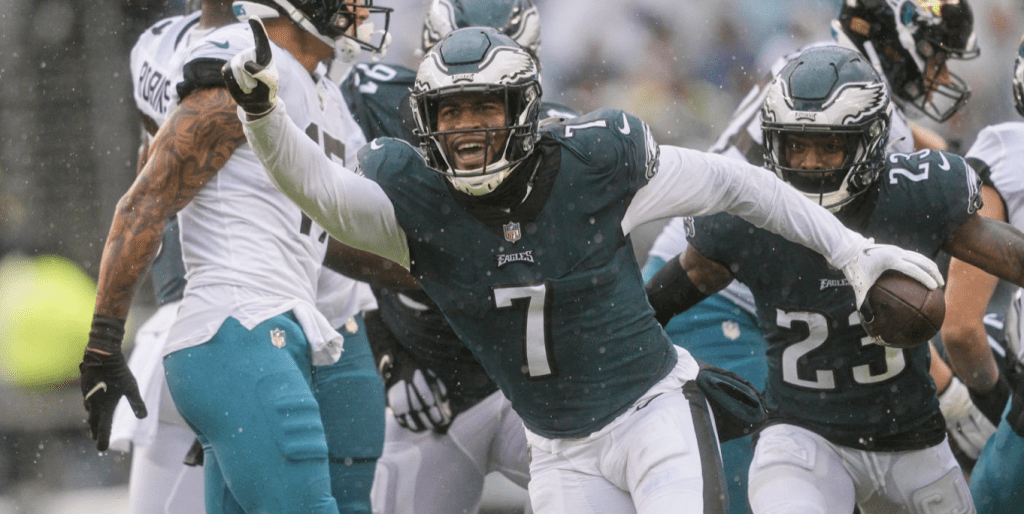 Reddick made the move to Philadelphia this offseason after previously playing his college career at Temple University. The former Carolina Panther and Arizona Cardinal has fit right into Jonathan Gannon's defense, giving the Eagles another veteran presence in their pass rush.
Reddick and the Eagles defense forced four fumbles from Jags second-year QB Trevor Lawrence, with the 28-year-old registering his second-consecutive game with multiple sacks. His presence on the field has certainly fit right into what the Eagles want to be long-term and fans and teammates alike will be pleased to have Reddick on their roster and not on the opposing side of the field.
.@Haason7Reddick, do you live in the backfield?#FlyEaglesFly pic.twitter.com/h0ybgkReHY

— Philadelphia Eagles (@Eagles) October 2, 2022
"You know what's great about Haason, and Howie [Roseman] was just talking to me about this," Sirianni said. "He's a guy that has been able to force a lot of fumbles. Not only get to the quarterback, but force a lot of fumbles.  We talk so much about creating turnovers and how you create turnovers. There are definitely things we can do as coaches to take it to another level. Make no mistake about it, it's about the players creating the turnovers, and good players know how to create turnovers."
"I've been comfortable," Reddick said. "I've been comfortable. I'm not going to say that I've preached it, but I've said it many times: [Eagles Defensive Coordinator Jonathan Gannon] always asks me what I'm comfortable with and what I'm not comfortable with. So, it's never like I'm going out there and I'm not comfortable with something. I know exactly what I'm asked to do. If I'm uncomfortable with something, I have no problem letting [Jonathan Gannon] know. But anything you see me doing out there on the field, I'm comfortable with. I've talked to [Jonathan Gannon] about it. We know what the goal is. It's just up to me now to go out there and execute it at a high level."
The Eagles next travel on the road for a Week 5 showdown with Zach Ertz and the Arizona Cardinals.
---
You can follow Larry Henry on Twitter (@lhenry019) and e-mail him at [email protected].
Subscribe, rate, and review all Philly Influencer podcasts here. Follow Philly Influencer on Twitter, Facebook, and Instagram.