Majority of the talk surrounding the Philadelphia Eagles offense this season has revolved around MVP-candidate Jalen Hurts and the dynamic wide receiver duo of A.J. Brown and DeVonta Smith..and rightfully so. However, fourth-year running Miles Sanders has already set new career-highs in rushing yards, touchdowns, and rushing attempts and remains a key piece of the team's 11-1 record.
Sanders has stayed healthy through 2022, leading the team with 924 yards and nine rushing touchdowns to date, taking the next major step in his NFL development. The former Penn State product heads into a Week 14 showdown with NFC East rivals New York Giants off the back of his lowest haul in a game this season (24 rushing yards on 10 carries), but still found the end zone once in a lopsided 35-10 victory over the Tennessee Titans.
Sanders' presence has been huge for the continued development of Hurts under center and the growing chemistry of the offense in general, making him one of the top players at his position this season.
"He's been really good this year as far as taking care of the football," Eagles head coach Nick Sirianni said about Sanders. "He's been really good this year of picking up pressures. He's been really good this year of seeing the pressures and identifying it and everything.
"So those are things that — some of those things are not even about the yards," he added. "They're about him and just the development of his game. He just keeps getting better and getting better and better. We all know how explosive he is and how good of a football player he is, but he's just really taking advantage of all his opportunities. For example, yesterday, there wasn't a lot of opportunities, but he took advantage of the ones he got. The week before there was a lot of opportunities for him and he took advantage of the ones he got."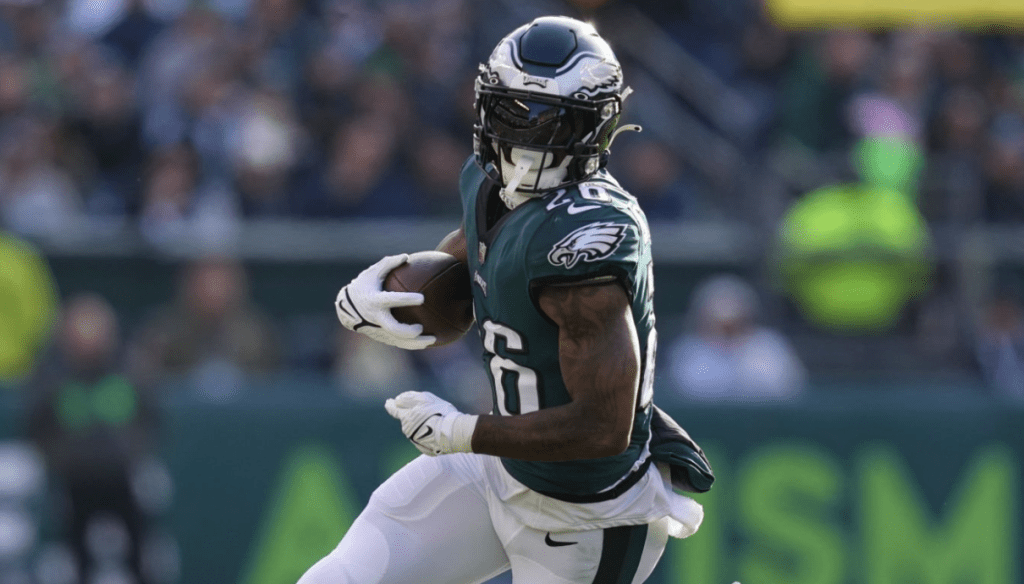 Sanders had failed to play in all 16 games in each of the past two seasons, but is on pace to eclipse that season if he remains healthy. Although his receiving yards and receptions have taken a hit, his ability to deliver important rushes have been important for the Eagles to remain one of the top offenses in the NFL through three months.
Sanders is only 76 rushing yards away from registering his first-ever 1,000 rushing season, a testament to his continued preparation and his offseason work to improve in all areas as a tailback. Once again, while the Eagles trio of Hurts, Brown, and Smith will garner plenty of the praise, Sanders deserves ample credit and respect for climbing up the ladder among the NFL's elite runners.
"[RB] Miles [Sanders] has stayed healthy this year," Sirianni said. "I know he got dinged up a little bit last year. If he didn't get dinged up last year, which is part of the game, we would be talking about how this is the second year in a row that he's had a thousand yards. He's done a nice job playing and doing all the little things right to help that room. And we look for him to continue to do all these things and I'll be the first one to high five him when he hits that thousand yard mark and say, let's go to the next one.
"We'll really be excited for him once he hits that thousand-yard plateau because that's something that means something in this league," he added. "It's just always a nice thing to have when the guys get that because that's a good recognition, not only of the player that they get a thousand yards but also the entire team because it takes everybody to contribute to that."