Chef Nana Wilmont at the Philadelphia Museum of Art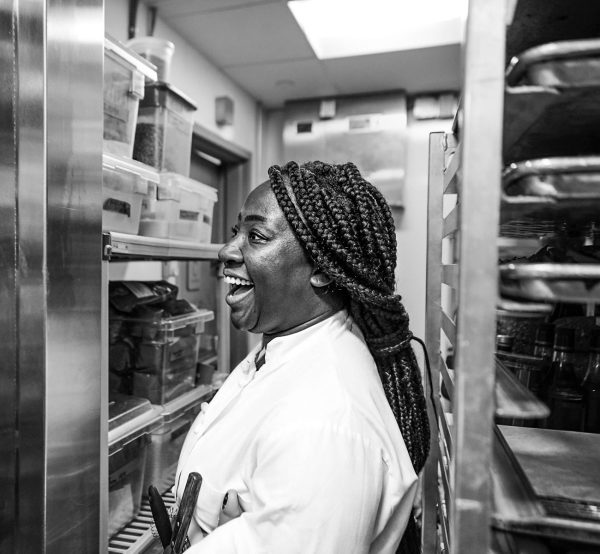 The  Philadelphia Museum of Art's new local Chef in Residence program is underway. The program allows a local chef to take over the Local & Global station in the servery. The residency (every Friday night from 5 p.m. – 8:45 p.m.)takes place during the first weekend of each month, coinciding with the museum's Pay-What-You-Wish admission (the first Sunday of the month).
This weekend, Chef Nana Wilmot of Georgina's Foods is taking over. Chef Nana Wilmot was born & raised in Cherry Hill, New Jersey by way of Philadelphia. She grew up a first-generation Ghanaian American. Raised by her grandmother Georgina, who returned to Ghana in Nana's high school years, she spent a lot of time in the kitchen. With the passing of Gram Georgina, Nana spent time in Ghana learning & cooking traditional foods. She returned to the US & made her way into fine dining at the critically acclaimed French restaurant Le CouCou, where Nana & the team were awarded James Beard Best New Restaurant 2017, as well as receiving 3 stars from The New York Times and 1 Michelin star. Nana went on to become the first and only Black female Meat Roast.
This weekend, (Friday, July 30- Sunday, August 1 ; 11:30 a.m. – 2:30 p.m.) visitors of the Philadelphia Museum of Art can experience Chef Nana Wilmot's signature dishes in its newly renovated Café.
The menu:
Grilled Ghanian Salmon Salad Wrap: Grilled romaine, spinach, red onion, carrots, peas, sweet & sour aioli; $11
Jollof Rice Bowl: Hard-boiled egg, fried plantains, green pepper, herb salad; $13
Grilled Suya Beef Skewers with charred onions: $6
Yucca Fries: $5
…
National Oyster Day
Thursday, August 5 is National Oyster Day and Philly's seafood scene is booming. Both Steak 48 and The Wayward have you covered for the shucking-filled day.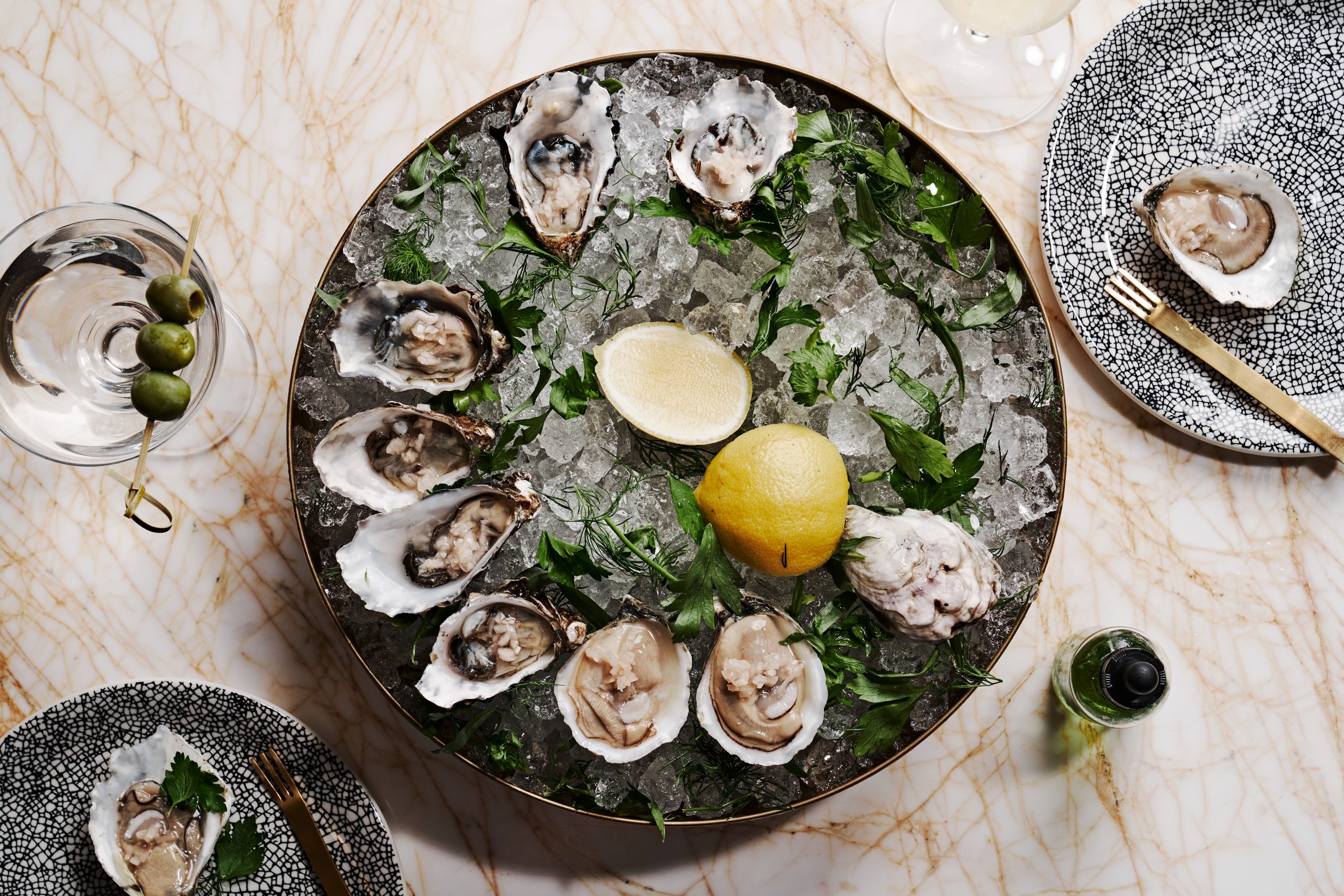 •  Steak 48: Steak 48 may be known for its top-quality meats, but insiders know that the seafood and raw bar options are among some of the freshest in the city! Gaze upon the restaurant's grand raw bar display via its beautiful open kitchen design, and Celebrate National Oyster Day with the Chef's Selection of Fresh Oysters (East Coast or West Coast served with champagne mignonette).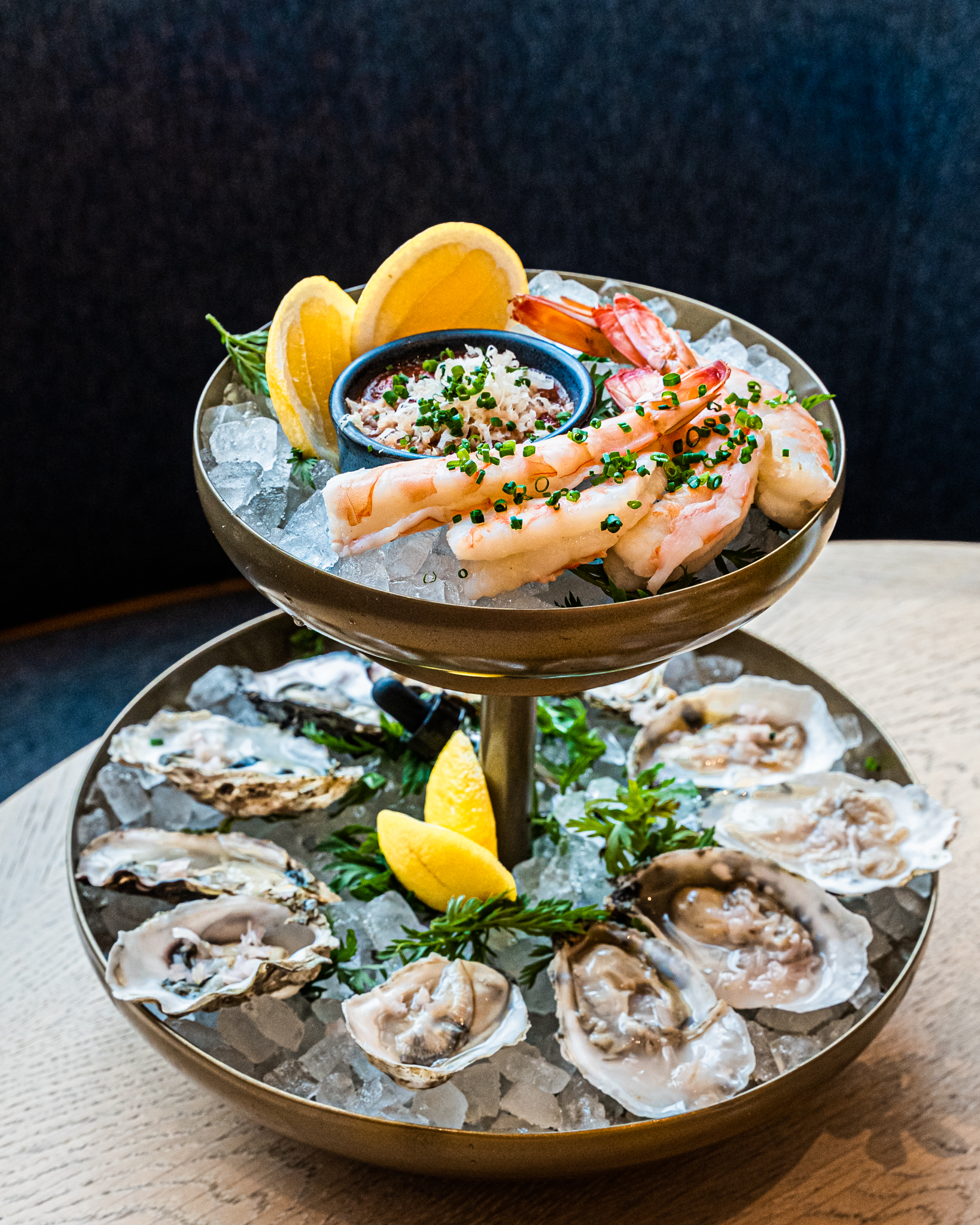 •  The Wayward: If you want the freshest selection of oysters in the city, head to The Wayward to indulge in rotating selections of summer's best oysters from Connecticut to Washington. With a splash of homemade chartreuse mignonette, you'll no doubt be ordering these by the dozen. Looking to indulge for brunch? The Wayward offers two selections of oyster shooters to celebrate the holiday: The Washed Up Sailor (fermented tomato New Amsterdam Vodka, celery bitters, lemon, oyster) and the South of The Navy Yard (dill Bombay Bin, caper brine, lemon, oyster).
…
National Beer Day and  National Mead Day
Beer lovers, listen up! International Beer Day is right around the corner on Friday, August 6. Also,  National Mead Day is Saturday, August 7. You can stop by a few of our favorite breweries, collabs, and beer pubs in the Philadelphia area to celebrate the special occasions with a pint in hand.
• 2SP Brewing Company and Wawa: 2SP Brewing Company and Wawa are back at it with another brew-tastic collaboration – this time featuring the ultimate shore sipping brew. Delaware County neighbors and friends have created Sunfest Strawberry Lemonade Shandy, a crushable, light-bodied beach beer with a touch of sweetness made with Wawa's fresh lemonade. This limited-edition release is available at select Wawa locations, 2SP Brewing Company in Aston, PA, and across the four-state region of Pennsylvania, Maryland, Delaware, and New Jersey at select distributors all summer long. Beer-lovers can grab a refreshing cold one and toast to International Beer Day with this stellar shandy and all summer long.
• Devil's Den: Devil's Den boasts one of the city's largest curated craft beer selections – from Hazy IPAs to Belgian Stouts to German Wheat Beers. The ever-evolving rotating draft offerings include premier breweries such as SingleCut Beersmiths, SweetWater Brewing Co.,  Brewery Ommegang, and Left Hand Brewing Company. Imbibers may enjoy hard-to-find craft beer including Belgian gold ale La Chouffe (8% ABV) from Brasserie d'Achouffe.
Brews are available for sipping alongside stellar pub fare at the expansive outdoor streetery and indoor dining as well as to-go in the form of six-packs and growlers.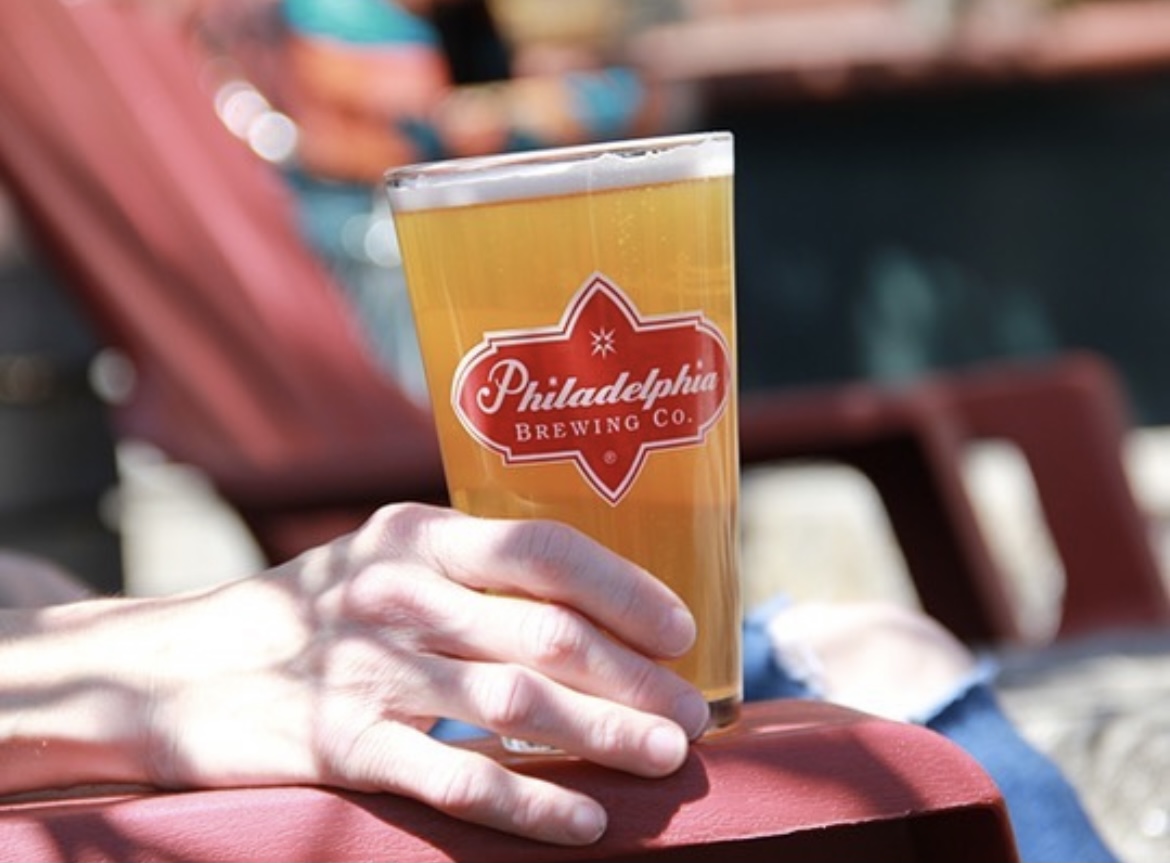 •  East Passyunk Avenue: East Passyunk Ave, home to more than 160 independently-owned businesses in South Philadelphia, is no stranger to locally sourced craft beer. Separatist Beer Project, boasts a rotating menu of house-made brews available in drafts and crowlers, to be enjoyed for takeaway or sit-down at the uber-popular avenue location. Down the road at Stickman Brews, the local brewery puts American twists on Belgian-inspired beers, IPAs, and all things in-between.  The Bottel Shop is a staple in the beer community for their impressive selection of domestic and craft brews, rare finds, plus a wide range of seltzers, ciders, and even fine wines. Folks are welcome to stop by and try one of the many local craft beers on the avenue.
•  My Local Brew Works: My Local Brew Works, Frankford's up-and-coming nano-brewery specializing in contract, special events, and direct-to-public brewing, is saying cheers to International Beer Day just days later on Wednesday, August 11 with a beer giveaway to the Philadelphia arts community. In honor of theater returning, My Local Brew Works is giving free four-packs of limited-edition, summer-inspired brews to light crews, grips, actors, performers, ticket booth workers, and beyond from 1 – 5 p.m. at The Wilma Theater along the Avenue of the Arts.
Philadelphia Brewing Company: Philadelphia Brewing Company, the city's largest and oldest brewery located in Kensington, is raising a glass to International Beer Day on Friday, August 6 while enjoying live jazz music from the loading dock for the brand-new summer series from 8 – 10 p.m., happening every Friday. Beer lovers can enjoy an array of signature brews such as the Kenzinger and  Walt Wit – ideal for sipping amidst the famed beer garden. Additionally, imbibers may purchase six-packs and cases to-go, or enjoy these local brews in pints alongside food trucks located just outside of the brewery.
…
Devil's Den is celebrating National Mead Day by partnering with Upper Reach Meadery, Pennsylvania's newest meadery, creating modern mead with folk flair, for Mead Me at the Den, an evening of flight and food pairings, craft cocktails, mead slushies and more, on Thursday, August 5 from 6:30 – 7:30 p.m.  
The celebratory event will boast four proper pours of Upper Reach traditional high-ABV meads, an alcoholic beverage composed of honey, water, and yeast that is often mixed with different fruit and spices to create a variety of flavors. Alongside the stronger libations is a selection of Weekend Water, an all-new organic premium honey spritzer from Upper Reach Meadery. Devil's Den's talented kitchen staff is whipping up four small plates to pair with the mead flights.
Mead Me at the Den will take place in Devil's Den's expansive dining room, and costs $30 per ticket—available for purchase here.
Adam Crockett, Owner and Head Mazer of Upper Reach Meadery, will host the event and guides attendees through the history of mead, as well as the unique, and delicious offerings, including the following:
Homestead – Traditional mead with raspberry blossom honey
Crimson Stag – Mead with red wine grapes, black raspberries, and Aronia berries
Parlor – Old Fashioned-inspired mead
Grand Cherry – Solera version of Heavy Cherry, HIVE member exclusive mead
In addition to the mead tasting and pairing, imbibers may enjoy variations of the popular honey wine at Devil's Den's bar with an a la carte menu featuring glasses of high-ABV mead, mead-forward cocktails, slushies, and more including:
Heavy Cherry Old Fashioned
Meadarita – Margarita with guava and hibiscus weekend water
Summer Sweet Leaf – Slushie with sweat leaf mead, orange, and pineapple
…
National Spritz Day
National Spritz Day is Sunday, August 1. Here's a rundown of some local spots for a classic summer spritz,  recipes, and more.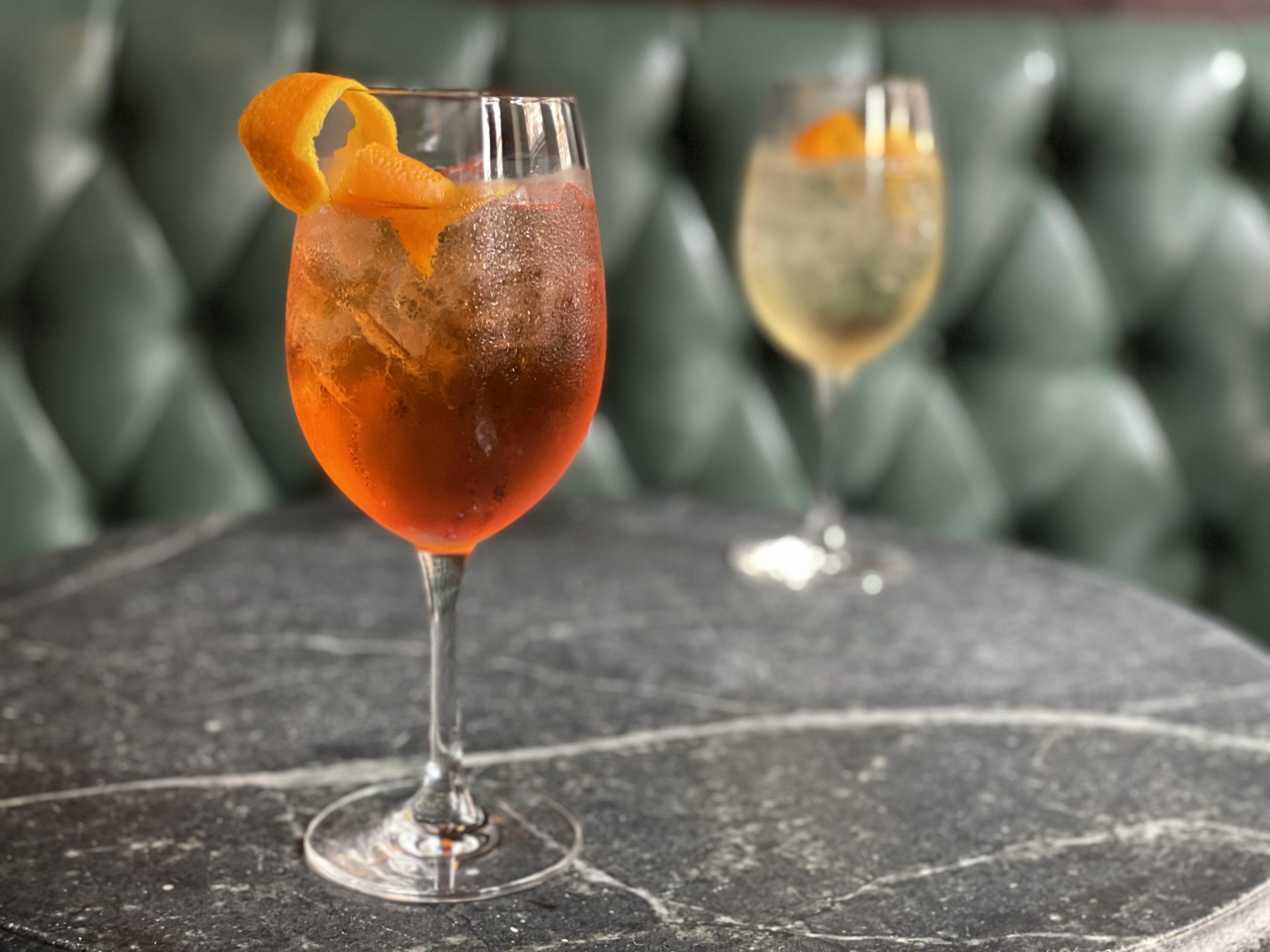 • Art in the Age: Art in the Age offers a slew of refreshing craft cocktails and recipes – ideal for quenching-thirst in even the most intense of heatwaves. This summer, imbibe on the glowing Martini Spritz, a refreshing mix of gin, vermouth, and tonic. The cucumber, sea salt, and English Garden tonic are welcomed summery touches in this session-able martini variation.
Martini Spritz
Recipe Courtesy of Jackie Nevin, Art in the Age Mixologist
1.5 oz Tamworth Garden White Mountain Gin
1 oz Dolin Dry Vermouth
.5 oz Lemon Juice
¼ Jack Rudy Olive Brine
1 Cucumber Round
2 Pinches of Sea Salt
1.5 oz Folkington's English Garden Tonic
1.5 oz Seltzer
8 Drops Artemisia Junio Elder Bitters
3 Dashes Scrappy's Black Lemon Bitters
Instructions: Add cucumber & sea salt to shaker tin. Add all other ingredients except garden tonic and shake until well combined. Strain through fine mesh strainer into tumbler glass over two square cubes. Top with English Garden tonic.
Glassware: Tumbler Glass
Garnish: Sprig of dill, Lemon Twist, and Cucumber
Tamworth Garden White Mountain Gin is available for purchase on-site at Art in the Age's bottle shop for $55.
• Coopers' Craft Kentucky Straight Bourbon Whiskey: Coopers' Craft Kentucky Straight Bourbon Whiskey Brown Forman's newest expression, is a versatile and light-bodied bourbon that can be used to make a variety of unique cocktails such as this summer sipper. An American in Venice, a delightful mix of bourbon, Campari, and prosecco.
An American in Venice
Recipe Courtesy of Fitz Bailey, Coopers' Craft Mixologist
1.5 oz Coopers' Craft Bourbon
1 oz Campari
4 oz Prosecco
.5 oz Sparkling Water
Instructions: Add all ingredients but the sparkling water into an ice-filled shaker. Shake until chilled, strain, and pour into an ice-filled highball glass. Top with Sparkling Water.
Glassware: High Ball
Garnish: Orange Wedge
Coopers' Craft Bourbon can be purchased at select Fine Wine & Good Spirits stores throughout Pennsylvania for $21.99.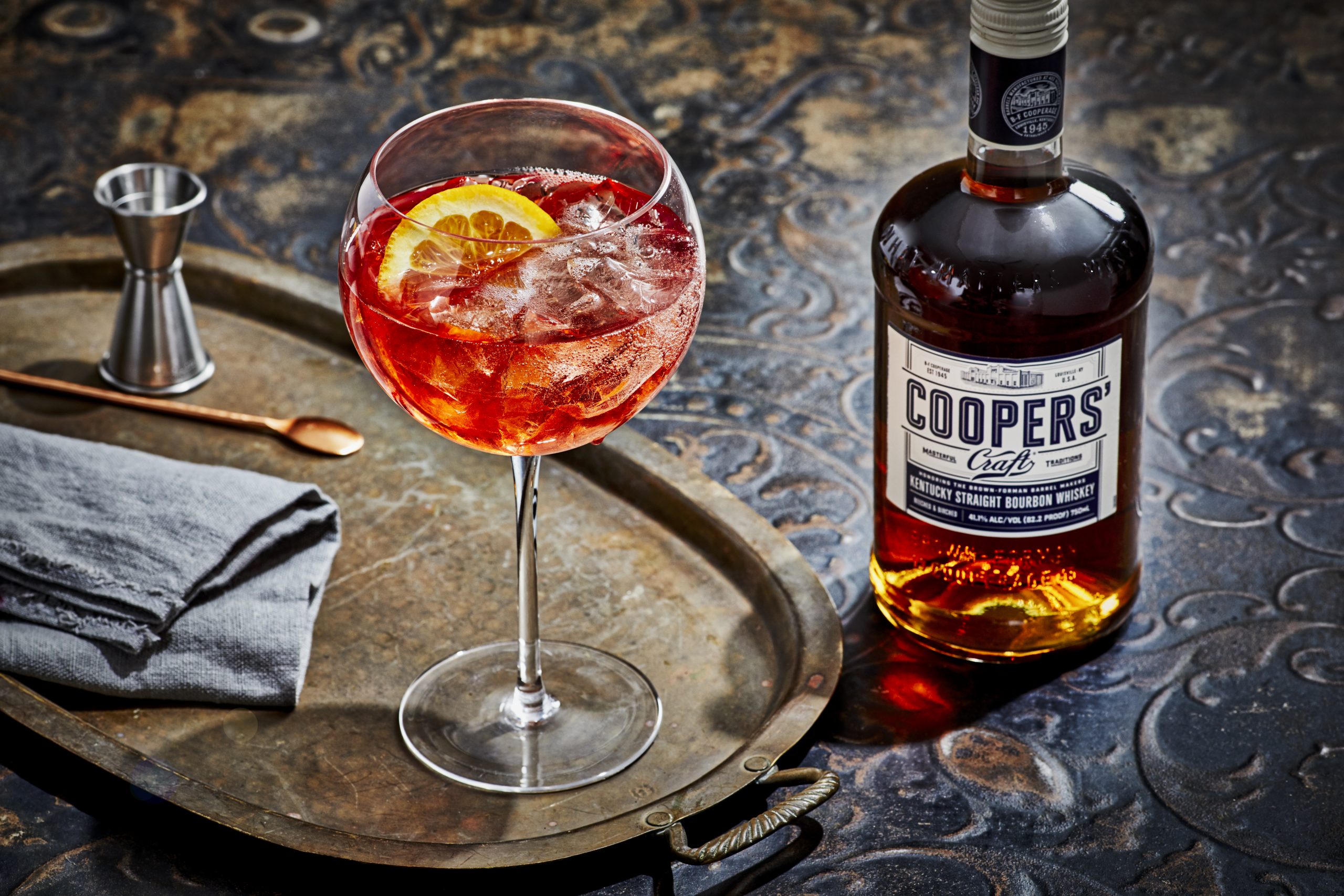 • Red Owl Tavern: Red Owl Tavern boasts a brand-new collection of spritzers, courtesy of Lead Bartender Christopher Devern, including the Pepper Tree Spritz ($14) prepared with Pink Peppercorn Gin, Apérol, fresh lemon, and topped off with Aromatic Fever Tree Tonic, The Lemon Tree Spritz ($15) crafted with Lemon Infused Vodka, Lillet, and Organic Mionetto Prosecco, and Strawberry Flower Spritz ($14) composed of Strawberry Gin, Peaflower Infused Saint Germain, a hint of lemon, and topped off with Elderflower Fever Tree Tonic.
• Royal Boucherie: Royal Boucherie is expanding its esteemed bar program this season with a three-step customizable Spritzer Bar, offering guests the opportunity to craft their dream libation. Helmed by Service Manager Samantha Seltzer, the Spritzer Bar allows imbibers to (Step One) choose a base Aperitif spirit, (Step Two) a modifier, and (Step Three) a topper. Offerings include Aperol, Cappelletti, Cocchi, Lillet Blanc, Lo-Fi Gentian, Nonino, Pavan, and more.
This build-your-own-spritz module is designed to highlight Royal Boucherie's unique Amaro selection as well as provide guests with a refreshing elixir throughout the summer months.
…
Hot Weather Dishes
Summer is heating up so we've rounded up our go-to refreshing hot weather-friendly dishes from Philadelphia area restaurants for those days when it's just too hot to turn on the oven — including an heirloom tomato gazpacho, boquerones, shrimp ceviche, and more.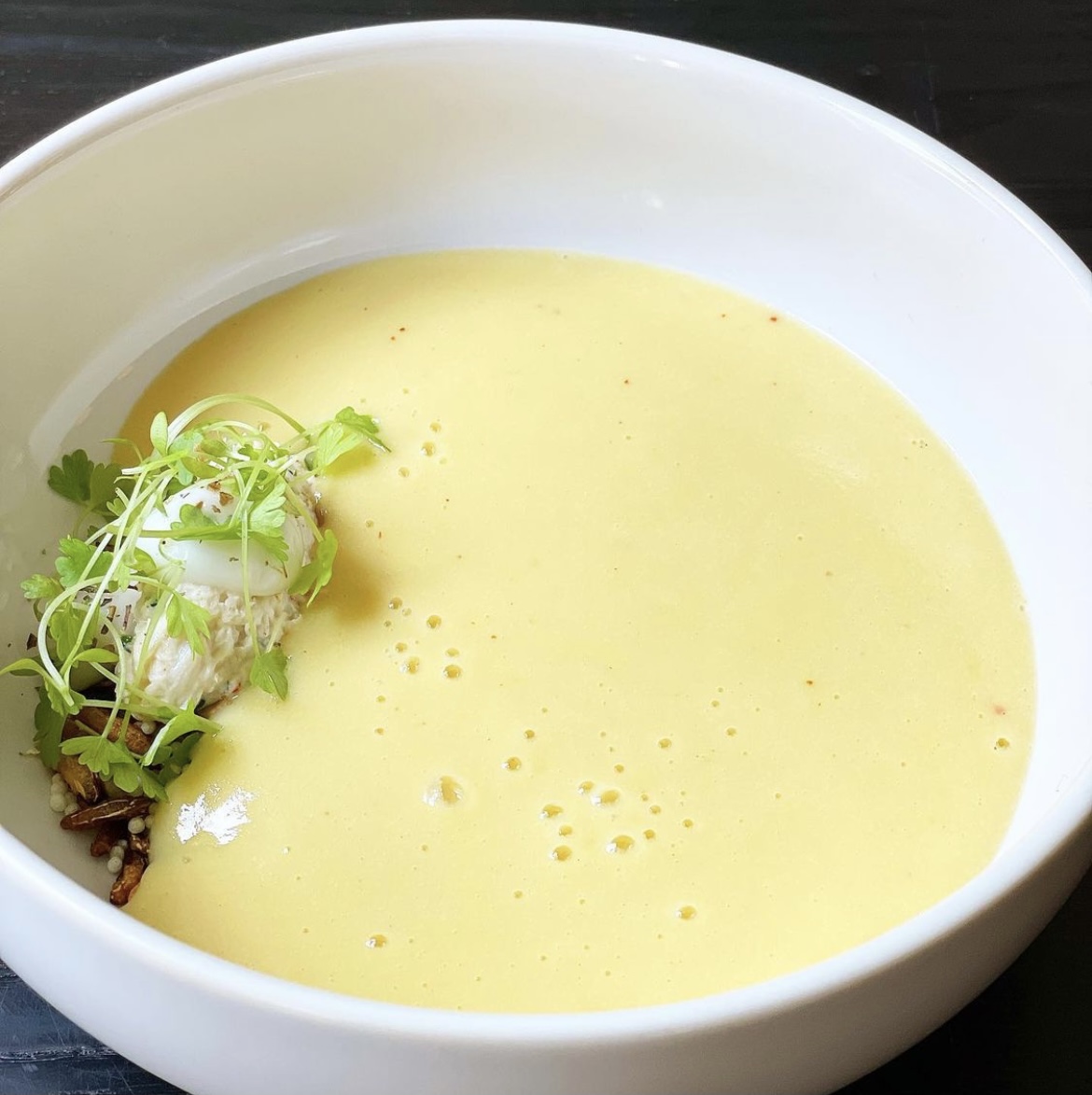 • A Mano: A Mano the acclaimed seasonal Italian BYOB from the Townsend Wentz Restaurant Group (TWRG), offers a variety of brand-new satiating dishes ideal for the summer season including Insalata Di Mare ($16) composed of chilled shellfish, fennel, and cured lemon, Panzanella ($14) crafted with fresh heirloom tomatoes, lemon yogurt, and marinated cucumbers, and last but certainly not least, Honey Grilled Peaches ($14) prepared with Stracciatella, prosciutto, and whole wheat sesame crackers.
• Fond: Fond boasts a delectable  Heirloom Tomato Gazpacho prepared with a fresh and flavorful shrimp and cucumber salad. Chef Lee Styer's exceptional menu of rich, seasonal dishes are available to be enjoyed during dinner service in the expansive indoor space, and al fresco on the sweeping patio at 11th and Tasker.
• Forsythia: Forsythia, Old City's contemporary French bar and restaurant helmed by Chef Christopher Kearse, knocks it out of the park with the mouthwatering  New Jersey Corn Soup ($12) crafted with fresh Crab Salad, Coconut, and Sunflower Granola. This summer-appropriate small plate is just one of many superb seasonal offerings available for dinner service.
• Oloroso: Oloroso, Philadelphia's premier Spanish restaurant, is a go-to for traditional tapas-style dishes, with a carefully-curated menu to reflect each season. For summer, guests may relish in the crowd-pleasing  Boquerones ($10) prepared with White Anchovy, fresh Salsa Verde, and Castelvetrano Olives. This delightful small plate is available for indoor and outdoor dining, and pairs exceptionally well with the extensive Spanish wine selection.
• Sor Ynez: Sor Ynez, a Mexico City-inspired veg-focused restaurant, boasts an elevated take on the classic ceviche dish with the refreshing  Shrimp Ceviche ($15) composed of flavorful poached shrimp, cucumber, red onion, lime juice, and Valentina hot sauce, served with tasty tostadas and salsa botana. Executive Chef Alexis Tellez's exquisite dishes are available for indoor dining, or outdoor seating on the new, spacious patio.
• Royal Boucherie: Royal Boucherie, Old City's lively neighborhood bistro, offers a slew of seasonal menu items ideal for cooling off in the sweltering heat – such as summer staple  Prosciutto & Melon ($14) crafted with Arugula and Banyuls vinegar. Guests may also enjoy the savory  Steak Tartare ($16) prepared with Parmesan and bottarga, as well as the icy  Lobster Cocktail ($21) from the robust raw bar. Additionally, the  Plateaus De La Mer ($48), consisting of fresh shellfish such as shrimp, lobster, oysters, and crudo, is an ideal dish for seafood lovers to indulge in.
---
You can follow Candis McLean on Twitter (@CandisRMcLean) and e-mail her at [email protected].
Subscribe, rate, and review all Philly Influencer podcasts here. Follow Philly Influencer on Twitter, Facebook, and Instagram.