Much of the conversation this summer for Philadelphia Eagles fans revolved around wide receiver A.J. Brown, but two additional offseason acquisitions also delivered strong debuts for the team in Sunday's opening day victory.
Cornerback James Bradberry and linebacker Kyzir White also impressed in Sunday's 38-35 road win over the Detroit Lions, helping the Eagles move to 10-2 overall in their last 12 Week 1 games. Bradberry registered a touchdown via a 28-yard interception return while linebacker White played a key part on the interception, tipping the ball to the former New York Giants corner.
While Nick Sirianni, Jonathan Gannon, and the rest of the Eagles coaching staff won't be particularly happy with allowing 35 points to the Lions, all of them will be pleased with Bradberry and White's debuts for the team.
"We were in a zone coverage," Bradberry said postgame Sunday regarding the interception return for a touchdown. "It was a quick game and I saw the out [route] coming and I was breaking. Kyzir tipped it to me and I caught it. The defense blocked for me and I just had to run and go forward. I couldn't believe that I had the whole sideline to myself. I just saw a lineman and got a view of the blocking and was hoping that I was going to make it across the line."
"We covered that play a lot in the film room this week," White said. "I knew what was coming. I tried to get my hands on him [Hockenson] and not give him any room because Hockenson does real well when you give him space and I just tried to make a great play on the ball."
Bradberry's arrival to the Eagles helped solidify a secondary crew that already features Darius Slay, C.J. Gardner-Johnson, Marcus Epps, and Avonte Maddox. The 29-year-old is beginning his seventh NFL season after previous stops with the Carolina Panthers and Giants, continuing to be one of the better defensive backs in the league.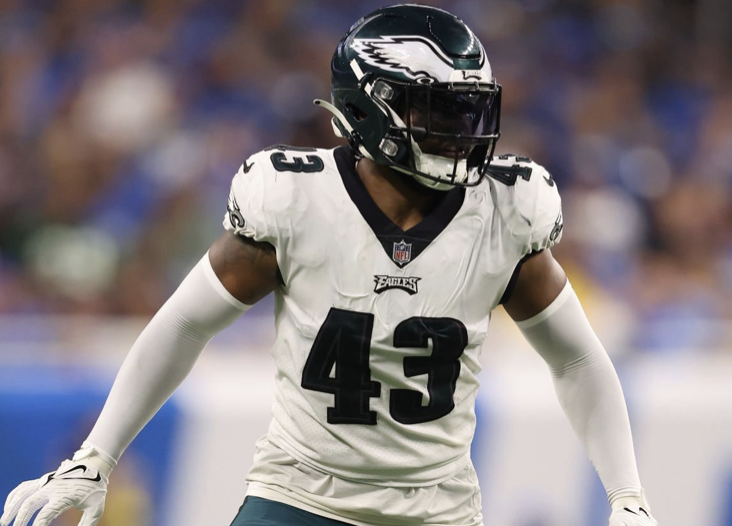 White, 26, is in his fifth season after spending the first four years of his NFL career with the Los Angeles Chargers. A former West Virginia product, White's production with the Chargers took a major boost of the last two seasons, exploding for 144 tackles, two forced fumbles, and two interceptions during the 2021 campaign alone.
After the Eagles said goodbye to Alex Singleton this offseason, White has filled in nicely in Gannon's linebacking corps and is already garnering early praise from Sirianni for his impact Sunday.
"Man, he is a physical player," Sirianni said about White. "He can come in there and stick. He did that on a couple occasions yesterday. He made a huge play that helped us change the game and put us up 14 points by a play that he made. Then obviously [CB] James [Bradberry] finished it off but what [LB] Kyzir [White] did also on that play was he got the tip. He had great coverage on [Lions TE T.J.] Hockenson, and [DT] Marlon [Tuipulotu] got a great pass rush to put pressure on [Lions QB Jared] Goff where Goff had to get off. Then all of the sudden, like he's got that great coverage on Hockenson. He tips it, gets it to James, and then he gets himself — because he dove for that tip. He gets himself off the turf fast and gets a block on [Lions RB D'Andre] Swift to spring James for a touchdown.
"But that's who he is," Sirianni added. "He's all go at all times, and he has the knack to make plays. We've seen that in the two games he's played here, right, the interception against the Jets and he made the play here. I can't say how much I think of him, how physical he is, right. He's a physical man and I love that. I love that about him, because that's the name of this game."
Both Bradberry and White will need to continue playing at a high level as the Eagles aim to be one of the top defensive units in the NFL this season. An opening day victory at Ford Field was a positive start for the Eagles, but a Week 2 Monday Night Football clash with the Minnesota Vikings [who beat Green Bay 23-7 on Sunday] will be a tougher test, especially with Kirk Cousins, Dalvin Cook, Justin Jefferson, and Adam Thielen all back together again.
The Eagles will be confident though knowing a raucous Lincoln Financial Field will be behind them next week as they aim to go 2-0.
---
You can follow Larry Henry on Twitter (@lhenry019) and e-mail him at [email protected].
Subscribe, rate, and review all Philly Influencer podcasts here. Follow Philly Influencer on Twitter, Facebook, and Instagram.