It's the end of the year, so I thought I'd put together a top 20 list of the top moments in Philly sports this past year. There's been very little to cheer for in terms of championships, but there were plenty of milestones hit during 2016 that will hopefully bode well for the years ahead for our sports teams. If you disagree with any listing or think I forgot any, email me or hit me up on Twitter and let me know. I'm all for debate and discussion about this topic.
Let's hit it!
10. Eagles fire Chip Kelly | December 29, 2015
Technically, this happened in December, but the Eagles firing Chip Kelly before their last game of the 2015 season might have had the most effects to the 2016 Eagles season. After Kelly's firing, we heard a bunch of stuff, likely leaked by the Eagles, about how Kelly was pretty much a one-man show and didn't talk to anybody at the NovaCare Complex and didn't even want to go to the team's holiday party. LIKE, AS IF!
RELATED | BREAKING: The Eagles Have Fired Chip Kelly
Kelly found a home with the San Francisco 49ers, and who knows how long he'll last there? Two wins so far this season. Of course, Kelly's firing brought us Doug Pederson, who I'm sure we're gosh darn super lucky to have. As long as he can develop Carson Wentz into a top quarterback, it will have been worth it.
…
9. Ryan Howard's farewell speech | October 2, 2016
Ryan Howard will always be one of the most polarizing athletes in Philly sports lore, and it's pretty unfair. Yep, he struck out a lot, but what power hitter doesn't? Howard was the Phillies' core for much of their run from 2006-2011, before an Achilles tear seemed to derail his career. He still put up some good power numbers, but he was never the same player again.
RELATED | Videos: Phillies Tribute to Ryan Howard, Howard Addresses Crowd at CBP
And he knew that. He's still training to make a comeback, but it'll have to be with another team. And, likely, an American League team. But, we'll always love you, Ryan.
…
8. Eagles trade Sam Bradford, name Carson Wentz the starter | September 3, 2016 and September 5, 2016

If there's one thing many of us wanted, it was to see Carson Wentz in action at some point this season. I honestly didn't mind him sitting behind both Sam Bradford and Chase Daniel and learning for a year, possibly two. But once Teddy Bridgewater got injured at Vikings practice, a lot of people were wondering if a Bradford move would happen.
RELATED | BREAKING: Sam Bradford Has Been Traded to the Vikings
It didn't happen for several more days, but Howie Roseman pulled the trigger on the trade. Some thought Daniel would take the reigns as the team's starter, but the Eagles usurpsed him – much to his chagrin – and two days later named Wentz the starter.
RELATED | Carson Wentz Named the Eagles' Starting Quarterback
…
7. Sam Hinkie resigns from the Sixers | April 6, 2016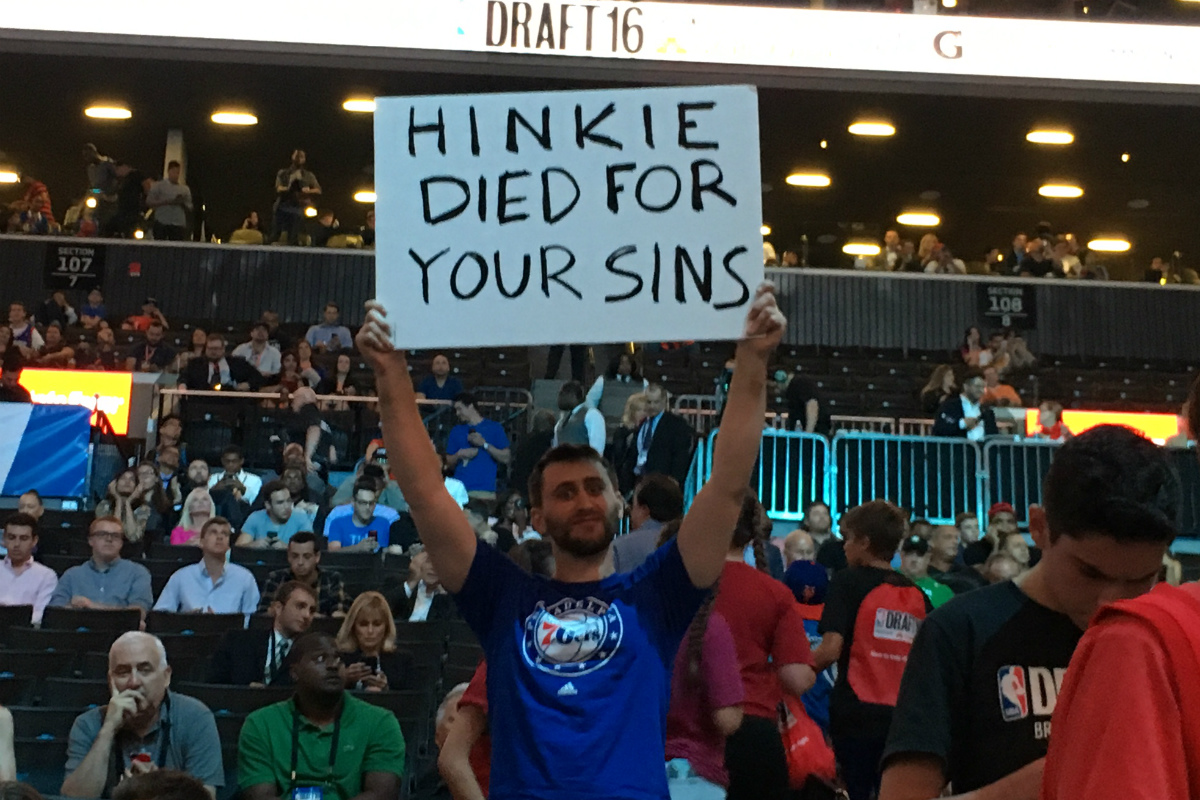 I didn't know how to feel after hearing that Sam Hinkie resigned as the general manager of the Sixers. I was hoping he'd still be with the ball club in some capacity, but that was wishful thinking as Hinkie sent a 13-page letter to Sixers ownership, which was then leaked to ESPN.
There has been much criticism of our approach. There will be more. A competitive league like the NBA necessitates a zig while our competitors comfortably zag. We often chose not to defend ourselves against much of the criticism, largely in an effort to stay true to the ideal of having the longest view in the room.

"… Given all the changes to our organization, I no longer have the confidence that I can make good decisions on behalf of investors in the Sixers — you. So I should step down. And I have."
RELATED | UPDATE: Sam Hinkie out (as GM) in Philly
The Sixers have since hired Bryan Colangelo as the team's president of basketball operations, and he also functions as the team's general manager. He hasn't yet made a move to sort out the mess at the center position, and Brett Brown can't seem to find a way for all three [Embiid, Noel, Okafor] to coexist together.
But, hey, at least we have Ben Simmons. Speaking of which…
…
6. Sixers draft Ben Simmons | June 23, 2016
The moments leading up to the Sixers' getting the first overall pick in the NBA Draft Lottery and then the wait for the team to officially draft Ben Simmons felt like an eternity. The Sixers did their due diligence, seemingly, wining and dining the top prospects for the 2016 Draft, but in the end, nobody came close to Simmons. And hopefully, in 2017, we'll see why. Simmons and Embiid. Oh. My. Goodness.
RELATED | WATCH: The Sixers Select Ben Simmons with the First Overall Pick in the 2016 NBA Draft
Here were the top 20-16 Philly sports moments of 2016.

Here were the top 15-11 Philly sports moments of 2016.

Stay tuned for tomorrow's list: 5-1.